This Is How Much Wedding Flowers Really Cost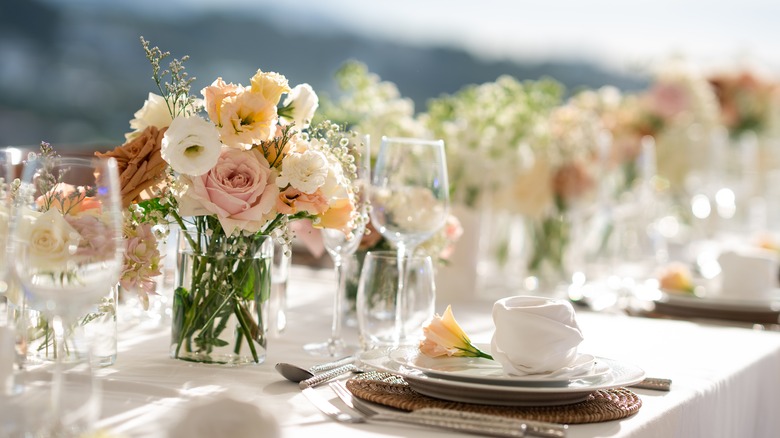 Wassana Panapute/Shutterstock
From sweetpeas in spring to marigolds in autumn, the perfect flowers can enhance the magic and beauty of any wedding day (via The Knot). While flowers aren't really thought of as a tradition, their presence in wedding ceremonies and celebrations can be traced back to the ancient cultures of Egypt and Greece (per Love to Know). In these communities, flowers, foliage, and herbs often had symbolic or religious significance.
In the Middle Ages, flowers and herbs were often used for both their fragrance and beauty, as they could mask the personal smells of those who didn't have access to regular bathing and laundry. The popularity of flower symbolism in Victorian England ensured the continual presence of floral arrangements in wedding celebrations, with bouquets and blossom crowns also particularly popular during this period.
In modern weddings, it's unlikely you'll attend a ceremony that doesn't have some sort of floral or foliage decor. Despite their integral role in this momentous occasion, most people don't realize the detailed planning and intense coordination that goes into ensuring flowers are fresh and arranged on the big day. While a wedding photographer and wedding planner might be the first few things to be added to the budget, flowers are certainly an important thing to remember.
With this in mind, knowing how much the average couple spends on wedding flowers is a great way to help you budget your own (or a loved one's) wedding.
Couples spend an average of $2,300 on wedding flowers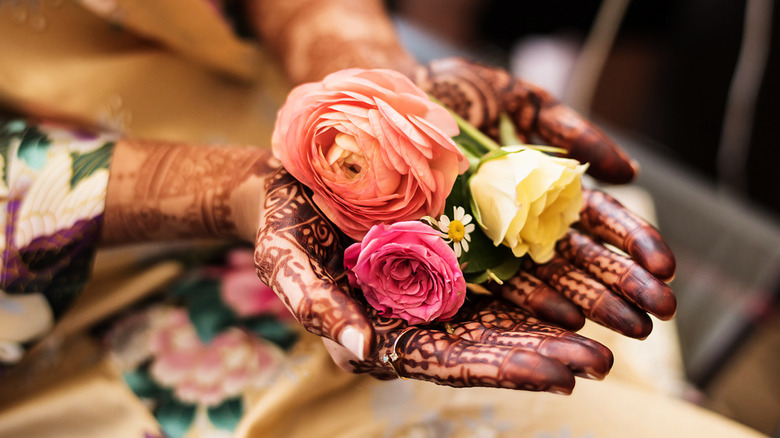 Sultan Shah/Shutterstock
While the amount you spend on wedding flowers will depend on your decor decisions, The Knot reports that $2,300 was the average amount paid in 2021. Among the surveyed respondents, 70% reported the use of a wedding florist. The remaining 30% likely used venue floral packages or DIYed their floral decor.
If this seems like a high number, remember that flowers tend to play a constant role in the wedding. In addition to the centerpieces and reception deco, there are also bouquets, boutonnieres, and other personal flowers to consider (per Zola). While the rule of thumb is to allocate 10% of your budget to flowers, your personal wedding day cost will depend on the amount and type of flowers you choose.
Based on your own budget, you may be thinking of forgoing a florist to cut costs, but there are many benefits to having a professional take care of your floral arrangements. According to Pop Up Blooms, florists work closely with the wedding couple to achieve the desired theme and atmosphere envisioned for the ceremony and reception. 
In addition to their helpful floral arrangement knowledge, they also care for the flowers in the days leading up to the wedding, prepare the personal flower arrangements, and typically deliver and break down the actual flower wedding decor.
There are a few ways to cut down on wedding flower costs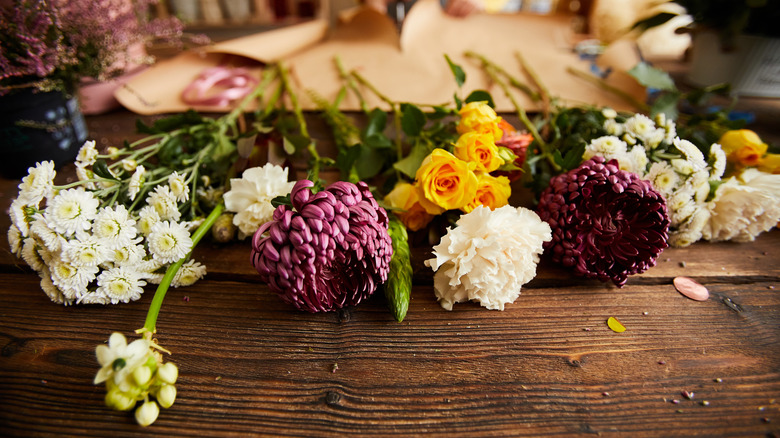 SeventyFour/Shutterstock
Depending on your personal budget or priorities, spending $2,300 on wedding flowers may be too much for you. If this is the case, there are several ways to reduce your spending.
For starters, wedding florists suggest repurposing flowers to use fewer stems (per Pop Up Blooms). Personal flowers, like bridesmaids' bouquets, can be used for reception decor after wedding photos. It's also important to consider the seasonal nature of flowers, as out-of-season flowers will be much costlier than their in-season counterparts.
Another way to spend less on flowers is to go the artificial route. As mentioned by Zola, fake flowers are often cheaper than fresh ones and provide the added benefit of being able to be prepared in advance. If you don't want to fully commit to fake flowers, you can also consider using a mixture of real and artificial.
Whether you use real or fake flowers, DIYing your own arrangements is another way to reduce your flower budget. While this will certainly be more challenging with real flowers, creating arrangements with fake flowers allows you to practice ahead of time and start over if necessary. However, it's also important to remember that forgoing the florists means you won't have the additional piece of mind provided by a professional florist on your wedding day.