Donald Trump's Actions During Hurricane Ian Are Raising Eyebrows
Evan El-Amin/Shutterstock
Adding to an already turbulent year, Hurricane Ian stirred up another kind of turbulence in the final hours of September 2022. The Category 4 storm slammed into Florida with almost unprecedented force, killing at least 14, leaving more than 2 million people without power. News footage shows the Sunshine State looking like a war zone of splintered houses, flooded streets, and torn-up roads, via NBC News. While many residents evacuated their homes ahead of the hurricane, many others stuck it out, either because they underestimated the storm's strength, or because they simply couldn't afford the cost of getting out of town, per The Washington Post. 
One high-profile Florida resident could easily have left the scene and bunked quite happily elsewhere for the duration, but he stayed. Donald Trump rode out the catastrophe from his grand Mar-a-Lago estate in Palm Beach. Rather than settling in for a Netflix binge, however, the former president took the opportunity to send out an email to his MAGA faithful. Per Business Insider, Trump criticized the FBI raid on Mar-a-Lago, and presented a poll asking questions about the raid and about Joe Biden's competency. The letter concluded with an invitation to contribute to his political action committees. (Suggested minimum donation: $25.)
Braving a hurricane just to promote a fundraising effort seems like an odd choice. However, numerous outlets are pointing out another potential reason that Trump chose to stayed. 
Did Donald Trump risk his safety to avoid a deposition?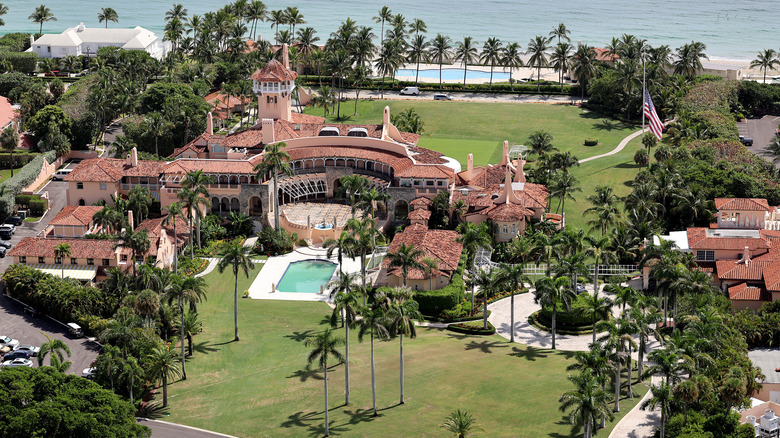 Joe Raedle/Getty Images
Donald Trump's legal troubles keep going from bad to worse. In addition to the investigation into the classified documents removed from Mar-a-Lago, the former president is also a defendant in a fraud suit filed by the state of New York. But, there's more. Newsweek reported that Trump is also a defendant in a class-action lawsuit. The plaintiffs allege that he and three of his children used the prestige of "The Celebrity Apprentice" to woo people into investing in a scam multi-level marketing business. Trump was scheduled to be deposed under oath at the Mar-a-Lago estate on September 30, 2022, but with the approach of Hurricane Ian, one of the plaintiffs' lawyers asked to have the deposition moved to Trump's Bedminster property in New Jersey.
So, Trump's lawyers flew to Florida while the plaintiffs' team stayed up north. The Trump team claimed the other side insisted on holding the deposition at Mar-a-Lago despite the danger of the storm. Not so, say the plaintiffs' attorneys, who argued that "the last we heard is that Defendants insist the deposition go forward at Mar-a-Lago and on Friday. With all respect, we do not believe that is prudent or safe."
The presiding judge finally extended the deposition deadline, leading skeptics to wonder whether this was Trump's true motivation for staying in Florida. As of publication, there was no word on whether Hurricane Ian damaged Mar-a-Lago as badly as Trump claims the FBI did.