The Makeup Tutorial That Will Turn You Into A Mermaid In Time For Halloween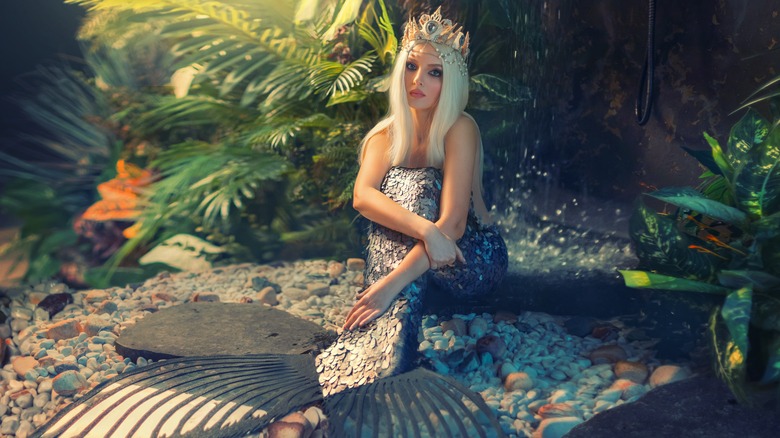 Ironika/Shutterstock
Halloween means scary movies, trick-or-treating, and, of course, dressing up like a creepy creature or your favorite character. When it comes to the costume tradition, your options are endless. You can be whatever you can buy online, find at the thrift store, or DIY yourself, including the super cool and multi-colored mermaid of your childhood dreams.
From the spooky, siren-like mermaid to the classic, red-headed Ariel, there are many looks to choose from within this costume choice (per Country Living). Even if you're simply wearing a faux tail that you bought online, you can really bring the outfit to life in whatever way you want with the help of eyeshadow, glitter, and highlighter. In this way, makeup is one of the mermaid costume's most creative and customizable elements.
Lucky for you, there are some simplified mermaid makeup tutorials out there, so you can choose whatever suits your Halloween vision best.
Add scales to your mermaid look using fishnets
One of the simplest ways to achieve a scaly mermaid makeup look is by using fishnet tights or a wig cap. As mentioned on Cosmopolitan, stretching one of these over your head and across your face creates a stencil that you can fill in using makeup.
The specific products and colors you use are ultimately up to you, as you can use the fishnet hack to create completely different looks depending on what you're going for.
Kathlyn Celeste uses products like a BH Cosmetics eyeshadow palette and an Anastasia Beverly Hills highlighter set to achieve her purple and blue look (via YouTube). For a darker purple style, shivonmakeupbiz used a mixture of greens, blues, and purples from various Urban Decay palettes (via YouTube).
You can create an ombre look by flowing one color into another or fade out the scales into your skin by using leftover eyeshadow on your brush in the same color as your scales. While applying the makeup, it's recommended that you dab your applicator instead of brushing, as you don't want the scales to run together.
Once you carefully remove your makeshift stencil and reveal your beautiful scales, you can add as much glitter and jewels as you want to complete your mermaid Halloween look.
You can also draw your own scales with basic makeup items
While the fishnet hack creates a beautiful, deep-sea look, it's not the only option available for your mermaid costume. As mentioned on Harper's Bazaar, there are lots of great makeup tutorials to inspire your Halloween fit.
YouTuber Jennifer Chang offers a simple alternative in her mermaid tutorial, using aquatic colors from a Beauty Creations Cosmetics eyeshadow palette and a Coloured Raine Vivid Pigments set to create an ombre base and then hand drawing scales with a brown pencil (via YouTube). Then, she adds some sparkle by tapping on some shimmery eyeshadow with her fingers.
This is a great mermaid makeup look if you're DIYing a last-minute costume and don't have a pair of fishnets that you don't mind getting makeup on. You can work with whatever eyeshadow colors you have at home and resort to a dark-colored, waxy eyeliner or eyebrow pencil.
While blues, greens, and purples are the most common eyeshadow colors used in these looks, you can claim creativity by using whatever available colors you have. What's great about this costume choice is that there is so much room for customization.