What Is An Italian Bob And How Can You Pull It Off?
The latest trending haircut, known as the Italian bob, is exploding in popularity. While you may recognize one particular style of a bob, there are in fact, a variety of bob haircuts with different looks and intentions. The Italian bob is an innovative haircut meant to be versatile and chic, often inspired by the aesthetics of the '60s as seen on Italian actress, Raffaella Carrà. "The Italian bob is popular for several reasons," U.K. editorial ambassador for L'Oréal Professionnel, Adam Reed, tells woman&home. "It's fun, dynamic, and chic, while being easy to style day-to-day."
Additionally, this style of bob is low maintenance. Many people have been getting the Italian bob for its convenience as well as its sophisticated and elegant look. The Italian bob has it all: texture, volume, and definition. It's a haircut for anyone and any hair type, too, because of its face-framing and length purposes.
What does the Italian bob look like?
This style of haircut was first coined by The Hair Bros, in what they refer to as the Italian '60s bob. The Hair Bros, made up of Nick Latham and Sean Paul Nother, say that the Italian bob consists of a heaviness, neck grazing, and volume to make it what it is. The Italian bob is cut with a unique technique to create its naturally undone look and movement throughout. In a TikTok video with over 138,000 thousand views, The Hair Bros explain the process of creating the Italian bob as they cut it, describing the final look as "beachy-looking, full hair." During the process, they focus on a short base length, intentional front corners, a face-framing shape, and volume with a soft finish.
The Italian bob is a one-length bob that is just a little longer than a regular bob, ending just below the chin. The ends roll under or it can be naturally dried. "It's chunky-ended, neck grazing, and long enough to tie up, yet short enough to turn heads," hairstylist Nick Latham tells Glamour. It's meant to make your hair feel fuller and thicker with the strategic style it carries. Additionally, styling it is easy and almost effortless, which means just about anyone can pull it off.
The Italian bob is for everyone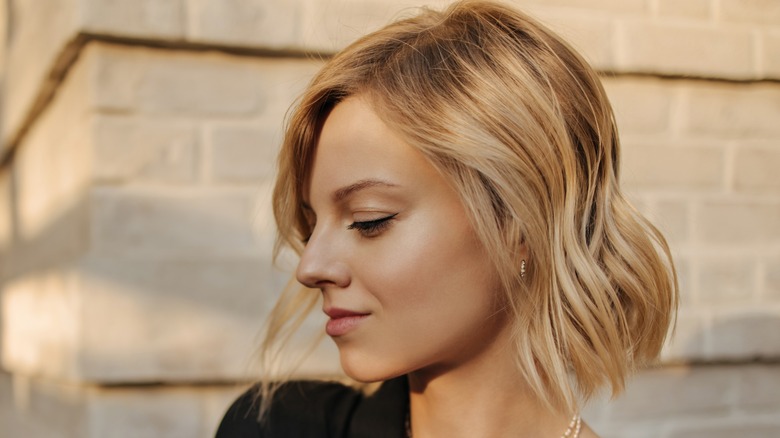 Look Studio/Shutterstock
"The beauty of this haircut is its versatility. The heaviness allows for that Parisian air-dried feel when left natural, but you can put a brush through it for a nod to classic '60s glamour," hairstylist and the other half of The Hair Bros, Sean Paul Nother, tells Glamour. "The Italian bob can be thrown into any parting with equal effect and to gain the second-day volume we all love." The best thing about the Italian bob is that you can let it air dry with a few hair products put in, and it will be styled through your hair's natural texture and waves. Because it can be parted in any direction, this also works whether you prefer a side, middle, or asymmetrical part. The way you choose to part your hair provides a unique face-framing effect with this haircut. When you're not air drying your bob, the style is easy to work with using other styling tools and products as well.
U.K. editorial ambassador for L'Oréal Professionnel, Adam Reed tells woman&home that he recommends speaking to your hairstylist to figure out the exact way to make the Italian bob work for you. This way your stylist can tailor the cut and style to your specific hair type and face shape to get the most that you can out of this haircut.