How Robert Downey Jr. Is More Musical Than You Originally Thought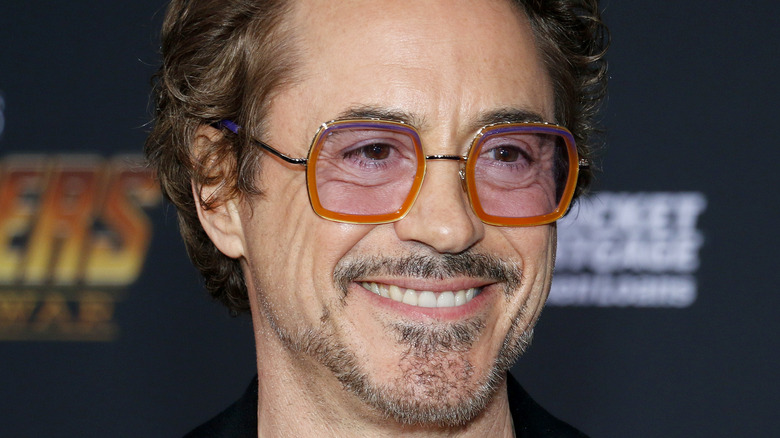 Tinseltown/Shutterstock
2008's "Iron Man" launched what would soon become the Marvel Cinematic Universe, by far the top-earning franchise in cinema history (via Statista). At its helm was Robert Downey Jr., Tony Stark himself. Downey Jr. rose to prominence in the early 1980s as part of the so-called "Brat Pack," explained by journalist David Blum as "a roving band of famous young stars on the prowl for parties, women, and a good time," according to New York Magazine. Throughout the decade, Downey Jr. starred alongside friend Anthony Michael Hall in a John Hughes classic and even had a brief run as a cast member on "Saturday Night Live." However, as his stardom grew, the "Weird Science" actor dealt with a dependence on alcohol and drugs. Eventually, his addiction led to several arrests throughout the '90s, and in 1999 he spent a year in a court-mandated treatment facility, per American Addiction Centers. The actor's final arrest came in 2001, and he's been outspoken about his sobriety since (via Hollywood). "I am not my story," Downey Jr. told Vanity Fair.
The actor's decade-long stint as Iron Man has perhaps been the most impactful time of his career. "Playing Tony/Iron Man was hard and I dug deep" Downey Jr. told the Hindustan Times in a 2020 interview. However, he's officially said goodbye to the role. "Evolving is key," he noted, "the worst thing you can do is get in your own way." Part of the actor's stunning transformation could involve making more music.
Robert Downey Jr. released a solo album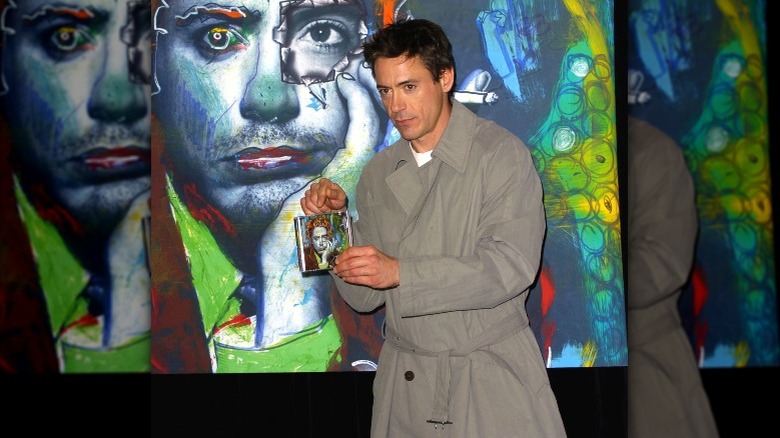 Everett Collection/Shutterstock
Robert Downey Jr. can do more than dawn a high-tech super suit and fight aliens. He can also sing. In 2004, years before introducing the world to Tony Stark, the Marvel star released "The Futurist," a solo album showcasing his musical talents (via Cosmopolitan). According to The New York Times, the album features eight original songs and two covers, one of which is "Smile," originally composed by silent film actor Charlie Chaplin. Despite his years on the big screen, Downey Jr. felt "some hesitation" in releasing his own music, per the New York Times. As the A-lister. explained during the 2004 interview, "there is this thing about people wanting to continually demonstrate their prowess in many areas and it's kind of a gross-out." However, each song originated from a deeply personal place. "I think I'm more sensitive and introspective and filled with wonder at the universe because of what I've gone through than I care to admit," he commented, explaining how "every one of the songs is influenced by my experience, but I hope it's a little obscured."
Downey Jr. performed his songs on "Oprah" and "The Tonight Show," opportunities which he called "beyond nepotism," recognizing that "no way would I ever get to express myself musically if I wasn't an actor of ill repute" (via New York Times). All of the actor's songs are available on Spotify. But writing his own music isn't the only way the actor chooses to express himself. 
The actor and his wife express their playful sides in their choice of home
Robert Downey Jr. is a pretty unique person (via Hollywood Insider), as can be heard in his music, and seen in the gorgeously obscure home he shares with his wife, producer Susan Downey, who he has been happily married for the past 17 years (per People). In 2017, they showed off their new home in the Hamptons to Architectural Digest. The catch? It's a windmill. "We didn't set out to do something conspicuously wacky," the "Iron Man" star told the magazine. "We just enjoy a bit of whimsy and fun." The windmill, built in the late 19th century, was originally meant to be a playhouse. However, renovations over the last century gradually transformed it into a year-round home. As noted by Downey Jr. himself, "we definitely don't like boring."
Speaking of "conspicuously wack," the Downeys also have a seven-acre wildlife refuge in Malibu complete with goats, alpacas, cows, and more (via Daily Mail). A tour of the estate — and a meet and greet with several of the famous farm animals — can be seen in Season 3, Episode 2 of David Letterman's "My Next Guest Needs No Introduction," on Netflix.