Inside Anthony Michael Hall's Relationship With Robert Downey Jr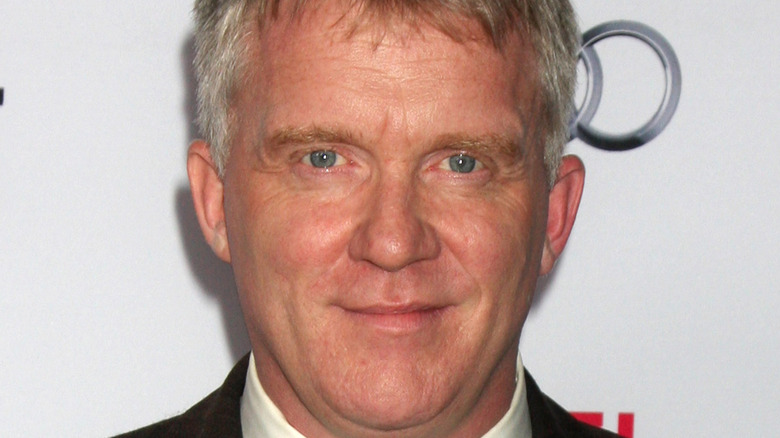 Kathy Hutchins/Shutterstock
In the 1980s, there were few actors who rivaled the popularity of the members of the Brat Pack. As Insider reported, the term "Brat Pack" was coined by writer David Blum in a New York magazine piece in 1985. The members are Rob Lowe, Judd Nelson, Emilio Estevez, Molly Ringwald, Anthony Michael Hall, Andrew McCarthy, Demi Moore, Ally Sheedy, and Robert Downey Jr.
Hall and Downey first met on the set of "Wierd Science" in 1984 and became fast friends. Just prior to filming that movie, Hall had become an overnight sensation in "Sixteen Candles" and "The Breakfast Club," while Downey Jr. was just beginning his path to fame and fortune. According to Downey, it was his friendship with Hall that landed him a short but important tenure as a cast member on "Saturday Night Live." 
During an interview with "Off Camera with Sam Jones," Downey compared Hall to Jon Favreau, the director who went to bat for the actor when the studio didn't favor him for the role of Tony Stark in "Iron Man."
"We become friends," Downey told Sam Jones. "So he in a way was my first Jon Favreau. He was someone who said to me 'I'm going to go do SNL and I'm gonna get you an audition. I bet you're gonna get yourself on the show too, and they'll be lucky to have us.'" Both Hall and Downey appeared on "Saturday Night Live" in 1985 and 1986.
So what's their relationship like today?
Anthony Michael Hall and Robert Downey Jr. are still close friends today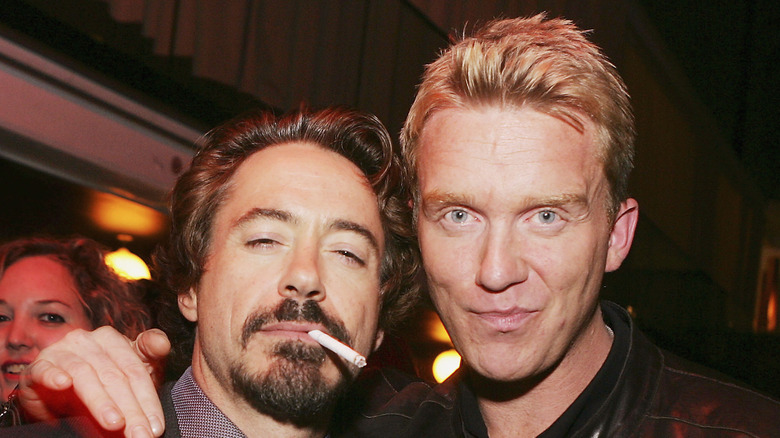 Kevin Winter/Getty Images
Just a few years after filming "Weird Science" together, Anthony Michael Hall and Robert Downey Jr. starred in the comedy "Johnny Be Good" in 1988. Hall spoke about his friendship with Downey and the experience of filming the movie with the San Antonio Current in 2020. 
"Downey is a good friend of mine," he said. "We've been friends since our 'Saturday Night Live' days. All these years later, Downey calls it Johnny B-Movie. He's a wisea** now that he has $500 million — Mr. Iron Man. He can crack jokes like that." 
Hall added: "We loved making ['Johnny Be Good']. The thing I remember about making it is that the script was so skinny. We had no script. We had a great time all those years back."
Hall is also the godparent to Downey's son, 28-year-old Indio Falconer Downey, according to the New York Post. Back in 2016, The Wrap, announced that Downey would be making his directorial debut on the television show "Singularity," about a dysfunctional family. Hall was reported to be starring as the lead character in the show, however, since 2016, no news regarding the fate of the series has been released.