Everything You Should Do To Prep For A Coloring Session, According To A Professional Hairstylist – Exclusive
Halay Alex/Shutterstock
Coloring your hair can be a lot of fun and make you feel like a whole new person. Sometimes you're just bored with your hair color and want a little change. And change is a good thing because it's the only constant in the world.
Many people love changing their hair color with the season. Nina Farrauto, Color and Styling Expert at Garnier, told Elle Canada, "Many people tend to lighten their hair in the summer time, and darken it in the winter, as an echo to the changes in fashion apparel with light colors for spring and summer and darker hues in the fall and winter." It's like changing your wardrobe when the seasons change, and you have hair to match that.
So, if you're ready for a whole new look by changing your hair color but don't know where to start, you've come to the right place. We spoke with Colorado-based stylist Sara DesGeorges of Twig Hair Salon on how to get ready for coloring your hair. "I have always had a passion for hair and how it can make someone feel. I love creating looks that will only leave you feeling more like yourself," says DesGeorges.
How to get your hair ready for coloring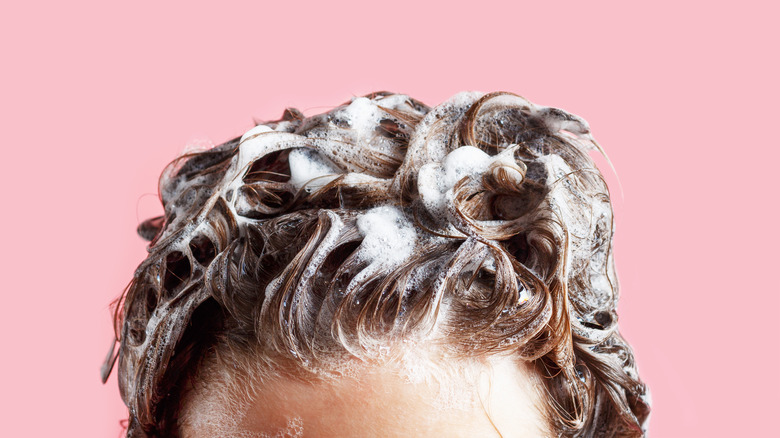 TanyaKim/Shutterstock
A fresh color can uplift your mood and boost your confidence, and who doesn't want that? No one wants to leave the salon with a color that's meh or filled with regret, so prepping your hair is crucial. Therefore, before you sit on your stylist's chair to transform your hair color, keeping a few things in mind will guarantee a playful hair toss when you leave. Also, scheduling a consultation with your stylist before the appointment is not a bad idea.
Sara DesGeorges told The List, "The way you can best prepare for your coloring session is making sure your hair is clean. I recommend day 2 hair." You don't want squeaky clean hair on the day of your appointment as "Shampoo doesn't make the color take better," Jet Rhys, celebrity stylist, and co-owner of the Jet Rhys Salons in San Diego told Everyday Health.
DesGeorges told us, "Wash your hair the day before your appointment and try not to use too much dry shampoo. Too much product build up can create more layers for the color or lightener to push through, which can possibly lead to longer processing times." It's already time-consuming to get your hair colored, so you don't want to take longer than necessary to leave with the hair color of your dreams and product buildup might also compromise the color's integrity. This way, you can keep doing your hair toss for longer after you've left the salon.
Invest in quality hair products for colored hair
Body Stock/Shutterstock
You're walking on air once you've left the hair salon because your fresh hair color looks perfect, but it's your responsibility to take care of it to maintain the vibrancy of the color and health of your hair.
Sara DesGeorges told The List, "Invest in good hair products, your hair will thank you, and so will your wallet. If you spend hundreds of dollars on your hair but use $5 shampoo and conditioner, your color will not last as long, which means more visits to the salon." That means you'll have to spend more money in the end if you try to save a few dollars earlier on color maintenance. Plus, you want your color to look fresh as long as possible, and quality products will help with that.
DesGeorges told us, "Investing in good products that your stylists recommends will help with the longevity of your color. The products your stylists use have good ingredients and technology to help preserve your color and the health of your hair." She added that it's more likely that your stylist's products are more concentrated so you're saving more money in the long run by choosing professional-grade hair products. "Trust your stylist when it comes to products," she added.
Kari Hill, celebrity hair colorist at Méche Salon, recommends using products specially made for color-treated hair as they will help your color look vibrant for longer, per Seventeen. You won't regret it.