Here's What Lana Del Rey Looks Like Going Makeup Free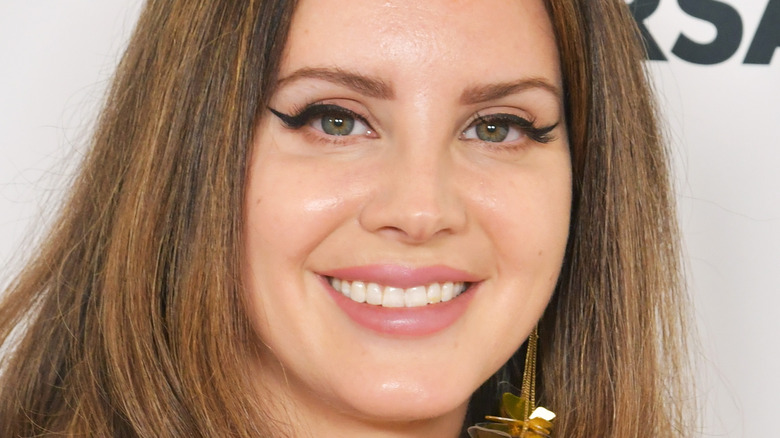 Lester Cohen/Getty Images
Lana Del Rey is known for turning heads. Even if she didn't realize it at the time, her first album "Born to Die," which dropped in the early 2010s, would skyrocket her music career straight into stardom. In one of her earliest interviews, Del Rey told Vogue her rise to fame was "almost accidental." She couldn't have anticipated that she would soon become a household name after just one album release.
As Del Rey continues to drop bops, her passionate fanbase has only grown in size. People worldwide have fallen in love with the soulful songstress and her dreamy, melancholic ballads that pull at your heartstrings. Variety even reports that an upcoming "Lana Del Rey" course will be taught at New York University.
But Del Rey's music isn't the only thing that enchants her fans. Her taste in fashion is also nothing short of iconic. From brilliant blonde to vintage-inspired brunette, the style evolution of Lana Del Rey has been something to behold. And while the queen of cat eyes looks terrific with makeup, fans can't get enough of the fresh-faced, makeup-free version of their favorite singer.
Lana Del Rey shares a bare-faced selfie
Fans of Lana Del Rey will know she deactivated her social media back in 2021. According to People, the decision was made after Del Rey announced she was ready to embark on new endeavors apart from her stage name. Fortunately for us all, her most dedicated fans have continued to have insight on the singer-songwriter's Instagram posts and regularly share with the rest of the fanbase.
One such post that has garnered much love and attention was a photo of LDR sans makeup, shared by user @lanadelreybr. Del Rey shows off her long natural lashes and flawless skin in her Instagram selfie. Her signature dark tresses are styled into two loose pigtails that complement her youthful appearance.
It's easy to see that fans absolutely adore Del Rey without makeup. The post has received over 30,000 likes and hundreds of positive comments. Fans shared plenty of heart-eye emojis and their praise for her natural look.
She likes going makeup free in the studio
The red carpet is often the place where celebrities and personalities show off their signature makeup and fashion. And while it's a very cool experience to see so much style happening in one avenue, it's a bit refreshing when you see a celebrity break out of the mold and wear no makeup at all. Maybe that's why we love Lana Del Rey so much; she's not afraid to bare her soul in her music and embraces all aspects of herself, including her face without makeup. From the comfort of her own home to the front cover of a magazine, LDR loves showing off the skin she was born in (via Cosmopolitan).
Music producer Jack Antonoff shared a behind-the-scenes look at LDR while she was in the studio preparing to record. The Instagram photo shows us a laidback Lana, headphones on, as she readies herself to no doubt drop another banger of a song. "Making MAC in LA. (12 string, grand piano, mellotron, model D and Lana," Antonoff captions the photo. He's referring to Del Rey's popular single "Mariners Apartment Complex," which currently has 30 million views on YouTube.