Here's How To Become A Loan Officer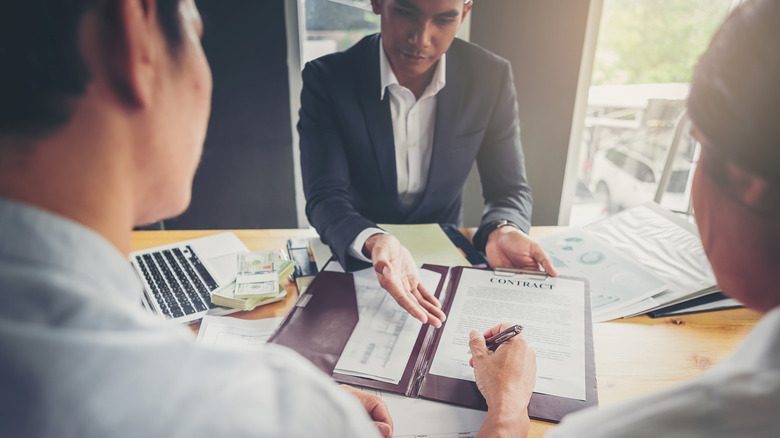 Panumas Yanuthai/Shutterstock
While some people may dread a career that involves math, finances, or anything having to do with the economy, professions in these sectors can be very stable. Despite the relative normalcy of the jobs, they can provide you with secure employment for many years in all economic climates. One of the positions that fall into this category is that of a loan officer. Even though working on behalf of banks and other financial institutions isn't for everyone, it comes with many benefits for those who take this job on.
Loan officers make a median salary of $63,960. This number can change depending on your employer and how they structure their payments. In some institutions, payment can include commission on loans, a set salary, or a mixture of both. Depending on your education and effort, this salary can even go over $100,000 a year, according to Investopedia.
The job of a loan officer can be simply defined as approving loans on behalf of businesses and financial institutions based on preexisting requirements such as credit history, credit card debt, and current income. While not one of the most glamorous jobs, loan officers have stability and a certain level of job security not available in many fields.
What do you need to study to be a loan officer?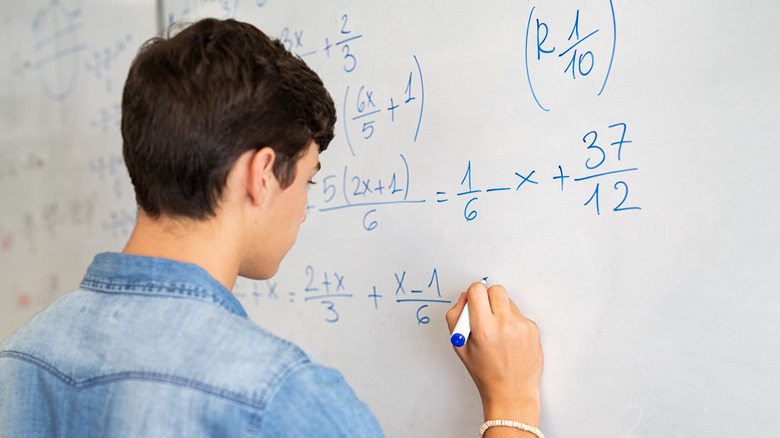 Rido/Shutterstock
The path to becoming a loan officer will depend on which type of loans you decide to work in. According to U.S. News & World Report, most loan officers will have a bachelor's degree in either finance or business. However, this isn't a requirement, as loan officers can also enter the field with enough relevant work experience at other financial institutions. If you decide to work as a mortgage loan officer, you are also required to take the SAFE MLO exam and pass with a minimum 75% score (per Diehl Mortgage Training & Compliance). 
Indeed adds that to fulfill all educational requirements to become a mortgage loan originator, you must complete a series of both state and federal courses. These courses will take around 20 hours and will cover subjects such as federal law and regulations, ethics, lending standards, and instructions on mortgage requirements. Further educational requirements can differ from state to state.
Necessary licenses and certifications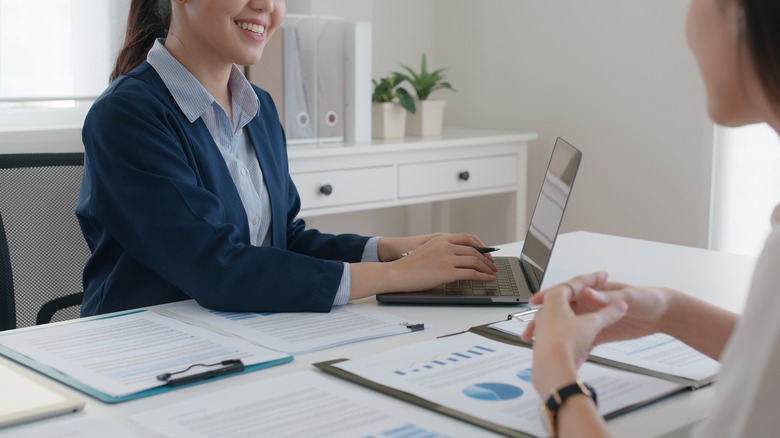 Chaay_Tee/Shutterstock
Like the educational requirements, licenses and certifications can differ depending on the state in which you work. However, Coursera adds that those seeking to work with mortgages will need to have their MLO license and register with the National Mortgage Licensing Service. In the majority of the cases, states will issue a license to aspiring loan officers after submitting coursework, undergoing background and credit checks, and passing individual state exams.
The Truth About Mortgage adds that certain states may not require an MLO license to work as a mortgage loan officer. As well, specific licenses and certifications may depend on the institutions you work for. Some financial institutions may require you to complete their own licensing programs before taking a separate exam. In these cases, all the coursework and licenses are provided by the company. That being said, bigger banks may be less strict about the incoming experience and licensing you have than smaller institutions.
Regardless of your state's requirements, becoming a loan officer is not overly difficult and can be beneficial if you seek a career with stability.