The Perfect Harmony Star Who Will Perform An Original Song For The Hallmark Film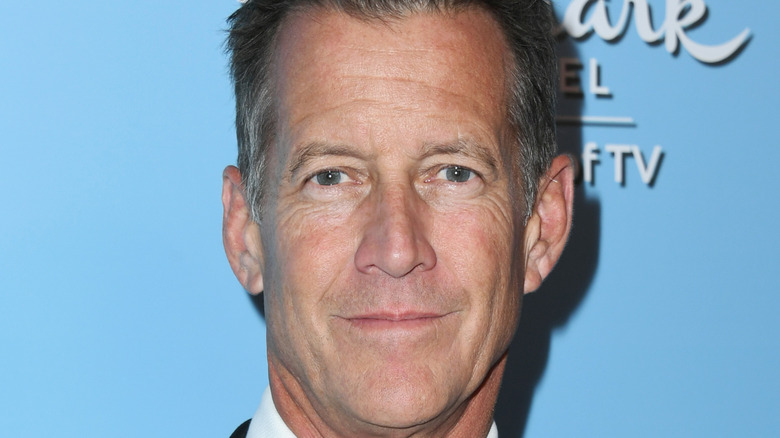 Jon Kopaloff/Getty Images
One of the reasons the Hallmark Channel has become must-watch television is because of its roster of stars. And fans can look forward to one of their favorites — James Denton — making his return to the network in the upcoming movie, "The Perfect Harmony," which is set to air this fall on Hallmark Movies & Mysteries, per Variety. The actor — best known for spending eight seasons on "Desperate Housewives" — has already appeared in two movies and five Halloween specials for Hallmark, as well as starred in five seasons of its hit show "Good Witch," per IMDb. 
For his latest role Denton will play Jack Chandeller, a "laid-back, former pop star," opposite Sherri Saum, who portrays Barrett Woodword, an uptight college professor. When their friends — Naomi and Simon — get married, they ask Jack and Barret to be their best man and maid of honor. "They have been like oil and water since they met 10 years prior but, to support Naomi and Simon, they agree to set aside their differences," according to the film's synopsis quoted by Variety. 
Jack and Sherri start to form a bond around music, with the two teaming up to perform a special duet for the bride and groom. In fact, Denton gets to sing two original tunes in the movie.
James Denton performs two original songs in the Hallmark movie
In Hallmark's "Perfect Harmony," James Denton and Sherri Saum perform the duet — aptly titled "Perfect Harmony" — and Denton also goes solo to belt out "Ooh Wee Ooh." The original music was composed by Jack Lenz, per Variety. 
Fans of Denton are familiar with the actor's musical talents. He plays guitar and sings in Band From TV, which consists of actors and musicians who perform cover songs at live events for charity. Some of Denton's fellow bandmates include Greg Grunberg from "Alias" and "Felicity," Jesse Spencer from "Chicago Fire," Adrian Pasdar, from "Agents of Shield" and "Heroes," and Scott Grimes from "Orville."  Through the years, the band has raised almost two million dollars (per Hallmark) in funds that have gone to charities including Conservation Fund, Children's Hospital L.A., The Epilepsy Foundation, The Art of Elysium, Save the Children, and more.
"James Denton brings the Springsteen (or) Elvis quality to the band, so you'll hear 'Mary's Place' from Springsteen, you'll hear 'Viva Las Vegas,'" Grunberg told The Orange Country Register about coming to one of the band's shows.
James Denton's son also has a role in Perfect Harmony'
Not only does James Denton get to show off his musical skills in Hallmark's "Perfect Harmony," but he also worked with a special costar who plays his onscreen child: his real-life son, Sheppard Denton. "James Denton has long been an audience favorite and we can't wait for viewers to see him showcase his musical talent in this role," said Elizabeth Yost, senior vice president of programming at Hallmark, per Variety. "The story is fun and full of heart, and sharing the screen with his son Sheppard is an added bonus."
Sheppard made his professional acting debut in Hallmark's "For Love & Honor," which also starred his dad. "My dad saw the role of Mason and it was very different from what it is now, and he still thought I would be ok in it," Sheppard said in a Hallmark Channel interview back in 2016 about his role. "He had me tape me reading some of the original script's lines and apparently production liked it."
He also inherited his dad's musical abilities. Sheppard released a "coming of age" album, titled "Seventeen Saturdays," in May 2022. All eight tracks were written, produced, and performed by Sheppard, according to his Instagram.