The Makeup Tutorial That Will Turn You Into Wonder Woman In Time For Halloween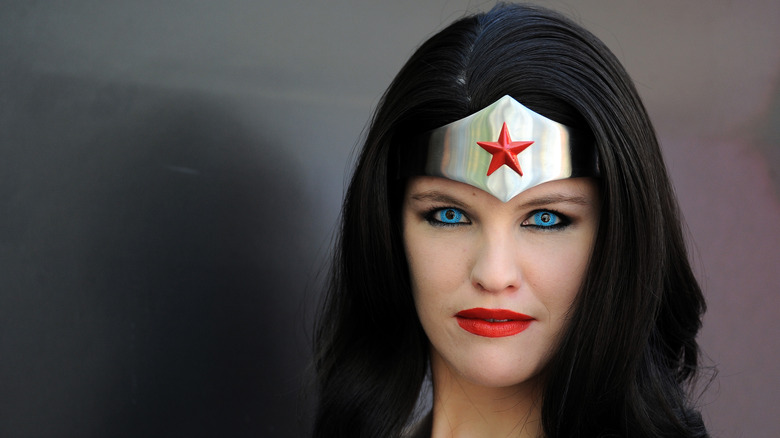 Albert L. Ortega/Getty Images
We may receive a commission on purchases made from links.
We love all things Wonder Woman! From the classic TV series starring Lynda Carter from the mid-to-late 1970s to the more modern "Wonder Woman" movie starring Gal Gadot and Chris Pine, we love watching one of our favorite superheroes fight bad guys on-screen. Wonder Woman is a brave and empowering role model for people of all ages, so it's no surprise that the beloved superhero is a popular Halloween costume every year, especially for the brunettes among us (or those who don't mind wearing wigs).
Of course, you'll need an excellent costume if you plan to be Wonder Woman for Halloween. The superhero is such a popular Halloween costume that many retailers sell Wonder Woman outfits, including Spirit Halloween, Amazon, and Party City. The right ensemble and wavy brown tresses are crucial for your transformation into Wonder Woman, and makeup inspired by the superhero will complete the look, making you appear more believable as Wonder Woman for Halloween.
This tutorial is inspired by Gal Gadot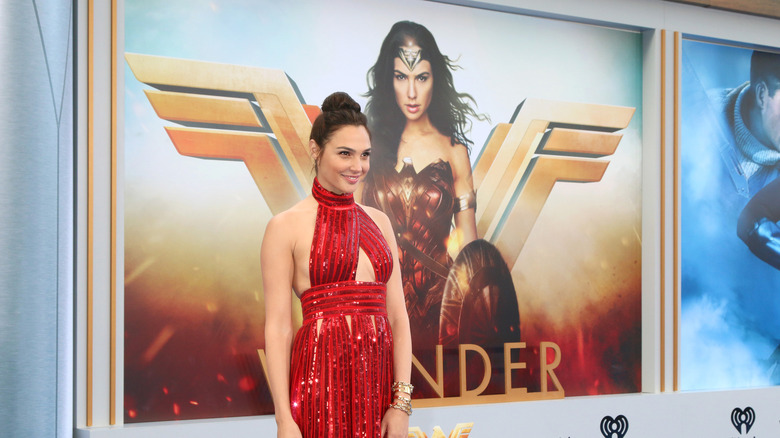 Kathy Hutchins/Shutterstock
Doing your makeup will bring your Wonder Woman costume to the next level, but don't worry — you don't need to try to find the exact lip color Gal Gadot wears as Diana in the movies. All you'll need to do is follow the step-by-step tutorial on YouTube by Charisma Star to do your makeup like Gal Gadot's in "Wonder Woman."
First, Charisma Star recommends that you moisturize your skin, add some face oil, and use an under-eye cream — you won't want to look tired if you're going out as a superhero. Next, put on a primer and foundation for even, smooth skin. Then, highlight and contour your face, add your blush, blend it all in, and set it with powder. For even more attention to detail, try some bronzer and more highlight.
Now it's time for accentuating your eyes: Start with a beige shadow, then add brown eyeshadow to your crease, and enhance the look with some light orange. Then, add a bit of shadow under your lower lashes, and use eyeliner to define your eyes. Don't forget to curl your eyelashes and add mascara. If you want even more noticeable lashes, add fake eyelashes. Then, fill in your eyebrows for that bold, angled look. For your lips, use warm pinkish lipstick and add lip gloss on top. You can also add some gold body shimmer to look like you're glowing as a true superhero would.
This tutorial will turn you into a classic Wonder Woman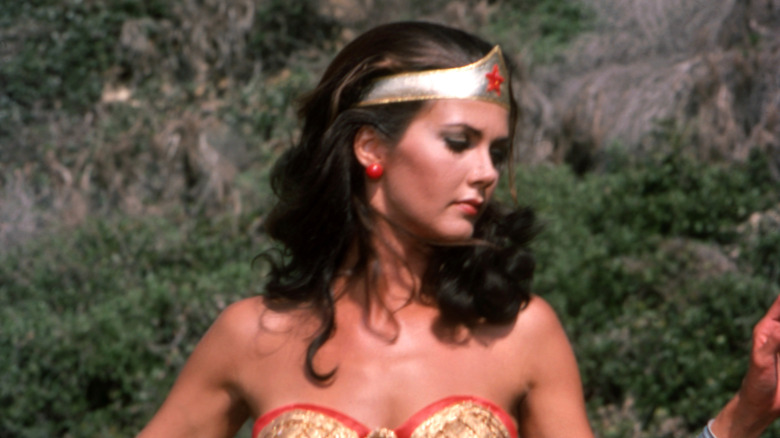 Icon And Image/Getty Images
We love nothing more than watching Gal Gadot light up our screens as Wonder Woman, but as mentioned before, that movie is only one version of the story. Thus, as more than one actress has portrayed the iconic superhero, there are different ways to create Wonder Woman-inspired makeup looks. While the last tutorial was about looking like Gadot in "Wonder Woman," this YouTube tutorial by Carli Bybel created a brighter look that's more attuned to  Lynda Carter's version of the beloved character. 
For this somewhat bolder spin on Wonder Woman makeup, you should start by putting on some gold eyeshadow, adding contrast with dark blue shadow, and blending it in. Next, blend some brick red shadow on top, and add a bit of black eyeshadow over the blue. Then, add some more blue shadow. After this is complete, put on black eyeliner and add gold sparkles over all your eyeshadow. To enhance your eyelashes, you can put on mascara or falsies, depending on how much drama you want. And for added intensity and glamour, you can put on blue, yellow, and red face gems by your eyes. In the video, Bybel also wore bright red lipstick to complete the fun, daring look.
Whether you follow the first tutorial to look like Gadot, the second one for more of a comic book-inspired Wonder Woman, or take elements of both, you're going to look great!