Here's How Much Wedding Invitations Really Cost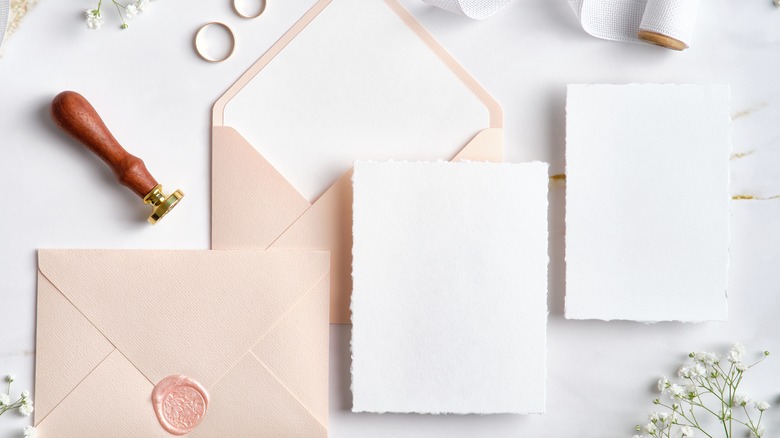 Savanevich Viktar/Shutterstock
First impressions can be extremely important. Sometimes, your first impression is what lands you your dream job, helps you find your soulmate, or even launches you on a great big adventure. When it comes to weddings, it's safe to say that the invitation is the first impression of your nuptials. It is the first official thing your guests will receive that gives a glimpse into what they can expect for your big day. Because of this, choosing the right wedding invite is important. You want it to speak to you and your wedding, but you also need to make sure it has all the vital information your guests need to know.
According to Wedding Wire, the invite should include everything from the location and time to the attire and names of those hosting the event. And because of their importance, wedding invitations don't come cheap. The amount you will spend depends greatly on the stationary you use and the amount of guests you are inviting, among a variety of other details, per Brides, but overall, invites should be factored into your budget at the start — they are often a vital part of the wedding that can't be deleted. So how much can you expect to spend on your wedding invitations?
Wedding invitations should make up about six percent of your budget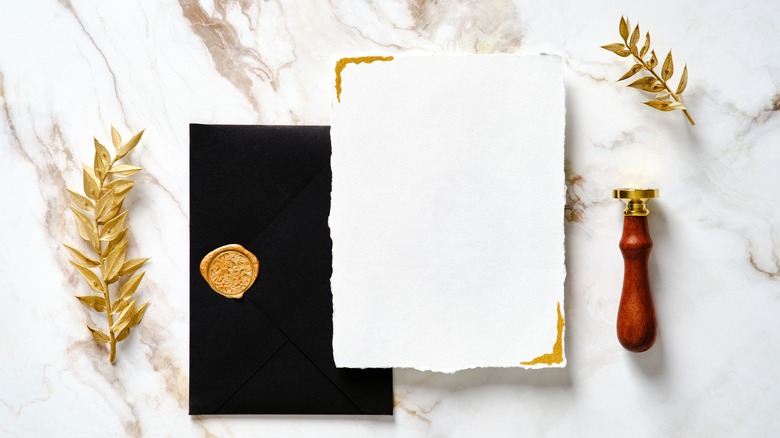 Savanevich Viktar/Shutterstock
When you sit down to choose your wedding invites, you will be met with a ton of words you probably aren't very familiar with. Things like embossing, foil stamping, envelope liners, and edging will be very intriguing options to add to your invite, per Brides. But before you say yes to all the pretty things, consider your budget. Brides spoke with two invite experts who revealed that couples should allot about 6% of their overall budget to invitations. Overall, they find that invitations cost about $5,000 to $8,000 for 100 invites. But before you freak out over this number, there are a lot of things to consider.
According to Zola, the national average for wedding invites is much lower than that. In fact, they report that couples usually spend between $300 and $700 for 100 invitations. This number rises quickly when you add in save the dates, RSVP cards, and all those pretty things mentioned above. But one of the biggest ways to increase your invite cost is the way you choose to print them. According to The Knot, digital printing is a great way to save big bucks on your invites, while options for hand calligraphy or letterpress can make that number skyrocket.
Things to consider when choosing your invitations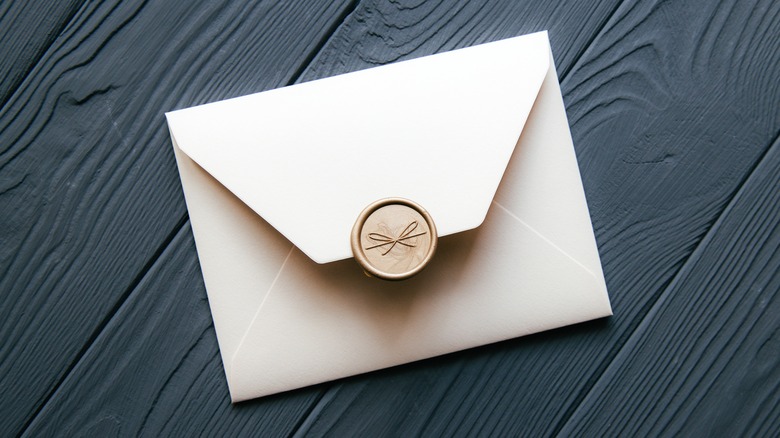 Ganzyk/Shutterstock
If choosing your invites is the first thing on your wedding to-do list, you may be feeling a bit overwhelmed. When it comes to invites, the options are seemingly endless and you will have to make a ton of choices regarding shape, colors, and even smaller details like envelope liners and stamps. If you want to keep things simple, opt for digital printing, which is the most cost-friendly option and lets you forgo a lot of decisions, per Maroo. Engraved wedding invitations are the most fancy option, and the most expensive. In fact, this option can cost you about $25 more per invite, greatly impacting your budget. But if you do choose this type, you will be met with a gorgeous handmade invite that will make a great first impression on your big day.
In addition, you'll need to consider the smaller details. According to Brides, you'll want to make decisions on whether or not you will include envelope liners, wax seals, insert cards, edging, or embossing, all of which can make your invite budget skyrocket. But, no matter what type of invite you choose, just be sure to do one. While digital invites are big for birthday parties and other special occasions, your wedding deserves to shine a bit brighter and per Emmaline Bride, they are a necessary part of any wedding.