Of All Hilary Duff's Looks - This Stands Above The Rest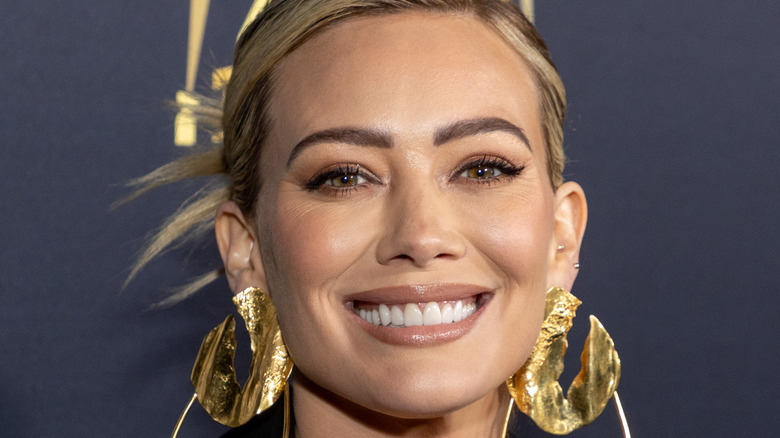 Emma Mcintyre/Getty Images
Hilary Duff is probably one of the most famous Disney stars and easily one of the most recognizable. The singer and actress made a name for herself when she landed the role of a lifetime as Lizzie McGuire — a relatable, clumsy teenager facing the awkward hardships of growing up. The show was a big enough hit that it even spawned its own award-winning movie, aptly titled "The Lizzie McGuire Movie." The blockbuster film was filled with all the fashion staples of the early 2000s including gelled hair, tube tops, mini-skirts, and knee-high socks.
Duff would go on to leave her Disney darling image and 2000s fashion behind and make an even bigger name for herself in the years to come. She's shown off her acting range and new looks in her recent roles such as her role as Sophie from the Hulu spinoff "How I Met Your Father." In the show, she nails the trendy girl-next-door look that encapsulates Sophie's character.
While Duff has shared many iconic looks with her fans during her career, this look is the one we think stands above the rest.
Hilary mesmerizes fans in a gorgeous mini dress
Who said press conferences had to be stuffy? Hilary Duff looked anything but bored in the pictures she posted on Instagram. Duff shows off her look at an event for "How I Met Your Father" with four magazine-worthy photos. Duff jokingly captions the photo with, "This whole thang to sit in a chair from 9-7 yesterday doing press. but those shoes and that gloss lid were sass #HIMYF."
The actress looked absolutely glowing in a pink and blue mermaid pattern dress. The slightly poufy sleeves, ruching in the waist area, and bright colors made the dress classy yet fun and sassy all at the same time. 
The skin tone and sheer combination high heels tied the whole outfit together. If you want to make your legs look longer, nude heels are the way to go. In an interview with Us Magazine, Kim Kardashian explained that nude heels are the heels that everyone needs in their closet. The matching skin tone and elevation trick the eye into believing your legs are longer than they really are, and that's never a bad thing.
Hilary's power suits are a mood for working mothers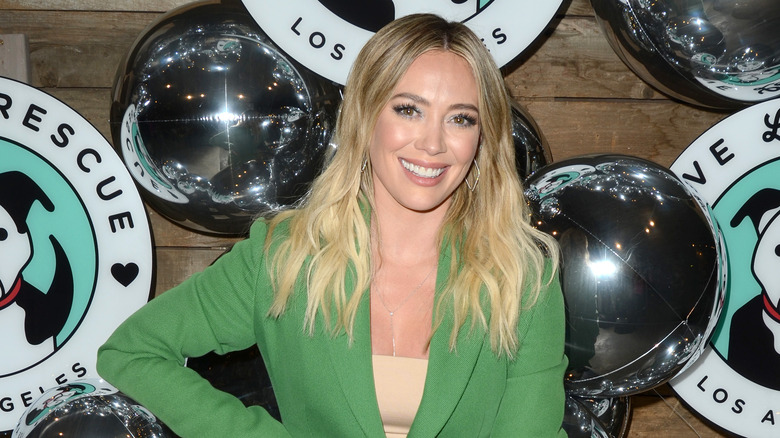 Kathy Hutchins/Shutterstock
Hilary Duff is a gold mine when it comes to trendy looks. She's been known to rock a pantsuit every now and then — she wore an emerald green suit to the Love Leo Rescue annual Cocktails for a Cause event in 2019. Duff had a cool opportunity earlier in 2022 and she channeled that same powerful pantsuit energy she has in the past. The experience she had should make working moms everywhere proud.
Nothing says "mom power" like a two-piece pantsuit. In May, baby clothing store Carter's named Duff their first ever "Chief Mom Officer." In her new position, Duff will act as the parent consultant to the store as it introduces new brands and clothing lines in the years to come. In her Instagram post announcing the collaboration, Duff looked chic and professional in a checkered brown pantsuit. She accessorized the outfit with a subtle double-chain necklace that looks like it could be made from gold pearls.
Power suits may have emerged in the 1970s, but the trend has shot back to the forefront of fashion recently. According to Marie Claire, more and more women are putting their own unique spin on the authoritative look to modernize it. Hilary Duff just made us love the trend even more.