Of All Carrie Underwood's Looks - This Stands Above The Rest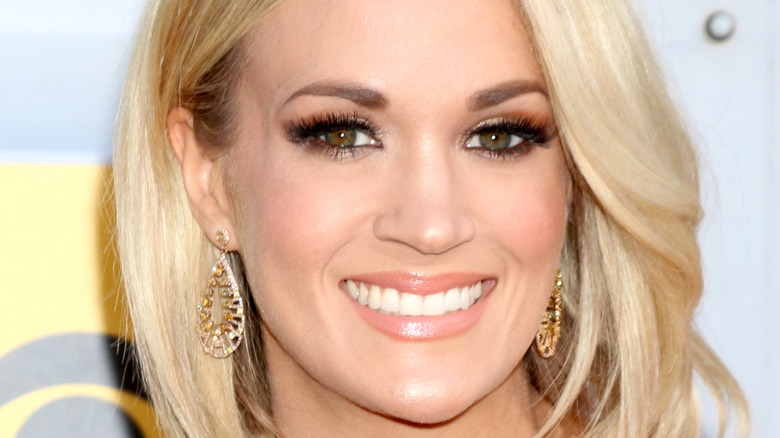 Kathy Hutchins/Shutterstock
From winning "American Idol" to becoming a top country singer, Carrie Underwood has proven she's a star. She's charted with 28 number-one songs, sold more than 66 million records, and has gone platinum or multi-platinum with seven of her albums (via Carrie Underwood's website).
Underwood has undergone a stunning transformation over the years, becoming a fashion idol of sorts, particularly at the CMA Awards. The singer hosted the show for over a decade and had numerous wardrobe changes for each one. As People said, "Underwood's stage style has become one of the most captivating parts of the CMAs."
The singer once revealed to InStyle her personal fashion philosophy. "I love things that make me feel comfortable but aren't too tight or showing too much cleavage. Fashion, to me, is what makes you feel awesome." Underwood is known, however, for showing off her fabulous legs. As she shared with Extra, "I mean, it's my one card to play, man, so I play it."
Carrie Underwood was stunning at the 2019 CMA Awards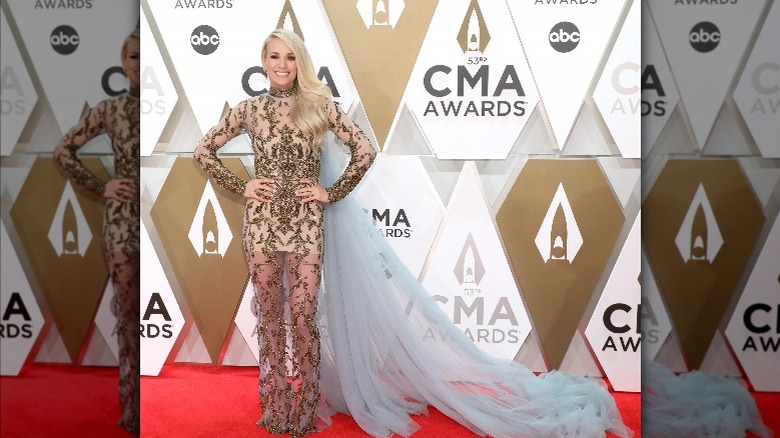 Taylor Hill/Getty Images
Carrie Underwood arrived on the red carpet of the 2019 CMA Awards in a beautiful floor-length dress. Composed of a sheer material embellished with glittery bronze-gold accents, it covered her from the high neck to the long sleeves, to the bottom of her high heels. Underneath was a short, strapless, body-conforming mini-dress that allowed for both modesty, and the opportunity to show off Underwood's trademark toned legs. To top things off, a long cape draped behind her — a flowing river of sheer tulle fabric. According to E! News, the gown was created by designer Elie Madi.
Her stylist for the evening, Marina Toybina, told People, "Carrie's carpet look is full of hand beading and intricate embroidery, perfect for country's biggest night." Courtney Webster also helped style Underwood, and added, "We love the unexpected mix of color with the seafoam green tulle and the bronze beaded details. That's something that Carrie does so well, mixing glam and edge and femininity and sparkle."
Peek-a-boo seemed to be one of the singer's themes for the evening, as she also wore sheer black-lace pants for her performance of the song "Drinking Alone" during the awards show, as noted by Country Living. Page Six showed off two additional hosting-duty gowns, a floor-length see-through number embellished with sparkling flowers, and another dress composed of layers of sheer tulle.
Confidence is key for the singer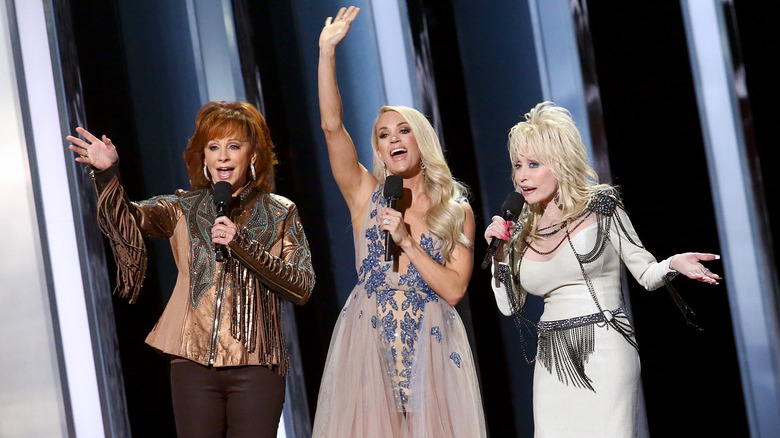 Terry Wyatt/Getty Images
In addition to being nominated for Entertainer of the Year, Female Vocalist of the Year, and Album of the Year for "Cry Pretty," Carrie Underwood also hosted the 2019 CMA Awards, with special co-hosts Dolly Parton and Reba McEntire, per ET. She walked the red carpet with both her husband Mike Fisher and the legendary singers.
As for how Underwood always looks so fabulous at awards shows and during performances, Taste of Country shared that the star revealed, "I think confidence . . . it gives way to being sexy. There's something sexy about being confident in yourself, and I feel like the older I get, the more confidence I have in myself."
Making the 2019 CMA Awards even more momentous was the fact that it was Underwood's last year hosting the awards show. In a post on Instagram, Underwood stated, "It's hard to believe that it was my 12th year hosting and I will always treasure every show . . . It's hard to imagine topping what we have accomplished together, so I've decided that it's time to pass the hosting torch (at least for now!) to others that will cherish it and honor it as much as I do."