The Reason King Charles' Relationship With Prince William Is About To Get Complicated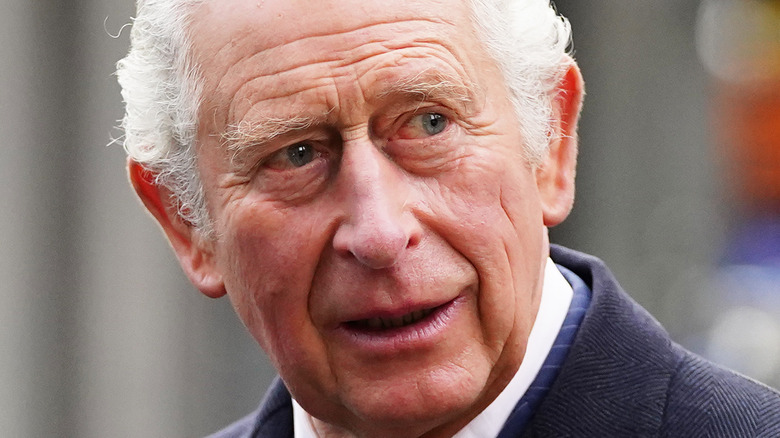 Wpa Pool/Getty Images
King Charles is coming under fire over his royal inheritance from the queen, with critics calling for the new sovereign to pay taxes on the hefty sum. Newsweek confirmed Charles got access to his mother's eye-watering personal fortune, valued at around £370 million (over $421 million), upon her death. And, per the Daily Mail, 63% of British citizens believe that the king should be taxed on his inheritance accordingly, particularly considering Charles is already fabulously wealthy.
However, NPR points out that Queen Elizabeth II made an agreement, back in 1993, with then-Prime Minister John Major to save inheritances picked up by a sovereign's successor from being subject to the 40% inheritance tax. At the time, Major claimed doing so would stop any "danger of the assets of the monarchy being salami-sliced away by capital taxation through generations, thus changing the nature of the institution in a way that few people in this country would welcome."
With the energy and cost of living crises ravaging the country, though, Britons are understandably less sympathetic. On that basis, King Charles owns several homes in the U.K., but one in particular has led to an interesting role reversal with his son that should have them chuckling with schadenfreude. 
The Prince of Wales just became his father's landlord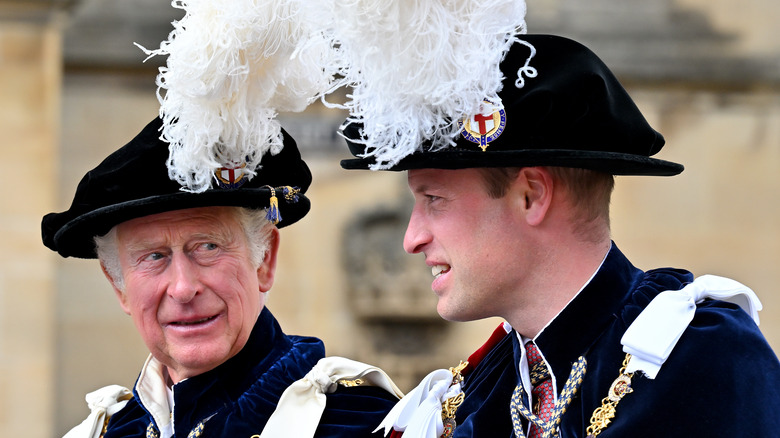 Pool/max Mumby/Getty Images
King Charles is technically about to become his eldest son's tenant. Express reports that, after passing on the title of Duke of Cornwall to William, Prince of Wales, the king now has to pay the rent for Highgrove House to him, since it's been owned by the Duchy of Cornwall since 1980. As "Lorraine" presenter Christine Lampard quipped, "Prince William is now charging his father rent, so the relationship has to be good." The Sunday Times' royal editor, Roya Nikkhah, acknowledged, "It's an interesting role reversal."
Nikkhah explained how, as the new duke, William is in charge of the duchy, which includes a massive portfolio comprising land, property, and assets spread across 20 counties and a whopping 52,449 acres. Charles' private home in Gloucestershire is included and, under the current lease agreement, he has to pay around £70,000 (almost $80,000) in annual rent. The Prince of Wales has been training to take over the duchy for years, including meeting regularly with its secretary, Alastair Martin.
CNN confirmed William inherited the duchy once his father ascended the throne, noting its estimated to be worth around £1 billion ($1.2 billion). The estate's earnings are "used to fund the public, private and charitable activities" of the Duke of Cornwall, and taxes are notably not required to be paid on them. However, Charles voluntarily paid millions in taxes previously. It remains to be seen whether he'll continue to do so on top of rent, though. 
William and Charles have been preparing to rule together for years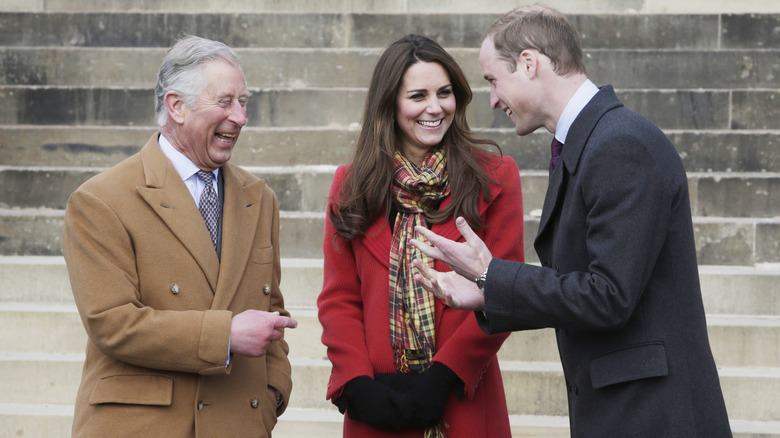 Wpa Pool/Getty Images
Considering how abruptly he had to take over, it's lucky William, Prince of Wales and King Charles' relationship is as strong as it is. As Us Weekly reported, in the time leading up to Queen Elizabeth II's death, father and son were actively figuring out how best to "guide each other" in their respective roles. "William is excited about this new chapter in his life and the challenges he'll be facing," an insider shared, noting the Prince of Wales will "be taking on extra duties over the next decade" while preparing for his own ascension.
At Charles' age, it's likely William will be taking over before he knows it and, until that time, the two of them are "working very closely" to get everything in order including, most notably, slimming down the monarchy because, as far as both men are concerned, "less people means less drama." The king trusts William to do the right thing, but Charles will be guiding him along the way wherever necessary, too.
According to the source, William "has high ambitions to be known as the People's King." The Prince and Princess of Wales are taking their new positions in Charles's monarchy very seriously, as evidenced by a new royal portrait of the trio alongside Queen Camilla. As an insider informed People, "The Prince and Princess of Wales will approach their roles in the modest and humble way they've approached their work previously."