The Hilarious Comparison Twitter Is Making Between Ron DeSantis And Nancy Sinatra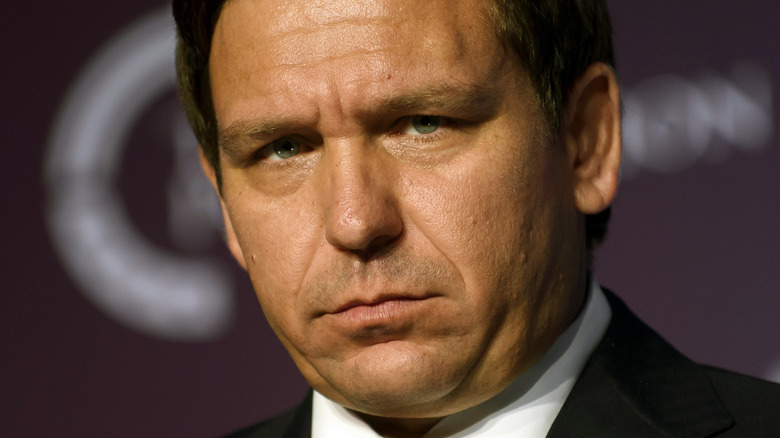 Jeff Swensen/Getty Images
In the 1960s, Nancy Sinatra made white go-go boots a coveted wardrobe staple for women across all walks (get it?) of life (via Groovy History), and her Austin Powers-esque fashion statement is making a comeback in the most unexpected way possible.
You likely didn't have Ron DeSantis riffing on Sinatra while touring Hurricane Ian damage on your bingo card. But the Florida leader did just that and, well, Twitter is having an absolute field day making fun of the white galoshes the Governor sported in photos that are going viral online.
"Holy Moly, doesn't Ron have family, friends, or a staffer to tell him 'Those Nancy Sinatra white go-go boots are not a good look Bud?'" tweeted one person in part as memes of DeSantis next to Sinatra exploded on Twitter.
Among the most hilarious tweets comparing the Sunshine Stater to the "These Boots Are Made for Walkin'" singer was an individual joking the Republican must be a "closet Nancy Sinatra fan." Meanwhile, another person opined that Sinatra wore the look better "by a mile," echoing the sentiment of countless other observers.
Ron DeSantis' white boots spur an idea for a Halloween costume among grim reports in Florida
The jokes about Ron DeSantis' choice of footwear, which he paired with jeans tucked into the boots, a collared shirt and zippered vest, didn't end there. Another virtual outfit critic hilariously tweeted that DeSantis looked more like Ms. M&M in his white boots.
But winning the day had to be the person who declared they would be dressing up as DeSantis riffing on Sinatra for Halloween.
The humor online marked a much needed break from sad news emerging from Florida in the wake of Hurricane Ian's destruction. As of today, 100 people had been reported dead in the state, with 600,000 homes and businesses still in the dark (via CBS News). It's estimated that 80% of the structures in the hardest-hit area of Fort Myers Beach will have to be rebuilt following the category 4 storm (via NPR).
At time of writing, DeSantis' own Twitter account was more focused on sharing recovery and clean-up effort updates and safety tips than commenting on his perceived footwear fail.