How The October 9 Full Moon Will Affect You If You're A Cancer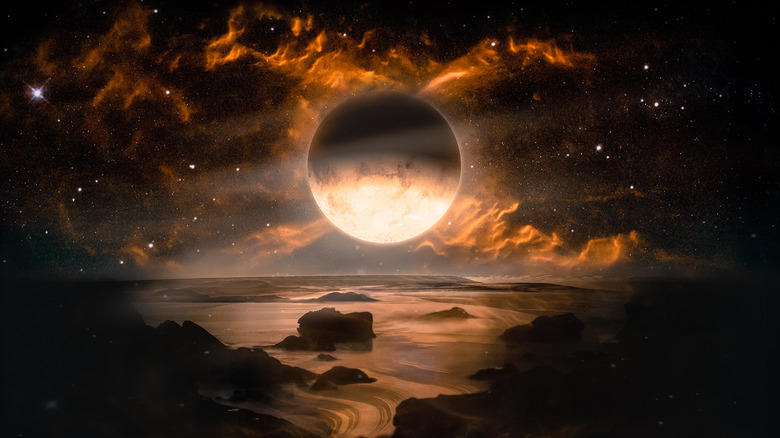 Elena11/Shutterstock
The full moon on October 9 takes place in the sign of Aries, per Forever Conscious. This lunation is often referred to as the Hunter's Moon as it's the time of year when hunters in the Northern Hemisphere prepare to head out and stockpile meat for the winter months (via Old Farmer's Almanac). However, the lunation is also sometimes referred to as the Blood Moon, a spooky name that fits well with October's spooky Halloween vibes.
According to astrologer Yana Yanovich, this month's full moon will have a heavy focus on love and relationships thanks to the Libra season vibes. "Relationships will be actually the focus of this particular full moon in October 2022, not only because the sun will be in Libra — the sign of partnership — but also because it will be in a close conjunction with Venus, the planet of love and romance," Yanovich tells PopSugar.
For those born under the sign of Cancer, October's full moon may have you feeling a bit stressed out as you navigate all the twists and turns of your life.
Work may be stressful for Cancer during the full moon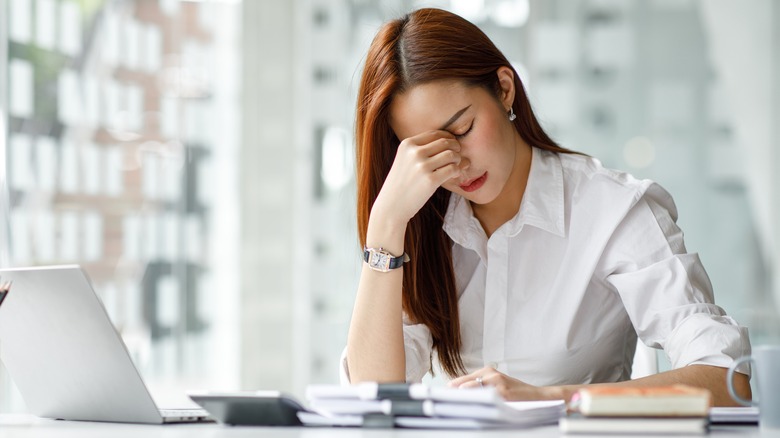 David Gyung/Shutterstock
If your zodiac sign is Cancer (June 21 to July 22), the full moon on October 9 might have you in your head and doubting yourself a bit. According to Woman & Home, the water sign may be feeling like they're not good enough or qualified for their current role in life or at work. However, these thoughts can be dangerous as they can creep in and stop you from taking chances or pursuing your dreams. During this time, don't compare yourself to others. Trust in your own personal skills and ability and if you're feeling like you're lagging behind, do whatever it takes to educate yourself and learn what needs to be done in order for you to be more efficient. Turn the situation into a learning experience instead of sitting around and worrying about not being good enough.
Allure notes that whether you're a June or July Cancer, you likely tend to function better in all parts of your life when your personal matters are in order. So if there is something that has been holding you back in your love life, social circle, familial relationships, or with your children, be sure to resolve it and move on so that you can take the focus off of those issues and put it where it belongs. Since your career will be highlighted during this time, using the full moon to set intentions and manifest regarding your professional life could prove to be very beneficial for the future.
Cancer shouldn't look to start a new relationship during the full moon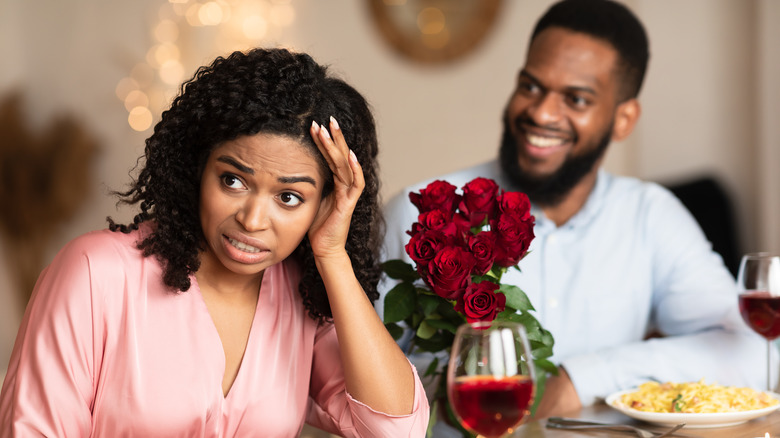 Prostock-studio/Shutterstock
Although much of Cancer's focus may be on their work life during the full moon on October 9, Cosmopolitan reveals that the sign may shift their attention to their home environment during the lunation as well. Because Mercury will re-enter the sign of Libra just hours after the lunation, and your home will be on your mind. This could mean cleaning up your living space, doing some DIY projects you've been putting off, finding a roommate, or even doing something as simple as rearranging your furniture.
As for your love life, the lunation won't be an ideal time to begin dating or taking the next step with your romantic partner. "If you're single, this will not be a good time to start a relationship and it's better to wait a few days till the influence is over," astrologer Yana Yanovich tells PopSugar of the water sign. "It's a month that can cause a lot of upheaval for you, so you won't necessarily be in the right mindset to start something new.
It appears that Cancer will have a lot to think about and get through during the full moon. However, by remembering to love yourself and stay positive you'll get through the lunation with flying colors.