What Is Kourtney Kardashian's Zodiac Sign?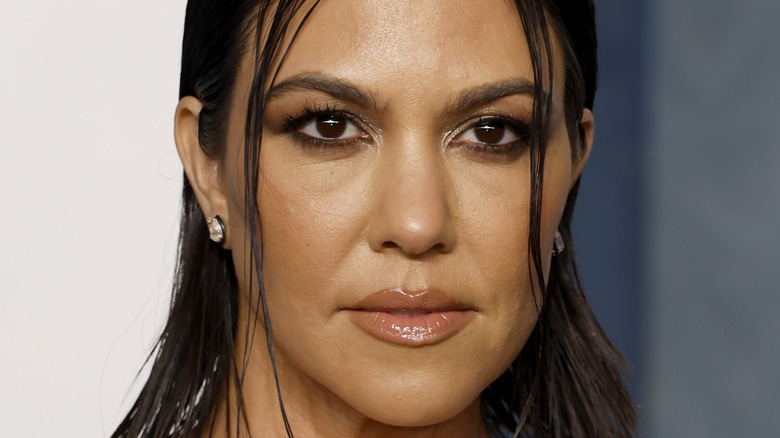 Frazer Harrison/Getty Images
Kourtney Kardashian is the oldest sibling in the ultra-famous Kardashian/Jenner family. Kourtney's siblings include sisters Kim and Khloe Kardashian and Kendall and Kylie Jenner, as well as Rob Kardashian. Her mother is Kris Jenner and her late father Robert Kardashian Sr. made headlines as a defense attorney during O.J. Simpson's 1995 murder trial, via Hello! Magazine. Although Kourtney's sister, Kim Kardashian, is often thought of as the family's original reality TV star, Kourtney was cast on the failed reality series "Filthy Rich: Cattle Drive," about a group of young, wealthy kids who work on a Colorado Ranch. Kourtney also appeared on "The Simple Life" with her childhood friend Paris Hilton.
Kourtney later became a household name when her family landed their own reality series, "Keeping Up With The Kardashians," per Biography. During her early days on the show, Kourtney's relationship with Scott Disick was heavily featured, as well as her pregnancies. Scott and Kourtney's break-up and co-parenting relationship were also explored on the show. Kourtney later started her own lifestyle brand called "Poosh," and in 2019, admitted that she wanted to film less for the series. "I just decided to spend more time as a mom and put more of my energy there," she told Entertainment Tonight. However, she joined the family's new show on Hulu, which has focused on her relationship with her husband Travis Barker.
With all the fame surrounding her, fans can't help but think that Kourtney's success was written in the stars.
Kourtney Kardashian's sun sign is Aries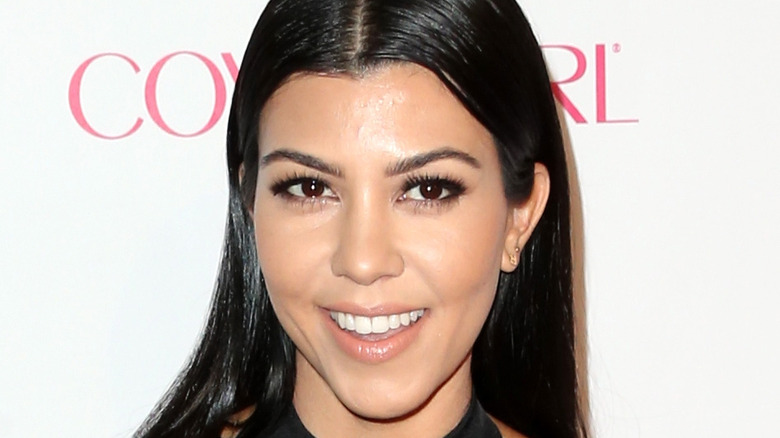 Frederick M. Brown/Getty Images
Kourtney Kardashian was born on April 18, 1979, which makes her zodiac sun sign Aries, via Astro Charts. Women born under this fire sign are known for being fun and spontaneous in their lives, as well as very trusting of those they love. They're said to be attracted to successful men and love to support their partners, via Everyday Health. In relationships, an Aries woman has a reputation for loving lots of attention and relishes when her partner puts her on a pedestal, which is likely why Kourtney and her husband Travis Barker (who is a Scorpio) are so compatible.
Aries women are also said to stay in touch with their childlike side. Kourtney's good looks may also be attributed to her sign, as astrologer Aliza Kelly tells People that Aries' are the babies of the zodiac and often keep their youthful looks as they age like her fellow Aries Paul Rudd and Lady Gaga. Kelly adds that the reality star's bold attitude is also a classic sign of her Aries energy. "She has big 'don't mess with me' energy, and with every stubborn, sarcastic remark, and 'my way or the highway' attitude, we not only fall more in love with her, but we also respect her."
Of course, Kourtney's birth chart tells more about her personality than what her sun sign reveals.
Kourtney also has Capricorn and Pisces energy in her chart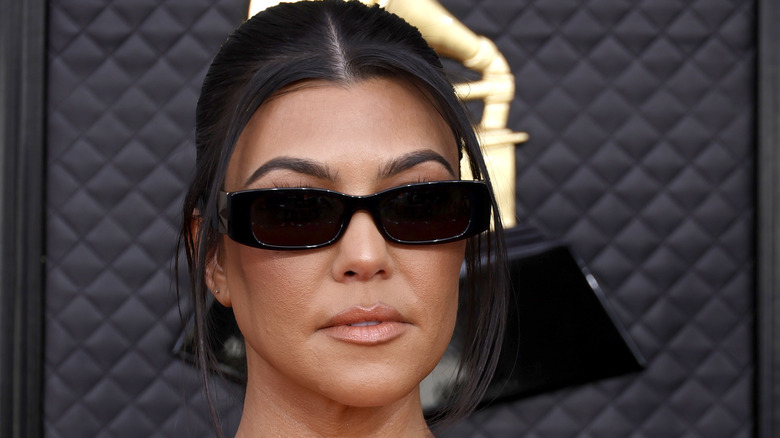 Frazer Harrison/Getty Images
According to Astro Charts, Kourtney Kardashian's moon sign is in Capricorn. A person's moon sign is said to represent their feelings, emotions, and soul. It's a subconscious part of a person's identity that often stays hidden from others, but is a huge part in making up many of your personality traits, via ELLE Australia. Famed astrologers The AstroTwins tell The U.S. Sun that Kourtney's moon sign offers much insight into her parenting style. "When it comes to parenting Mason, Penelope, and Reign, her strict Capricorn moon makes her a traditional mom who's all about rules and structure," the astrologers said. "As an Aries with a Capricorn moon, Kourtney is no-nonsense about her boundaries," the AstroTwins continued. "Fortunately, Kourt's got lucky Jupiter in Cancer, the sign of motherhood, in a playful sector of her chart. This balances out the rigid parts of her personality and helps her take motherhood in stride."
As for Kourtney's rising sign, she's a Pisces. A rising sign often reflects members of the zodiac's outer persona, and Pisces risings are known for changing and adapting depending on who they're spending time with. They are impressionable and can be overtaken by strong personalities, which could lead them to reinvent themselves often. They're also known for their strong compassion and imagination, via LiveAbout.
It seems that Kourtney's birth chart is on the money when it comes to her personality traits, as well as her parenting style and romance with Travis Barker.