The Makeup Tutorials That Will Turn You Into A Zombie In Time For Halloween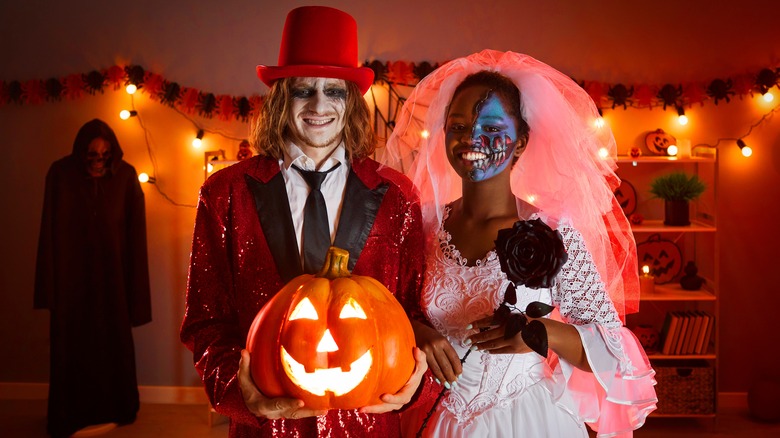 Studio Romantic/Shutterstock
From the 1968 horror classic "Night of the Living Dead" and the hit AMC series "The Walking Dead," to video-game franchises such as "Resident Evil" and "The Last of Us," there is no shortage of zombie media to provide you with costume inspiration this Halloween.
One of the major appeals of the zombie costume is how much you can customize it. While you might model your design after one of the iconic undead from the aforementioned works, you could easily take it in any direction you want (via Independent Mail).
In fact, you can layer the zombie appearance over almost any other costume. Going for a '50s pop culture-inspired look? Try being a zombified '50s housewife. Want to combine glam and gore this Halloween? Turn your Marilyn Monroe costume into a flesh-eating version. The possibilities are endless! 
The potential of this costume extends to makeup, too, since there are so many zombie-based beauty looks out there, as noted by Cosmopolitan. If you're looking for some ideas, here are some of the best Halloween zombie makeup tutorials to help you out. 
Create a zombie look using beginner tutorials
If you want to create a zombie look for Halloween without spending a ton of money, or are desperate for a last-minute DIY costume idea, there are some simple makeup tutorials that use basic products. The primary parts of the zombie costume are decayed skin, sunken eyes, and bruises, per Love to Know, which is precisely what these beginner tutorials focus on.
For instance, YouTuber Alyxify has a simple, easy-to-follow zombie look that requires minimal products. The use of white liquid makeup, transparent setting powder, eyeliner, and a variety of eyeshadows in shades of blue, purple, and green make up the bulk of the requisite supplies. This is also a great choice if you're not super into gore, as it focuses predominantly on achieving a bruised and sunken look around the eyes and mouth.
If you have the time to grab some Halloween costume makeup from the store, then fellow YouTuber Julia Graf's zombie tutorial, which is also featured on Cosmopolitan's list of suggestions, is another great pick for beginners. One of the main components of this look is a monster or bruise cream face paint set, while Graf also uses setting powder, dark eyeshadow shades, red eyeliner, mascara, and fake blood to achieve the desired effect. 
Try more in-depth zombie makeup looks for Halloween
While there are plenty of solid beginner tutorials for zombie makeup looks, there are also more challenging ones that you can try out if you're looking for something a bit more advanced this spooky season. For those who are comfortable with a lot of contouring and aren't interested in attempting any gory special effects, check out Creative.Cliche's cute "ghoul-ish" makeup tutorial. Recommended by Cosmopolitan, this tutorial uses a Ben Nye MagicCake Paint palette, some Urban Decay and ColourPop eyeshadow sets, black and purple eyeliners, and fake lashes. 
Moving on to the slightly creepier takes, LeSassafras has a tutorial that uses yarn and eyelash glue on top of bruised zombie makeup to create a veiny, infected undead look. While more in-depth, this design doesn't use too many products other than the various eyeshadow shades needed to emulate a bruising effect. LeSassafras also adds some creepy contacts to take the costume to the next level. 
Elsewhere, YouTuber Tiara Sparrow has a gory zombie tutorial that utilizes liquid latex, tissues, fake blood, and eyeshadow to emulate open wounds. While creating these cuts will take longer than some of the simpler tutorials, it results in a super cool-looking costume. Sparrow also adds drawn-on veins and contact lenses to make the design really chilling. For those looking to give Hollywood zombies a run for their money, though, it has to be done.