Inside Loretta Lynn's Friendship With Sissy Spacek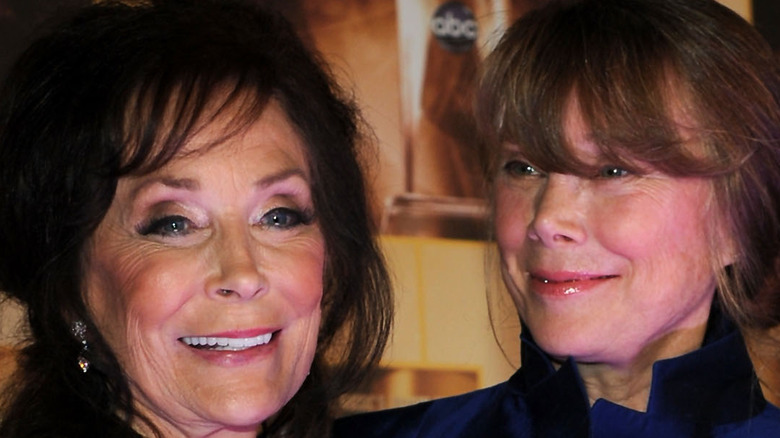 Larry Busacca/Getty Images
Country music icon Loretta Lynn died peacefully on the morning of October 4, 2022 at 90 (via CNN). The singer — known for songs like "You Ain't Woman Enough (To Take My Man)" and "Coal Miner's Daughter" — rose to fame in 1960, performing "I'm a Honky Tonk Girl" on the stage of the historic Grand Ole Opry (per Rolling Stone). Over the decades, Lynn served as a major influence and friend to her female contemporaries. Following the star's passing, Dolly Parton posted a heartbreaking statement on Instagram. "So sorry to hear about my sister, friend Loretta," wrote the "Jolene" singer, adding, "We've been like sisters all these years we've been in Nashville . . ." Carole King, too, honored Lynn writing, "She was an inspiration. R.I.P. Loretta Lynn."
Throughout the course of her storied career, Lynn released 16 number-one hit singles (via Billboard). In 1979, she was named "Artist of the Decade" by The Academy of Country Music and was officially inducted into the Country Music Hall of Fame in 1988. "The story of Loretta Lynn's life is unlike any other," wrote Hall of Fame CEO Kyle Young, adding how "she drew from that story a body of work that resonates with people who might never fully understand her bleak and remote childhood, her hardscrabble early days, or her adventures as a famous and beloved celebrity." In 1980, Lynn's autobiography, "Coal Miner's Daughter," was made into an Oscar-winning film of the same name, per IMDb.
Sissy Spacek played Loretta Lynn in the singer's biopic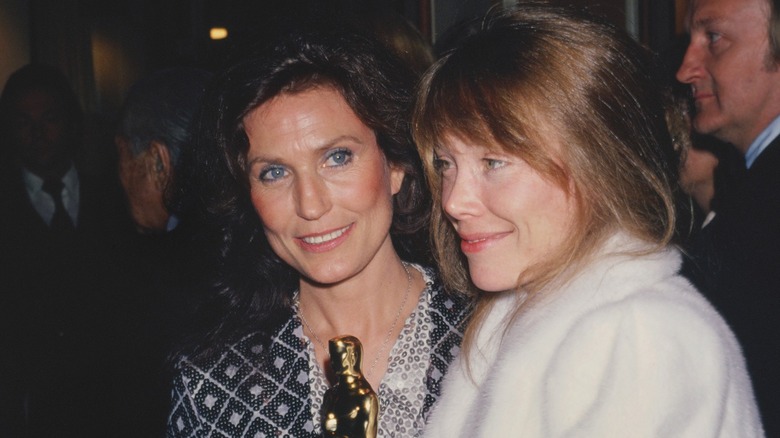 Michael Ochs Archives/Getty Images
The story of Loretta Lynn's childhood in the Kentucky coalfields and rapid rise to fame was adapted into a 1980 film, "Coal Miner's Daughter." This semi-fictionalized retelling of Lynn's humble origins was nominated for a series of Academy Awards — most notably, Sissy Spacek took home the award for best actress in a leading role. According to A. Frame, Lynn "handpicked" Spacek to portray her in the film. As the Oscar-winner explained to The New York Times in 1980, "She was looking through a pile of pictures and when she came to one of me she said 'That's her, that's the coal miner's daughter,'" (via Wide Open Country).
In 2018, the actress recalled her connection with Lynn, telling PopCulture they "had an instantaneous friendship. It was bizarre." According to Spacek, Lynn told her they "were twins in another life," and helped the former "Carrie" star succeed in the demanding role. "She opened her eyes to me, she opened her heart to me. We're god-sisters," explained Spacek.
Sissy Spacek lent her own voice to Loretta Lynn's music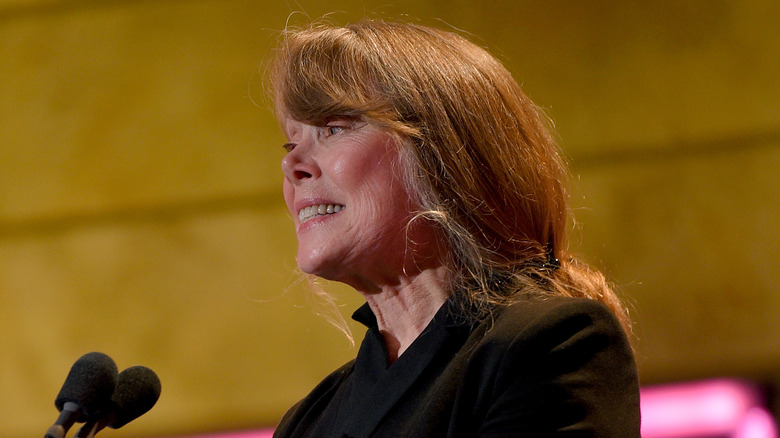 Jason Kempin/Getty Images
According to Sissy Spacek via a 1980 interview with The New York Times — later reported by Wide Open Country — Loretta Lynn encouraged the actress to do the singing in "Coal Miner's Daughter" herself. Ultimately, most of the music in the film was recorded live with the actress on lead vocals. "She's so honest, and she's such a woman," Spacek said of Lynn, explaining that, "She and I are the same size — five feet two-and-one-half inches, and there is something so familiar about her." As reported by Spacek, "When I met her, it was like meeting a long-lost friend."
The pair's sisterly bond made Lynn's 2022 passing especially painful for Spacek. "Today is a sad day," the actress told The Hollywood Reporter after learning of Loretta Lynn's death. "The world lost a magnificent human being. Loretta Lynn was a great artist, a strong and resilient country music pioneer and a precious friend. I am heartbroken."