The Makeup Tutorial That Will Turn You Into A Devil In Time For Halloween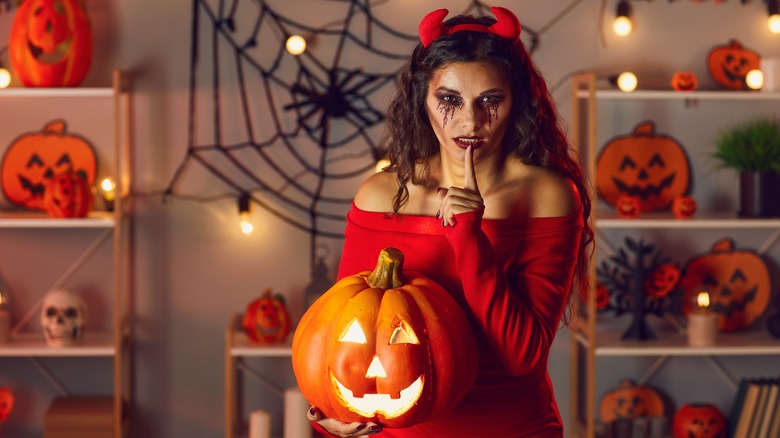 Studio Romantic/Shutterstock
Maybe you were inspired by the Sanderson sisters' "master" in "Hocus Pocus" or the terrorizing Red Devil from "Scream Queens." More likely, you've seen some sexy satanic costumes from celebrities like Charli XCX and Mariah Carrey (per ELLE). Either way, the devil costume has piqued your interest this Halloween.
Whether you're taking part in the old Celtic belief that dressing as evil spirits was a defense against them (per Tween Tribune) or you simply want to duo with an angelic costume partner, there are tons of directions to take your devil disguise.
While the horns and tails are an obvious go-to for this look, there is also much room for experimentation in the makeup department. Customizing your costume through makeup, whether it be with Halloween face paints or everyday products you have at home, can really elevate the classic look this October 31.
Here, we have gathered some makeup tutorials — ranging from the glamorous to the ghastly — to provide you with the much-needed inspiration for your devil Halloween look.
Use these tutorials to achieve a sexy or glamorous devil look
If you're looking for a cute or glamorous costume this Halloween, there are plenty of makeup looks to elevate your devil outfit.
To start, check out the makeup tutorial from Tracey Does Makeup, in which the YouTuber uses red and black shades from Morphe palettes to create a halo eyeshadow look topped with a thick liquid eyeliner (via YouTube). The same red eyeshadow is used to redden the temples and cheekbones, really giving this design a devilishly red look.
A smokey devil look comes from Andreyha Seraphin, who similarly uses red, orange, and black eyeshadow shades from Morphe and extends her brows to create a sultry but slightly menacing makeup look (per YouTube). In addition to the makeup tutorial, Seraphin also provides tips for a devil-horn hairstyle that perfectly complements the costume design.
If you're wanting to go for a more in-depth, but equally glamorous look, then the tutorial from Miss Terri is worth checking out (via YouTube). For this look, Terri combines a liquid foundation and red eyeshadow for a base, contouring with a burgundy red eyeshadow. A glittery cut crease and a combo of black and purple lip products really bring the look together.
Try out a creepy devil look this Halloween
If you're someone who likes to utilize the creepy and scary elements of Halloween in their costume, then there is definitely some great devil makeup for you, too.
The first tutorial is from Shaaanxo, who creates a slightly creepy makeup design that could work for either a vampire or a devil costume, whichever works if you need a last-minute costume (via YouTube). A glittery eye look with dramatic winged liner, black contacts, and under eye veins made from gel liner and white eyeshadow complete this satanic costume.
SHIN also has a haunting devil/demon costume that features a smudged eyeshadow look, drawn-on veins, and tear trails made of fake blood (per YouTube). To finish off the look, they add some nude lipstick topped with purple eyeshadow and yellow contact lenses.
This final makeup tutorial, which comes from ellimacs sfx makeup, is more advanced than the previously mentioned ones, but it delivers amazing results (via YouTube). Using horns made after clay and Skin Tite to emulate an open wound, this look creates the illusion of a devil, or "inner demon," breaking through the skin.