Here's How To Start A Career As A Tax Preparer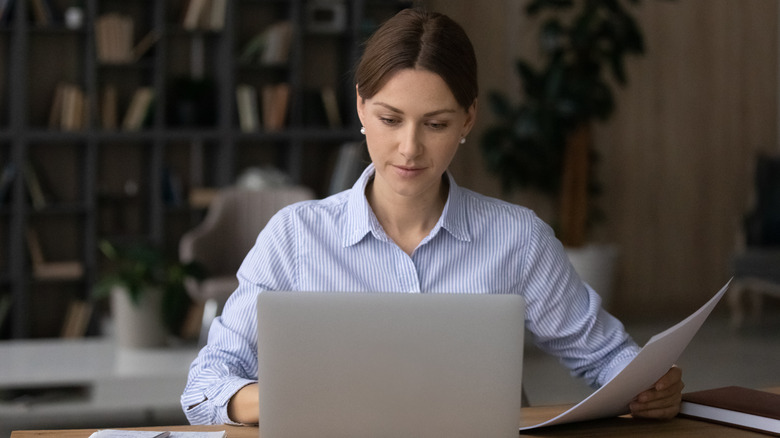 Fizkes/Shutterstock
Whether you're entering the professional world for the first time or looking to quit your job for a new one, choosing a career path can be tough. However, if you enjoy math and economics, you might consider working as a tax preparer. Tax preparers have only one season in the year in which they can expect a high volume of work. While this doesn't mean that they're not working for the remainder of the year, it does mean that they always know when their busiest time will be. According to the Bureau of Labor Statistics, tax preparers can make an average of $46,290 per year. That being said, this amount can change drastically when you factor in experience levels and the state in which you live. In fact, tax preparers in certain states can stand to make around $85,470 a year.
One of the most sought-after perks of being a tax preparer is job security. Because of the complex tax system and ever-changing tax codes, more taxpayers are turning to tax preparers every year to avoid making mistakes on their taxes. In a changing world where it's hard to predict whether a particular industry is here to stay, a career as a tax preparer is one way to add some much-needed stability.
The schooling and preparation you need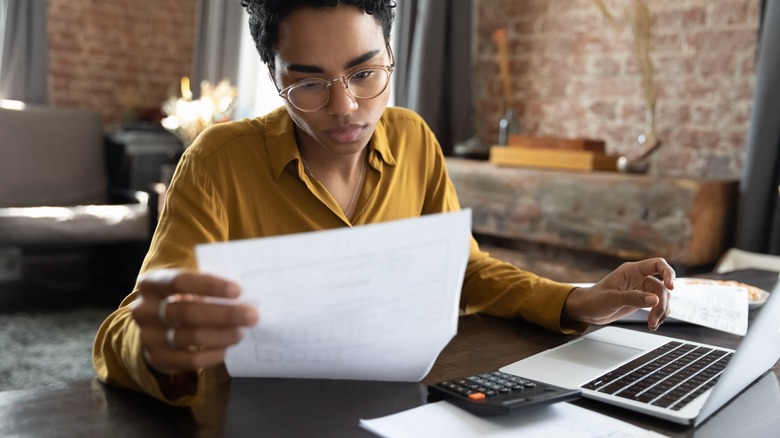 Fizkes/Shutterstock
While the specific requirements for becoming a tax preparer can depend on the state in which you reside, the general conditions are the same. According to Thomson Reuters, all you need to start your career is industry knowledge, appropriate tax software, clients, and a Preparer Tax Identification number. Once you have these four elements in place, becoming a tax preparer is not overly difficult.
While different types of tax preparers require a higher level of knowledge, a typical unlicensed tax preparer does not need much to get started. Indeed explains that you don't need a bachelor's degree to start your career. The highest level of education currently needed for a tax preparer is either a high school diploma or a GED. The only requirement to become a tax preparer is to take a tax preparation course, which many community colleges and technical schools provide. In these courses, you will learn about the overall tax lingo, specific tax codes, the different tax forms, annual filings, taxpayer interviews, and taxpayer filing statuses. Each state will have a unique amount of required hours you need to take in a preparation course, so you should check your state's guidelines before getting started.
Tax preparation company H&R Block also helps make this process easier by providing its own tax preparation course for a small fee. Those who complete the company's course will walk away with accredited education hours, H&R Block certification, and the ability to begin working as an H&R Block tax preparer.
What license or certificates do you need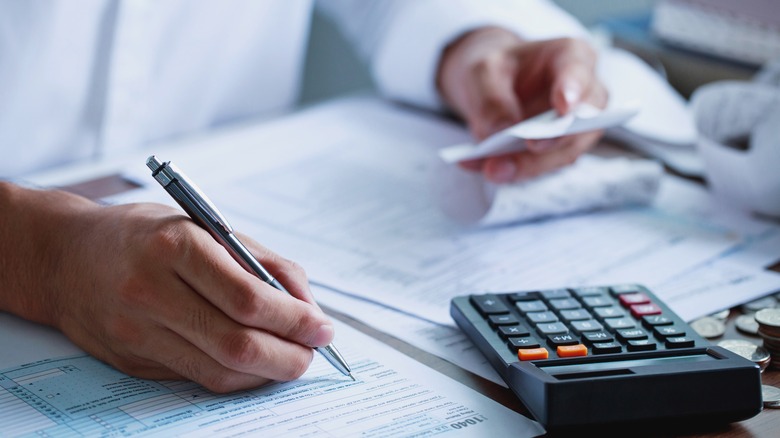 Chayanuphol/Shutterstock
While most states do not require any sort of certification or license to work as a tax preparer, some do require credentials beyond a Preparer Tax Identification Number. According to MileIQ, the states of California, Connecticut, Illinois, Maryland, Nevada, New York, and Oregon require special licensing to act as tax preparers.
Outside of these states, all you'll need to do to get paid as a tax preparer is fill out an application for your Preparer Tax Identification Number with the IRS. According to Learn.org, you will first need to show proof of the number of hours in a tax-accredited course and wait for your application to be accepted. Recent changes to the IRS mean that you are no longer obligated to take a certification exam. After receiving your PTIN, you are free to begin searching for your next job, whether it be on your own or with a tax-preparing company.
Becoming a tax preparer may not be seen as the most glamorous job, but it will provide you with a significant amount of job security with very few requirements to get started. This career is perfect for those who know their way around numbers and are looking for a new challenge.