Is The TouchRetouch App Worth The Money?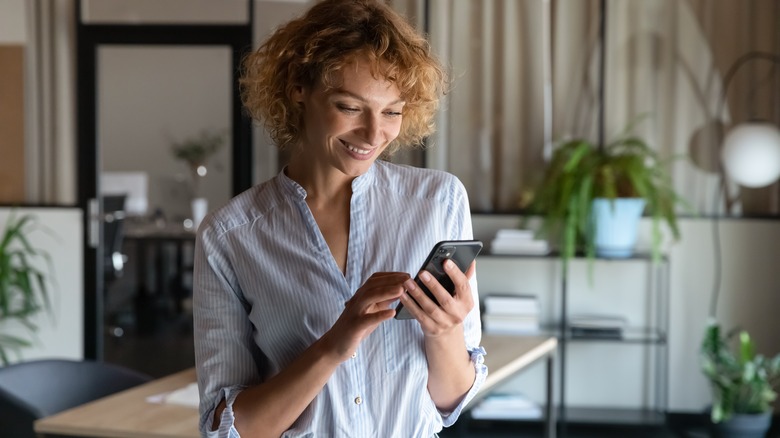 fizkes/Shutterstock
Unless you live on a finely-tuned movie set, sometimes life can get in the way of that perfect photograph. Whether it's unwanted background guests, stray hairs, or a distracting piece of scenery, we all have things we'd like to erase from our camera roll. According to an FHEHealth survey of 1,024 participants, the vast majority of people take between two and five selfies before they're happy.
For many influencers, photo editing apps are a must-have, enabling everything from blemish removal to jawline-sharpening. As reported by a 2021 National Library of Medicine survey, 81% of responders aged 18 to 24 edited their photos before posting them online. In the wake of the COVID-19 pandemic and a consequential increase in social media use, it's no surprise that photo editing apps are so popular right now. Technology has made image corrections all the more accessible, even without Photoshop experience. Specifically, the TouchRetouch app allows users to easily erase everything from mesh fences to highway lines from pictures. However, given all that it has to offer, the service does not come without a cost — $3.99, to be exact. But is the TouchRetouch app worth the investment?
The TouchRetouch app is mainly for erasing objects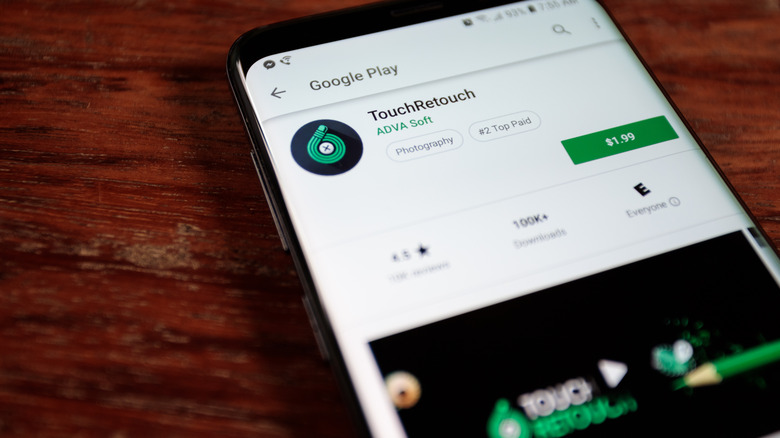 Ricky Of The World/Shutterstock
Viral TikToker Megan Kelly (@the.lightseeker) has made a career out of expertly editing wedding and engagement pictures, erasing surprise guests, and even changing scenery to fit a couple's specific vision. TouchRetouch allows users to do the same, albeit on a smaller scale. According to ADVA Soft's app description, it provides "object-aware retouching," blemish correction, line removal, and mesh editing for fences and netting. As explained by MacStories, object removal is made possible with a brush tool or lasso, intuitive for even the most inexperienced editors. Eager to erase painted lines on the football field or low-hanging telephone wires? TouchRetouch is designed specifically with this in mind.
In comparison to other editing software like FaceTune, TouchRetouch has less in the way of body editing features. While it does have a "quick repair" tool for blemishes, it works only to a certain scale, per MacStories. If you're looking to give yourself a virtual facelift or digital makeup, this might not be the platform for you. However, some of TouchRetouch's features are unrivaled. Users can easily change the size of the brush tool, exercise unlimited undos and redos, and even "clone stamp," a feature that allows editors to easily replicate parts of their photographs (via Fstoppers).
The TouchRetouch app requires a one-time fee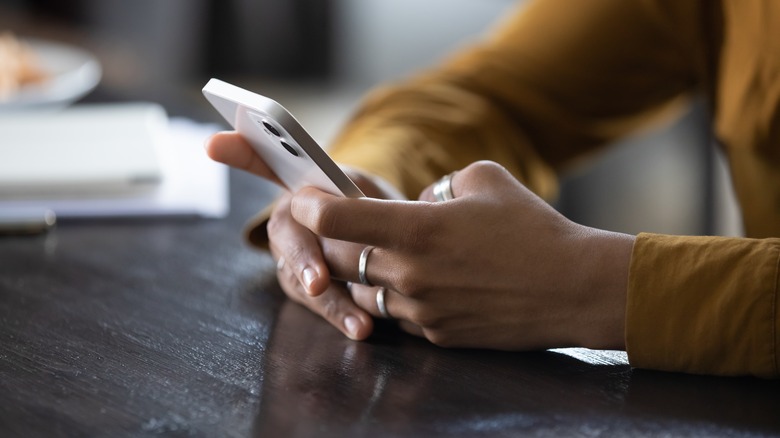 fizkes/Shutterstock
Compared to the ever-popular FaceTune, which requires a yearly fee of nearly $60, the TouchRetouch app requires a one-time purchase of $3.99. Though the FaceTune app might be worth the money depending on your social media presence, TouchRetouch offers some of the same editing features for the price of a Starbucks latte. The app first came onto the market in 2010, offering simple but effective object removal, via Fstoppers. Since then, it's undergone five iterations, with the most recent update garnering overwhelmingly positive reviews and introducing the brand new mesh removal tool for fences and netting, per nocamerabag.com. It has an average rating of 4.8 out of 5 stars on the App Store, with one customer noting, "Don't let the fact this app isn't free turn you away because it's worth it."
Though priced higher at $14.99 when purchased for a Macbook, the majority of customers find the increased price of TouchRetouch to be worth it. One Mac reviewer commented, simply, "Wow," going on to note, "I have been looking for a photo editing program that would allow me to EASILY remove unwanted background objects and touch up the background of the removed object." Most importantly, TouchRetouch is incredibly simple to use, which is always a positive. The bottom line? This app will put an end to photo bombs once and for all.