Is The RadarScope App Worth The Money?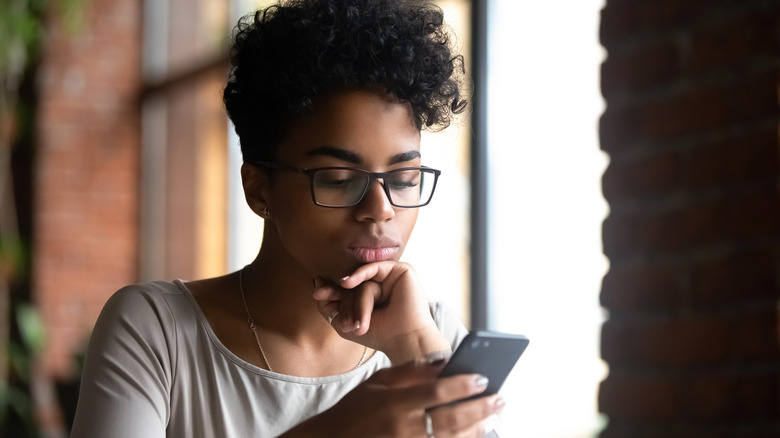 Fizkes/Shutterstock
Storm chasing is one of the most dangerous hobbies there is, right up there with spelunking and free solo climbing. Even for the most accomplished meteorologists, weather is often unpredictable, taking unexpected turns at a moment's notice (via Weather Pro Live). So why do adventurists risk their lives playing catch-up with tornadoes and venturing straight into hurricanes? According to The Washington Post, nothing compares to the spectacle of a storm. Trained chasers also play an important role in keeping the public safe in the wake of extreme weather events, per Medium. As explained by Danny Neal, Illinois chaser, "Storm chasers also feature a strong community service presence by getting [an] early warning out and also by being the first ones on [the] scene of the damage to help with search and rescue."
For hobbyists less inclined to risk their lives in pursuit of a cyclone (but who still dream about tornadoes), technology has made tracking accessible from the comfort of your couch. Specifically, the RadarScope app gives detailed insight into weather data around the world, providing high-resolution maps and offering up-to-date warnings from the U.S. National Weather Service. Given all the information it has to offer, RadarScope does not come without a price — $9.99, to be exact. But, is this weather tracking app worth the money?
RadarScope offers cutting-edge storm data
RadarScope will leave you feeling like a true meteorologist. The app allows users to view Next Generation Weather Radar (NEXRAD) and Super-Resolution radar data, according to Google Play. Specifically, NEXRAD Level 3 provides access to a network of 160 Doppler radars used for predicting weather events (via National Centers for Environmental Information). Forbes has called RadarScope "by far the best" radar app on the market, giving users access to data in the United States, Guam, Puerto Rico, Korea, and Okinawa — with bonus insight into Environment Canada and Australian Bureau of Meteorology radars. As advertised by Google Play, RadarScope can also highlight reflectivity, velocity, and dual-polarization.
According to Windows Central, the data from the app is raw, meaning that you'll have to interpret it yourself. Because the platform doesn't smooth or curate information, it can be difficult to navigate if you have limited experience reading radar. However, for extreme weather hobbyists or those with careers in meteorology, the app provides unparalleled detail. Users can, according to the App Store, zoom in or out of images, scroll through weather maps, and easily switch between a database of 289 different radars. RadarScope also provides timely warnings for approaching thunderstorms, flash floods, tornadoes, and more from the U.S. National Weather Service.
RadarScope is available for a one-time fee
For a one-time fee of $9.99, customers can download the app on iOS or Android. Both the Windows and Mac versions of the platform are priced higher, at $29.99, per RadarScope. For those hoping to find still more features, RadarScope offers in-app subscription tiers. Pro Tier 1, available for $9.99 a year, grants additional features like lightning and radar animation as well as "dual pane capability," enabling users to compare two sets of radar. Pro Tier 2, coming in at $99.99 a year, allows users to view everything from an extensive radar archive to something called "shear contouring," a feature that highlights the rotation in storms.
The bottom line? RadarScope has gone through many iterations since its launch in 2008 and has received positive reviews through them all (via RadarScope). Though Windows Central doesn't recommend the app for general audiences given its "niche" purpose, it's truly a must-have for enthusiasts. RadarScope receives an average of 4.3 out of 5 stars on the App Store, with one reviewer noting, "The other reviewers are right — this is the best radar and well worth the cost." Most importantly, it will tell you exactly where storms are now, the paths they're following, and how much precipitation they'll bring with them. If you're trying to find a new hobby, RadarScope will help you become your household's go-to meteorologist.