Is The T3 Whirl Trio Interchangeable Styling Wand Set Worth The Money?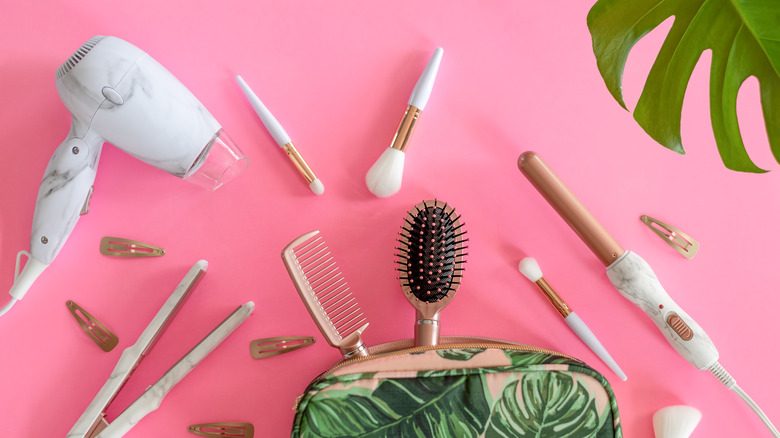 Kristen Prahl/Shutterstock
In a world where we're constantly bombarded by products from ads and influencers, it can feel impossible to find what's actually a good buy. As time goes on, technology gets more advanced and, unfortunately, products get more expensive. When your favorite influencer tries out an awesome hair tool, it's hard not to want to try it for yourself. 
One popular (but pricey) hair styling product is the T3 Whirl Trio. The product won an Allure Best of Beauty Award for three years in a row (via Insider). The trio also landed a spot on ScissorTech's list of tools that are worth the splurge. The curling wand trio typically runs about $325, which is enough to make many potential buyers hesitate. The main kit includes a base and three interchangeable barrels, each size able to create a different kind of style. Your purchase also includes a heat-resistant glove (via T3). If you want even more options, there are several additional barrels you can purchase for around $100 each (via T3). Ulta shows the wand's five different heat settings to help you get the right temperature for your hair.
Since this product has so many interchangeable barrels, it could potentially save you some cabinet space. It's basically having several wands in one. And when it comes to results, the reviews speak for themselves. But is the T3 Whirl Trio Interchangeable Styling Wand Set worth the hefty price tag?
T3 can help achieve long lasting waves or curls
According to InStyle, the T3 Whirl Trio Interchangeable Styling Wand Set is perfect for getting consistent results every time. A Glam Lifestyle praises that the wand heats up quickly, making getting ready fast. The variety of barrels allows you to create a variety of different looks without worrying about damage. The ceramic barrels gently glide over your hair to give it a lasting shine (via the T3 website). 
If you decide to invest in an expensive tool like the T3 Whirl Trio Interchangeable Styling Wand Set, you want to be sure it will last. YouTuber Eliana Jalali tried the T3 Twirl curling wand trio six years after she bought it. She was impressed by the results.
"I have been using this for six years and it still works like it is brand new," says Jalali in her video. "I don't need to repurchase any of the barrels. I haven't had any issues with the base not working or not getting hot anymore. It's still working perfectly well ... I still highly recommend this product." 
Keep an eye out for big discounts
Influencer Yana Irbe liked the T3 Whirl Trio Interchangeable Styling Wand Set but said she wouldn't recommend buying the product at full price. She found hers at a discount during the holidays and urged others to do the same. Irbe mentions that the product is very easy to travel with, and she noticed that her curls lasted for a long time when she used the trio. 
"Ultimately, I think if you don't have a really good curling wand right now ... I think it's a really good set to try if you have the funds for it," says Irbe in her YouTube video.
YouTuber Jamie Wolfe also got the trio at a discount – and still decided it wasn't worth the money. She initially liked the product and the results, but her opinions changed when she weighed in six months later. 
"Basically, it was a waste of [over $200] ... I just checked on Amazon and it's $325. I would never pay that for this. Sure it gets the job done, it's fine, but I've used $30 curling irons from Target that did the same exact thing."
If even influencers balk at the price tag, it may be a good idea to wait for a deal to buy. While the T3 Whirl Trio Interchangeable Styling Wand Set does seem to be a quality product, you'll likely be able to find something just as good for a smaller price. For more inspiration, look to Gigi Hadid's favorite styling tools!