Meghan Markle's Red Outfit May Act As One Huge Yet Hidden Message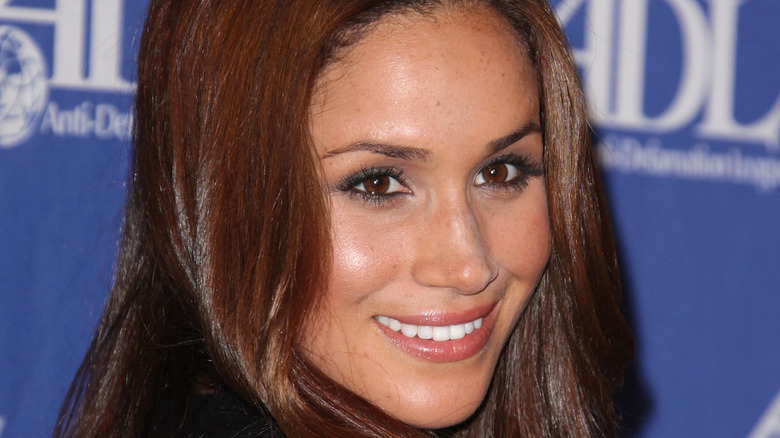 DFree/Shutterstock
Meghan Markle and her husband Prince Harry attended the One Young World Summit in Manchester, England, in September and new photos from the event have surfaced this week. The Duke and Duchess of Sussex were on-hand to meet with delegates and to attend the organization's signature summit at which Meghan was the keynote speaker, according to People magazine. Meghan has served as a counselor for the organization since 2014.
"I am thrilled that my husband is able to join me here this time, to be able to see and witness firsthand my respect for this incredible organization and all that it provides, as well as accomplishes," Meghan said in her speech. One Young World is a nonprofit organization that provides today's youth with access to "global luminaries" whom they can talk to about facilitating their ideas for the "world's most pressing issues," according to LinkedIn.
For the appearance, Meghan wore a red blouse and a matching pair of pants designed by sustainable brand Another Tomorrow, according to Page Six. And, as more photos are being released, it seems as though Meghan may have been sending a message with that particular outfit.
Meghan Markle's outfit was compared to one Wallis Simpson previously wore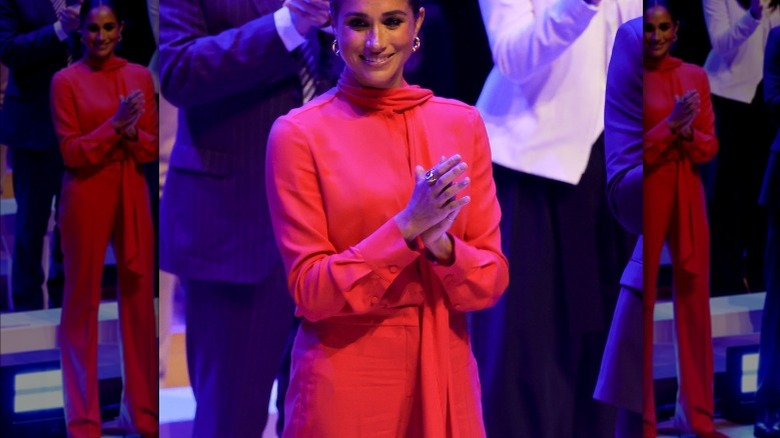 Chris Jackson/Getty Images
Shortly after photos from the One Young World Summit surfaced online, Meghan Markle drew comparisons to Wallis Simpson, a controversial figure in the royal family who married King Edward VIII in 1937. According to TMZ, Simpson, who was a divorcee at the time she met the Duke of Windsor, once wore a red-hued outfit not unlike the one the Duchess of Sussex chose for the aforementioned event. There were a few striking similarities between the two outfits, most notably, of course, being the color, but also the tie at the neck and the long sleeves.
Not unlike Simpson, Meghan was a divorcee when she met and fell in love with someone in the royal family. Meghan was previously married to Trevor Engelson, according to Town & Country. While a royal family member's decision to marry a divorcee in 2018 was different than it was in the 1930s, there have been comparisons between Meghan and Simpson for years. Interestingly, royal author Ingrid Seward once wrote that Prince Philip compared Meghan to Simpson. "For Philip, whose entire existence has been based on a devotion to duty, it appeared that his grandson had abdicated his for the sake of his marriage to an American divorcee in much the same way as Edward VIII gave up his crown to marry Wallis Simpson in 1936," she wrote, according to Marie Claire.
All the similarities between Wallis Simpson and Meghan Markle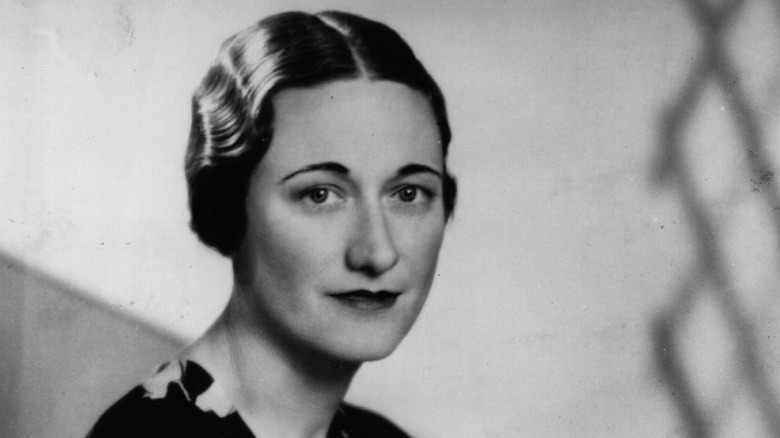 Fayer/Getty Images
This is far from the first time royal experts have noted a stark similarity between Meghan Markle and the wife of King Edward VIII, Wallis Simpson. The most notable comparison drawn upon is the fact that Meghan and her husband, Prince Harry, gave up their roles as senior members of the royal family in January 2020. According to Little Things, both Simpson and Meghan had royal husbands who chose not to be as involved in royal life. 
The comparisons don't end there, though. Like the Duchess of Sussex, Simpson was American, divorced, and well-known in her own right as a socialite. Even their outfits have drawn attention to their similarities. Royal fans noted how Meghan's black dress with white detailing that she wore in the infamous tell-all interview with Oprah Winfrey looked eerily like one of Simpson's well-known dresses. "Meg really showed up to this interview in her finest Wallis Simpson Cosplay and I'm here for it," a Twitter user said in March 2021. 
It seems like Meghan isn't shying away from the comparisons between her and Simpson.