Dynasty's Eliza Bennett Discusses The Final Season, Her New EP, And More - Exclusive Interview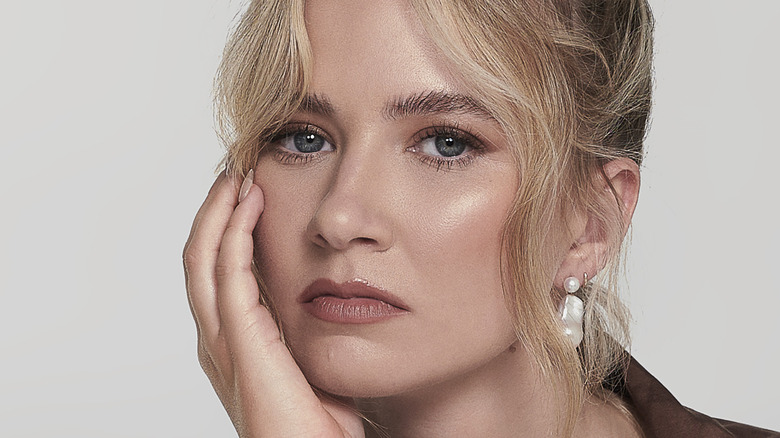 42West
The Hitchcock-inspired drama "Do Revenge" and the final season of "Dynasty" have both proven to be highly popular to different groups of fans. "Do Revenge" tells the sordid story of two teenage girls — played by the beloved Maya Hawke and Camila Mendes — seeking justice on those who have wronged them, only for an unexpected curveball to throw everything off course. 
"Dynasty," meanwhile, follows incredibly wealthy families as they navigate the halls of power and influence, all while bringing the likes of Elizabeth Gillies and Rafael de la Fuente to the screen. Both projects may tell very different stories, but they have one thing in common: the dazzling Eliza Bennett.
Bennett — a British born actress and singer — has been working in the industry since she was 9 years old, breaking into entertainment in the London West End production of "Chitty Chitty Bang Bang." From there, a 14-year-old Bennett joined Helen Mirren and Brendan Fraser in the leading role of Meggie in "Inkheart," before turning her attention to projects such as "Broadchurch," "This Is Us," and "The Conners." 
If all that wasn't impressive enough, Bennett and "Dynasty" co-star Gillies teamed up to film a music video accompanying Bennett's forthcoming EP, "Late Twenties," with singles dropping through the end of the year. With so much going on and so many career-defining projects to discuss, we sat down with Bennett for an exclusive interview to get the 4-1-1 on everything ranging from music to the difficulties people face in their 20s, film success, and more.
Eliza reflects on her experience as a child actor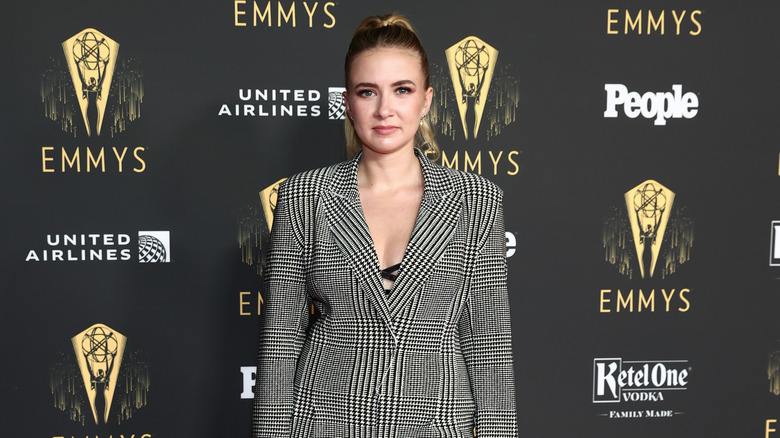 Matt Winkelmeyer/Getty Images
Your resume is off the charts, so I wanted to get a cursory glance at a little bit of everything that you've done, and what's coming next, and all that comes with it.
That's very nice. I think you might be the only person that's ever said that to me, so thank you.
You deserve to hear it. Working with Helen Mirren at 14 — not many people can say that.
That's the definition of peaking early.
Your first gig was "Chitty Chitty Bang Bang" at 9 years old. You ha[ve] this 20-year long career. In a cursory glance, this might be a hard question to answer, but what's been the most rewarding aspect of being a creative for this long now, but still only being 30?
It's hard, sometimes. When you start this industry really young, you feel a little bit older than you are, maybe a little bit more jaded. There are these seasons of my life that I feel like turn into pizza slices — those early years when I was a child actor. I was very lucky that I had an incredibly good experience being a child actor. 
I don't particularly have much trauma. I remember having the time of my life, and I know that isn't everyone's story when they were a child actor. Growing up in the UK helped — when you try to be a child actor in LA, you're surrounded by a city that's obsessed with the industry. Having a very normal life outside of working really helped me.
My 20s was when I was more insecure actually. I'm now coming into this cusp of where I'm starting my 30s, and I feel a lot more settled in myself again. You get a little bit more confidence in yourself when you get older. I'm really excited about this next 10 years of my career, being more in that place, because when you're a kid, you're fearless. When you turn into an adult actor, you have to question everything, because one, people stop employing you for a while — I looked like I was 12 still, but my body had hit puberty. There's a really rough few years in there.
You touched on a lot of different things that we'll talk about, because child acting — you  hear the sublime to the ridiculous with people's experiences, so that's great that you had a fairly seamless time. I've talked to a lot of young actors and it's a hard industry to try to navigate. You seem to be doing exceptionally well.
There were rough years, I promise you. Honestly, I credit that largely to my family, to my parents and to my siblings. They would never put up with s*** from me, which really helped. I credit that largely to them, honestly.
The actress dishes about Netflix's Do Revenge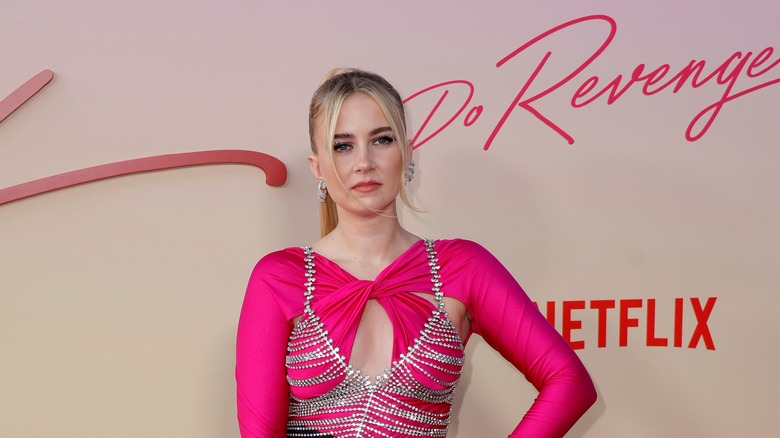 Frazer Harrison/Getty Images
One of your more recent projects was "Do Revenge," which has killed it on Netflix. I got to talk to Austin [Abrams] who was in that film...
You did, fun! He's so good in that movie.
Tell me a little bit about that. What was that production experience like? I know your appearance is more of a cameo, but what was that like?
The writer and creator and director of that movie is Jennifer Kaytin Robinson, and I did her first ever TV show that she wrote, "Sweet/Vicious." That show is very special to me and to anyone that is involved with it. Jen and I are forever bonded, and she was shooting "Do Revenge" in Atlanta, and I was shooting "Dynasty" in Atlanta. 
She texted me and was like, "Will you come and do this part, because I need to hire someone that I know can have a mental breakdown?" I know you can, so don't pretend you can't." I said, "Yes, when and where?" It was honestly a true joy to work with Sophie Turner, who is so funny in the film. I will always say yes when Jen asks.
That cast hit it out of the park.
I know. I am Gen Z but I'm not. It's got one character from every popular Gen Z show on TV right now. It's insane.
Gen Z has a very specific branding to their entertainment and to what they consume on social media. It's really fascinating.
I grew up without social media until I was about 15 or 16. That's quite a different experience from what this next generation will have. They've had phones in the palms of their hands since they were 8 years old. That changes your childhood a little bit.
What was it like for Eliza to work with A-list actors in her teen years?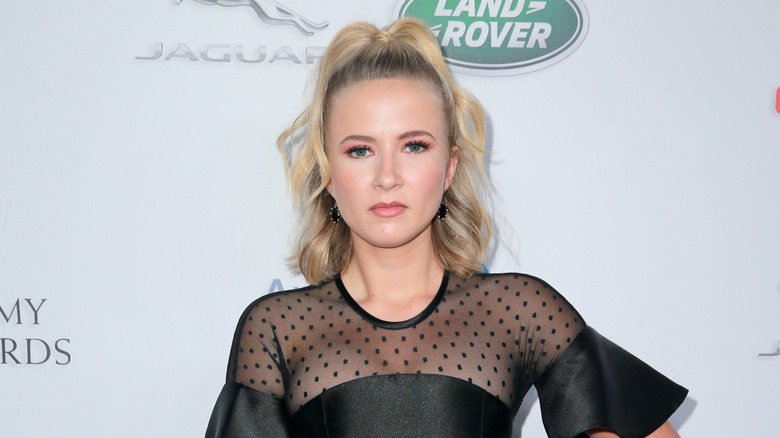 Rich Fury/Getty Images
I want to go back a little bit to when you worked with Helen Mirren, you were 14. That's mind blowing. I'd love for you to reflect on "Inkheart" and that project as a whole and how it impacted your mindset, your experience moving forward.
I look back on that as really a huge highlight of my childhood career, because I did "Nanny McPhee," but I was 12 then, so I was less able to digest it than "Inkheart." We shot most of that movie in Italy, which is insane now I look back on it, and it was my first real lead in a big studio budget film. It's funny — if I got that opportunity now. I would be sh***ing myself, but at 14 I was like, "Yeah, let's do it." 
I was most starstruck by Brendan Fraser who played my dad, because he was [in] "George of the Jungle" and "The Mummy." That's what I grew up watching. It was wild, because I was mainly around men on that [project], [like] Paul Bettany and Andy Serkis, and Helen Mirren was my female example and role model.
During filming "Inkheart," she won the Oscar for "The Queen" while we were shooting. I was in awe of her ... Now that I look back on it, I think how lucky I was to have her at such a pivotal time in my life as an example of what it is to be a female actress, because she is such a professional. She's worked forever. She is lovely to everyone. You watch her walk on set and everyone in the crew is in love with her. She's magic to be around. Largely why I had such a great time as a kid actor is because the actors that I was lucky enough to work with were all such stellar people, honestly.
Watching Brendan Fraser now, who I have such a soft place for in my heart — he honestly was wonderful to me and was such a father figure for years even after the film finished. It's so wonderful to watch what's happening to his career now, because he is such a good man. Largely, the fact that I was untarnished by the downsides is because I have these great examples. All of these actors would treat the people around them impeccably and it only took being an adult to look back and realize how important that was for me to watch.
Especially at 14, that's a really pivotal time of development for anyone. You're old enough to be aware of what's going on, but as you said, reflecting on that now you have such more of an appreciation for it.
100%. You can easily surround yourself with yes men and that's what they obviously say is, "That person's never been told no," and that's sometimes why people's behavior gets bad. That's difficult when you're a kid actor, because runners and PAs are constant. If you want sweets, they'll get you sweets, or candy. That's hard when normally, you would be being parented, and that was hard for my parents to be like, "No she can't have that. No, please don't do everything for her." I feel sorry for parents having to be a parent while your parenting is being undermined on set all the time.
What inspired Eliza's forthcoming EP?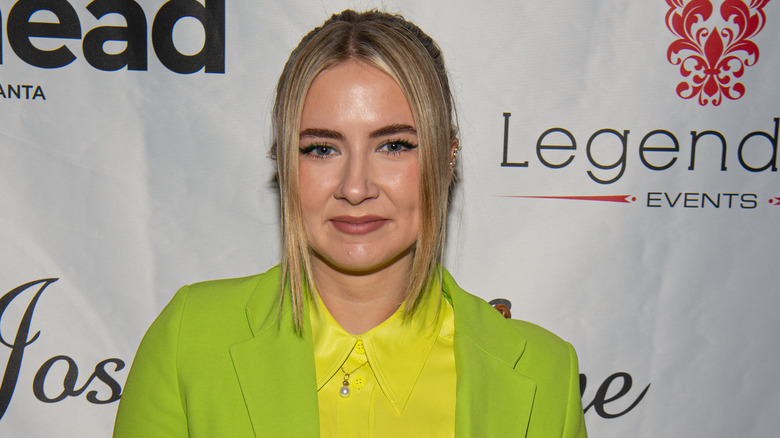 Marcus Ingram/Getty Images
I want to move forward a little bit and talk about your EP, "Late Twenties." You just released a song, you've got your music video [out now], which is super exciting. "Late Twenties" is a project that you're proud of because you have so many themes — friendships turning toxic, long distance relationships, and things that people in their 20s are really experiencing. I'd love to talk about that and the elements of your personal life that made it into the album and what this last decade for you has been like and how it all came together to make this project a reality.
The premise of the EP was a surprise to me. I actually had been writing songs for a long time and it turned out that the ones that came to the surface that I wanted to make fully — go all the way through production — and the ones that I like the best [were from] these really pivotal times from 20 to this last year. [That includes] a female friendship that I now look back on and think, "Wow, that was really a difficult time, but oh my god, that was a really pivotal time in my growth," and moving to a new city, which is what "Hate to Love You" is about, was immensely difficult.
I have done a lot of long distance with my partner, which is what "Visit Me in Georgia" is about and all these things that have woven together to become the tapestry of what the foundation of my 30s will be — whether that was really tough lessons that I had to learn, or boundaries that I had to get better at.
They all ended up being jigsaw pieces and then when I looked at the songs I was like, "This is cohesive..." Starting therapy for the first time — That's what "Late Twenties" is about, which comes out in November.
We're not on a set in Georgia, but everyone's done a long distance relationship. Everyone's had friendships that have gone sideways. It's such a relatable experience that so many of us are currently going through.
I was so obsessed with not having... I really hate conflict. It's funny, because I feel like I'm someone that knows their own mind to a certain degree and doesn't mind talking about how they feel. When it comes to anyone face to face dealing with anything, where any adversity is involved, I immediately become tearful and a people pleaser and I hate confrontation. 
A lot of the situations that I got into in my 20s were because I was really obsessed with being liked and I didn't want anyone to dislike me. Moving to America, I don't know why it was moving to America, but things are not said as much in the UK, in our culture. Then, I was around people who were more vocal and weren't afraid of confrontation as much as where I grew up. I'm glad now that I've experienced it though, because it got me better at dealing with confrontation and not taking everything personally.
It can be a jarring cultural shift for sure.
It was more than I thought it was going to be actually, but there are so many things I love about both cultures and both people. There are pros and cons to honestly everything.
Eliza collaborated with her Dynasty team to create music video magic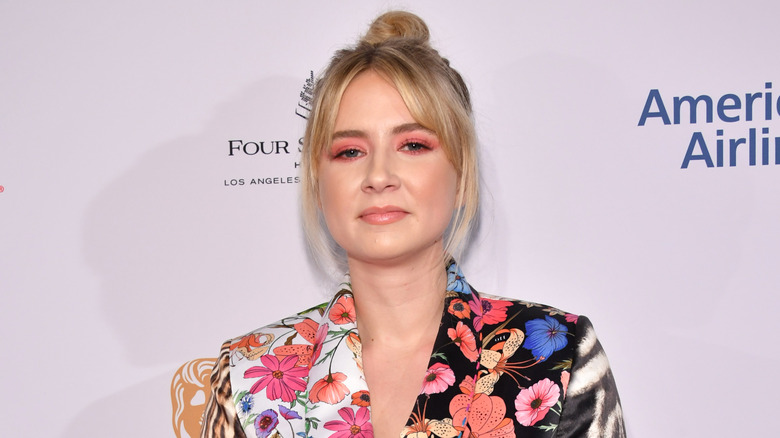 Amy Sussman/Getty Images
Your music video [is out now] and I love that it was directed by Elizabeth Gillies. That's a really fun detail. What was that experience? What should fans expect to see from that?
It's very wholesome. I always joke with my husband that if you listen to my back catalog of songs I've written, it sounds like I'm in a really terrible relationship, and so I thought I owed him a love song really. This is probably as wholesome as it's going to get from me. 
I sent my whole EP to Liz, who I met working with on "Dynasty." We play sisters and she's incredible and she directs — she's directed a couple of the episodes on "Dynasty." I sent on my EP and I was like, "I really want to shoot a video, [and] I don't want to do this anywhere other than Georgia. The song is called 'Visit Me in Georgia,' it has to be here. Would you do me the honor of directing it?" She was like, "100%, I'm on board." The hardest thing was both our "Dynasty" schedules had us trying to shoot this at the same time and we shot this right after she directed an episode of "Dynasty" as well.
We literally got our only day off on a weekend and we shot it in a day and it was great. I had so much fun. My makeup artist [and] the DP were both from "Dynasty." It was a cute little "Dynasty" squad — it's great. Music videos are becoming slightly irrelevant now, but I love having a visual to a song. It amplifies the experience. It makes me fall in love with songs more. I'm excited we could do this for this one and my next single will have a music video too.
I love music videos. When we grew up, MTV always had the music video that accompanied the song — some of the work is more intentional with music videos as they tell a story, which it sounds like this one absolutely will.
Yeah, and they're a labor of love. There's not really any gain from them other than you making something that you find creatively stimulating — whereas they used to be money makers. They really ask for a labor of love, so I love it when artists do them because I know that they don't get that much return on them other than just being able to share the inside of their brain.
Eliza chats about Dynasty and what's up next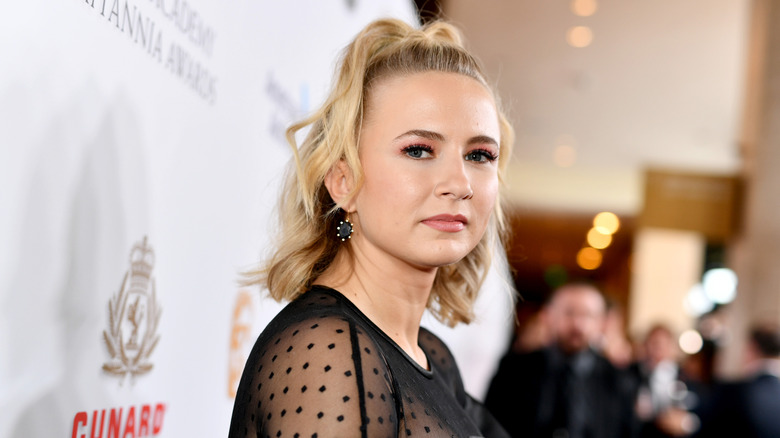 Emma Mcintyre/bafta La/Getty Images
"Dynasty" is massively popular on Netflix right now, but the finale was last month. Take me through that experience and how "Dynasty" set itself apart from your other creative work.
"Dynasty" is its own beast. It is unlike any other show — it has its own unique style. It was my first job back from COVID and I've never ever worked on a show that has 22 episodes before. It was like finding a lake after a desert of no work for two years. We all had to go straight into a 22 episode show, so it's been a wild ride. It took me a second to grasp the tone of the show, which is set by Elizabeth Gillies's comedy, because she's so funny. Honestly, the show's tone is created by what she does with [her character] Fallon.
I've had such a good time. The crew is incredible. It was an honor to be on the last season, and every single time it goes on Netflix, our whole cast — we text each other and are like, "It is insane how popular this show is around the world." Within two days it was second on Netflix TV shows all over the world and it's so nice when you have done all that work and then you know that people are binging this wild, eccentric, insane, dramatic show in three days. It gives all of us a lot of joy. It's always fun when it's Netflix release day.
That's a huge job to get, especially after COVID which was such a dry spell for so many actors and so many filmmakers. What was it like to go back to the set? Did you find it jarring? Did it throw you off your rhythm, or were you itching to get back to work?
It's interesting, because every job has a tone and I always think it takes a couple scenes — sometimes a couple episodes — to really grasp it. Right before we went into lockdown, I had done "The Conners," which is a sitcom, the "Roseanne" spinoff, and I'd never done a sitcom before. They're not that popular in the UK. What I'm really grateful for in my career is the variety that I've been able to do of different shows, because each one is a new ... notch on my belt.
They've all really stretched me ... I did a lot of British dramas growing up, and they're so different from "Dynasty." Now, I'm back on a really gritty British TV show and I feel so grateful for the variety, because each one of them stretches me in a different way.
What's coming next? You're on British TV, what can fans anticipate? You've got music, you've got TV, what's next?
Right now I am in Liverpool in the UK, so I'm back in my home country, which is nice, and I am shooting a show for Paramount+. If you saw the 2002 movie "Sexy Beast" with Ben Kingsley and Ray Winstone, it's a prequel of that show set in the early 1990s. It's a gritty East London crime drama. It's very exciting. I'm having such a good time. The cast is incredible and it's been really fun to work back home and be with my family. It's, again, a role like I've never done before, so I'm really excited for people to see this one.
"Do Revenge" and "Dynasty" are both available to stream on Netflix. Eliza's latest music video, "Visit Me In Georgia," is now available on YouTube. You can follow her on Instagram @elizahbennett.
This interview has been edited for clarity.