The Best Essential Oil Combinations For Peaceful Relaxation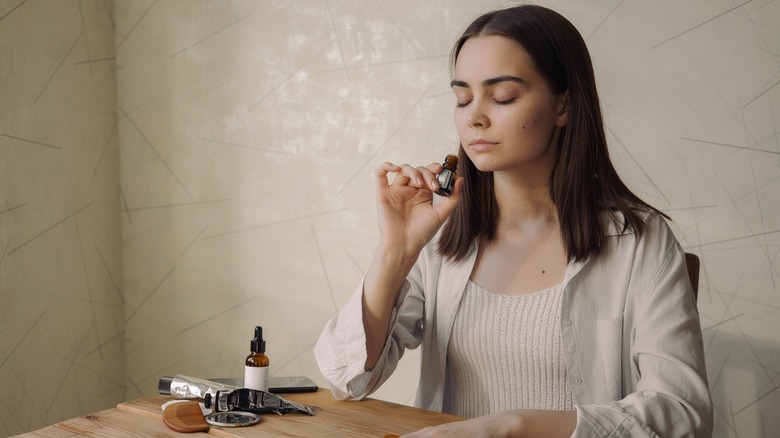 Dzmitryieu Dzmitry/Shutterstock
The world of essential oils can seem pretty daunting for beginners. According to the Cleveland Health Clinic, studies have shown that essential oils might help with boosting your mood, calming stress, and even reducing headaches. 
There are a lot of social media mavens getting in on the trend. Becca Bristow has devoted an Instagram account and much of her YouTube page to praising Young Living essential oils. "I use them for all different kinds of things," she said in a YouTube video. "I use them for supporting sleep, I use them in my skincare, which has made the biggest difference ... I use them for emotional support, like with aromatherapy. You can use smells to help deal with stressful situations."
With everything that's going on in the world today, who couldn't use some emotional support? If you're looking for ways to help you feel less anxious, essential oils could help. With the right essential oil know-how, you can find the perfect blend to help soothe stress and relax.
These essential oil blends will help you unwind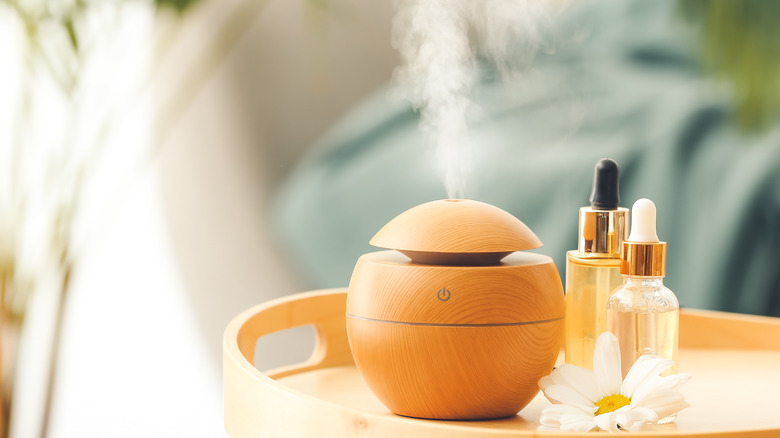 Pixel-Shot/Shutterstock
Loving Essential Oils details some of the best blends for relaxation. Some of the outlet's favorite diffuser blends included sweet marjoram with orange, cedarwood with rose, tangerine with patchouli, and lavender with sandalwood. 
Our Oily House, a blog and YouTube channel completely dedicated to proper essential oil use, recommends a plethora of oils to help reduce stress and anxiety. One YouTube video from the channel suggests battling bad feelings with a blend of lavender, bergamot, and copaiba. This blend has a calming scent that can help you wind down.
Sometimes, finding the perfect blend may come down to more than choosing oils that have a calming smell. Essential oil coach Tara Wagner shares that you need to specify what type of stress you're feeling. "Think of essential oils as a spectrum, along with your emotions," she says in a YouTube video. "...The oils that are going to balance [that emotion] are going to be the opposite." 
Wagner goes on to reveal which oils suit which types of feelings. She said if you're feeling down and low energy, citrus and mint oils are a good bet. If you've got high-energy stress like anxiety, she recommends calming floral oils like neroli or lavender. 
Use caution with essential oils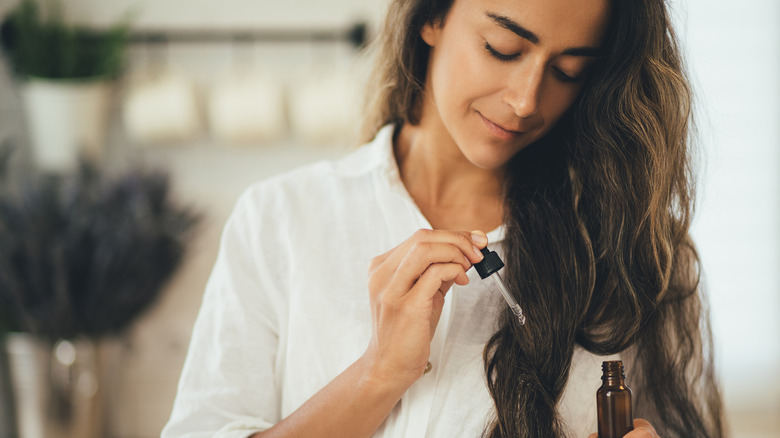 polinaloves/Shutterstock
Proper use of essential oils can definitely add some fun and relaxation to your day, but if you're a newbie to them, there are some things you should keep in mind before breaking out your diffuser.
First, be careful about measurements. The well-known oil brand doTerra warns that anything can be toxic if used in an incorrect dose. The company also encourages readers to always check the quality of the oil before using it in any way. If you have pets or children around, Loving Essential Oils recommends using fewer drops than usual. Use extra caution if you're applying oils topically. Most oils need to be diluted in a carrier oil, like coconut or almond, so they won't cause irritation. The American College of Healthcare Sciences says to always do a patch test before applying them to larger areas of the skin.
Once you're completely ready, pull out your favorite peaceful essential oil blends and prepare to relax!