Everything You Need To Become Minnie Mouse For Halloween This Fall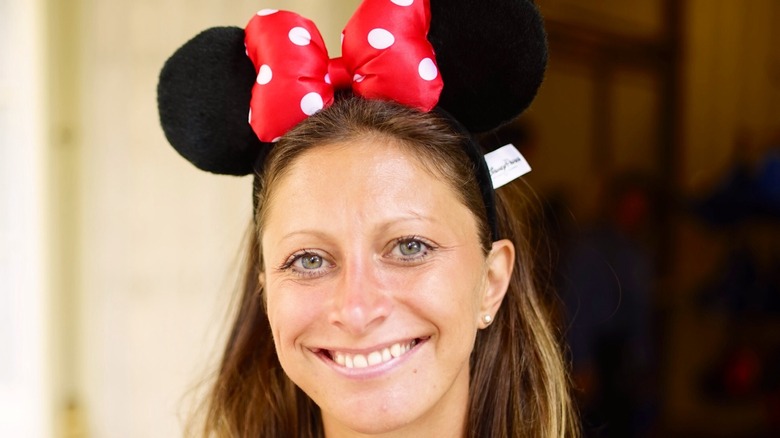 Rhysj123/Shutterstock
We may receive a commission on purchases made from links.
Very few fictional characters are as beloved as the iconic Minnie Mouse. The charming mouse is so much more than just Mickey Mouse's love interest; there's even a Minnie Mouse Frappuccino at Disney World! According to D23, Minnie Mouse's origins go back to the classic 1928 short film "Steamboat Willie," and the female fictional mouse became so adored that 1986 was named "Minnie's year" at Disney parks.
It's no surprise that Minnie Mouse is a popular choice for Halloween costumes every year. After all, there are over 12,000 posts dedicated to #minniemousecostume on Instagram, in addition to countless TikTok videos focused on Minnie Mouse costumes and outfits. And don't even get us started on all the Pinterest posts centered on Minnie Mouse costumes. 
Dressing up as Minnie Mouse is a fun, easy Halloween costume whether you're 12, 25, or 60 years old, so we recommend channeling your inner Minnie Mouse for Halloween. Here's what you'll need to nail the look.
Minnie Mouse ears are a must
Minnie Mouse Halloween costumes offer more versatility than more specific looks, as there are many variations of Minnie Mouse-inspired ensembles. But whether you go for a classic Minnie Mouse costume or a sexier version, you can't forget your mouse ears — those big, cute ears are a crucial aspect of any Minnie Mouse costume. The good news is that many stores sell Minnie Mouse ears, so you shouldn't have any trouble finding a pair you'll like.
For instance, you can purchase the Minnie Mouse Sequin Ear Headband with Sequin Polka Dot Bow for Adults for around $30 at ShopDisney. This stylish headband offers a sparkly spin on traditional Minnie Mouse ears; it has the classic black, red, and white design, but it's covered in sequins. If you like the sparkly Minnie Mouse ears but want a more affordable option, the Eisyaa Mouse Ears Bow Headbands, Sequin Minnie Ears are Amazon's Choice and sell for around $10. Plus, they have 4.7 out of five stars. Moreover, if you're a parent and want to wear matching Minnie Mouse ears with your child, the Disney Minnie Mouse Ears, Set of 2 Headbands for Mommy and Me are available at Walmart for just above $10 and have 4.5 stars.
Lots of polka dots will complete your Minnie Mouse ensemble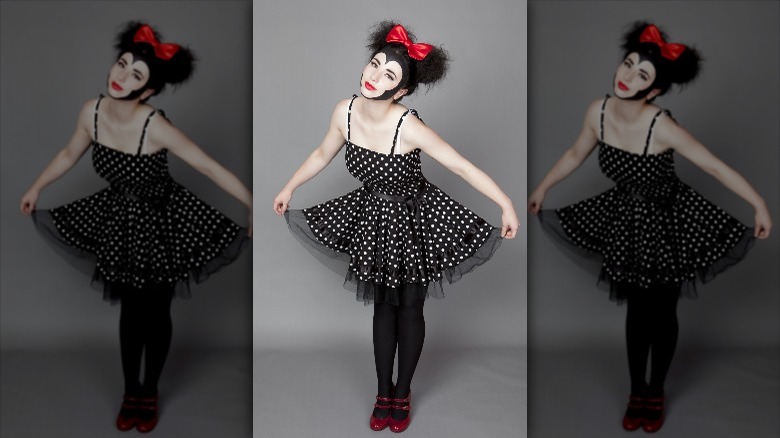 Adam Fraise/Shutterstock
Minnie Mouse-inspired looks are ultra-fashionable in the 2020s, as the polka-dot trend took over summer 2022 style guides. As long as you incorporate polka dots into your ensemble, there are many ways to rock a Minnie Mouse costume. If you want a traditional Minnie Mouse look, you should invest in a classic red dress with white polka dots, like the Disguise Women's Red Minnie Mouse Classic Costume, available on Amazon for around $35. This polyester dress features a playful bow belt and has four out of five stars.
Another way to rock the Minnie Mouse look is to flaunt a red skirt with white polka dots instead of a dress. The Urban Coco Women's Basic Versatile Stretchy Flared Casual Mini Skater Skirt is a best-seller on Amazon and is available for less than $20. The skirt has 4.5 stars with more than 79,000 reviews. You can pair this skirt with a blouse, leggings, and Minnie Mouse ears for a wholesome look or with a crop top, fishnets, and the ears for a sexier twist.
For an ultra-cutesy look, try a tutu with polka dots, like the Dreamdanceworks Adult Tutu Skirt for Halloween Costume. This Amazon's Choice item sells for about $15 on Amazon and has 4.2 stars. On the other hand, the Shein Heart Print Crop Cami Top sells for $3 at Shein, has 4.87 stars, and would look great with a short skirt or leggings for a sexy, modern Minnie Mouse-inspired look.