The Surprising Reason Donald Trump Compared Himself To George Washington & Abraham Lincoln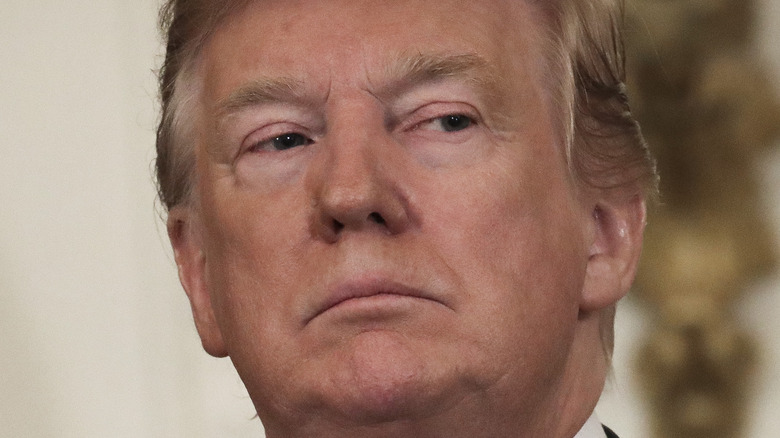 Drew Angerer/Getty Images
Former President Donald Trump has had a complicated year. He's found himself wrapped up in a handful of legal troubles, including a lawsuit from the state of New York on charges of fraud (via The New York Times). He's also dealing with the possibility of being held responsible for encouraging the actions taken by insurrectionists at the United States Capitol on January 6, 2021.
On top of that, Trump is still dealing with the fallout of the raid on his Florida home, Mar-a-Lago, where we learned he had taken several classified documents from the White House after losing the 2020 election. However, he seems to have flipped the controversy into a positive, Business Insider reports. "They've given us about $5 billion of free publicity," Trump said at the Hispanic Leadership Conference in Miami. "People say, 'That's a nice house.' If it weren't so nice they probably wouldn't be doing it."
However, Trump's strange comments on the raid of his home at the Hispanic Leadership Conference this week weren't the only controversial remarks made.
Donald Trump made an interesting comment at the conference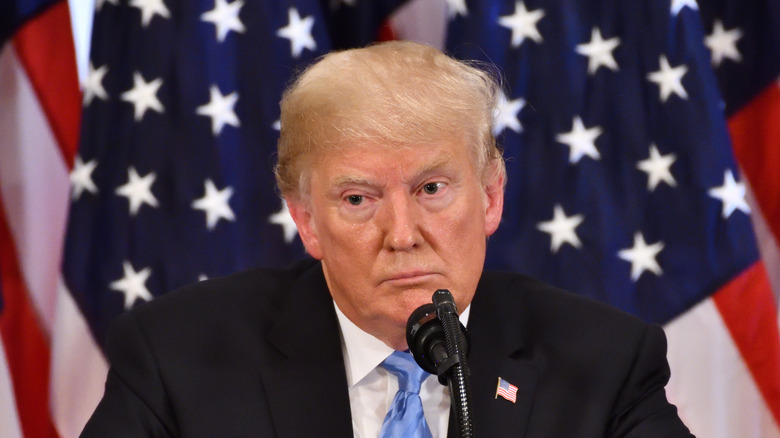 Evan El-Amin/Shutterstock
Former President Donald Trump spoke at the Hispanic Leadership Conference in Miami this week and made some controversial claims. He stated, "Now the failing Biden regime wants to start investigating me, and the only reason is because I'm leading everyone in the polls, both Republicans and Democrats," hinting more than ever that he plans to run again for president in 2024 (via NBC News).
While speaking about his future in politics, he made yet another claim, this time claim that a pollster told him that he would beat a George Washington and Abraham Lincoln ticket at the polls (per the Independent).
"If George Washington and Abraham Lincoln came alive from the dead and formed a president, vice president team, you would beat them by 40 percent," Trump claimed the pollster told him before the COVID-19 pandemic.
Trump continued to share the story behind this odd comment. "That's how good our numbers were," he said. "I'll never forget that because that would be a tough tandem, George Washington and Abraham Lincoln... 'Ladies and gentlemen, George Washington and Abraham Lincoln have announced that they will be running for president and vice president.' I would say, 'Oh man, that's tough, that's a tough one.'"
The 45th president seems fairly confident in his political career, which could mean he may announce his next bid for the presidency sooner than later.