Sarah Ferguson Opens Up About The Queen's Corgis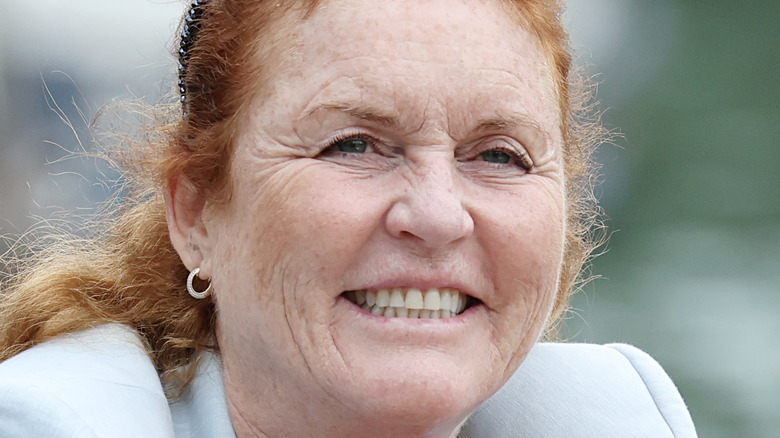 Pascal Le Segretain/Getty Images
Queen Elizabeth II was rarely seen without her corgis. The former monarch was given her first corgi in 1933 by her father, King George VI. A seven-year-old Elizabeth named the puppy Dookie, which was reportedly the nickname given to her father when he was Prince Albert, Duke of York (via Marie Claire). He took on the name George after his coronation in 1937 (via Royal Central).
Over the course of her reign, the queen had over 30 corgis, having bred 14 generations of the dog (via Reader's Digest). The last corgis she owned were Sandy and Muick. They said goodbye to their beloved owner as her coffin passed the quadrangle at Windsor Castle on a gun carriage (via The Guardian).
Shortly after her death, it was announced that Sandy and Muick would be given to Prince Andrew, Duke of York, and Sarah, Duchess of York. The Duke of York and her granddaughters, Princess Beatrice and Eugenie, initially gave the dogs to the queen during lockdown in 2021 (via The Guardian).
The queen's corgis are settling into life with the Duke and Duchess of York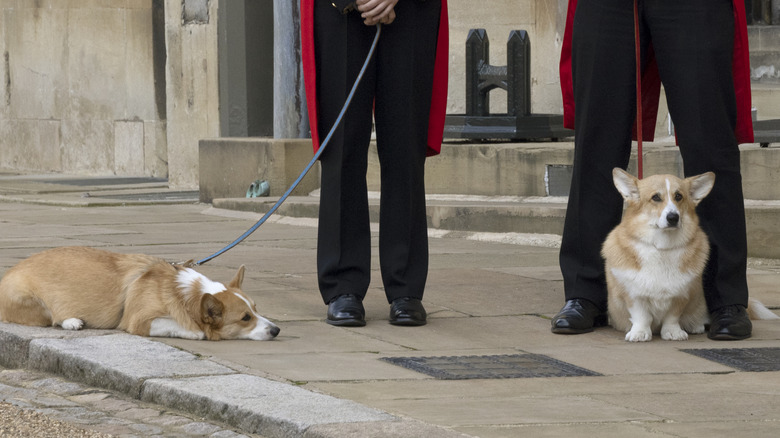 Wpa Pool/Getty Images
Sandy and Muick were treasured companions of Queen Elizabeth II in her final years. Angela Kelly, the Queen's dresser, said (via The Guardian) that she "was worried they would get under the Queen's feet, but they have turned out to be a godsend." It's been a month since the queen passed, and her corgis are settling into a new life with Prince Andrew, Duke of York, and Sarah, Duchess of York.
Speaking at the Henley Literary Festival on October 5, 2022, Sarah Ferguson said both corgis were "national treasures" and that they'd "been taught well" by the queen (via The Telegraph). The two dogs are now living with the Duke and Duchess of York's five Norfolk terriers at Royal Lodge, Windsor. "They all balance out, the carpet moves as I move but I've got used to it now."
Prince Andrew initially gave the queen the dogs to help her when Prince Philip was in the hospital (via Town & Country) and to aid the grieving process when he passed away. Ferguson said they brought "constant joy" to the queen, even though she only had them for a short while.
Sarah Ferguson called the queen a wonderful friend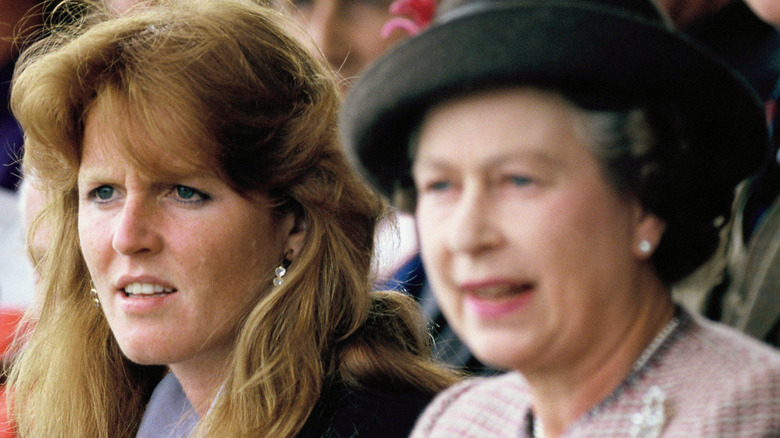 Georges De Keerle/Getty Images
Sarah, Duchess of York, paid tribute to Queen Elizabeth II on Instagram following her death, writing that she was "heartbroken" at the loss of her mother-in-law and that the monarch "leaves behind an extraordinary legacy." At the Henley Literary Festival, Sarah Ferguson called the queen a "wonderful friend" and "the finest ever icon ... legendary, incredible" (via The Telegraph).
"It's been all my life that I've known the boss and there's no one like her," Sarah said. She also revealed that she was given the queen's blessing to write her debut romance novel "Her Heart for a Compass" this year (via Metro). "I wouldn't do anything unless the boss gave me her blessing though, and still to this day, I think about that."
As Sarah explained, the queen was her primary source of inspiration when creating her characters. "There's no question about it, mine is my mother-in-law. I've been the luckiest person alive. I have, there's no question ... she was just very, very special."