Of All Sarah Jessica Parker's Looks, This One Stands Above The Rest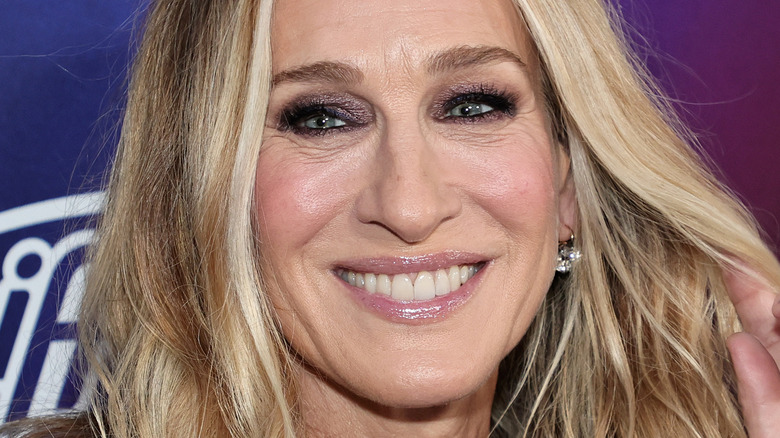 Jamie Mccarthy/Getty Images
Sarah Jessica Parker is without a doubt one of the most major fashion influences on pop culture over the past several decades. When "Sex and the City" premiered in 1998, women everywhere would fall in love with Manolo Blahniks, and as the iconic HBO show endured, we eventually all wanted a Birkin bag (via People). From the tutu Parker's character Carrie Bradshaw sported in the intro, to the famous newspaper dress, the star of "SATC" left an indelible mark on style that persists to this day via the reboot "And Just Like That..." (via Vogue).
But off set, Parker is as much a force of fashion as she is as Carrie. From red carpet moments like her Costume Institute Gala Benefit appearances, to movie premieres and just on-the-street sightings, the actress never steps out without taking risks and pulling them off every single time.
Parker's first fashion statement came during her turn on the show "Square Pegs" in the 1980s when she wore a weird, billowy gray dress and a wide-brimmed hat — but the mom of three has come a long way since that one teeny fashion misstep (via Us Weekly). She would go on to be dressed by all the best designers like Oscar de la Renta and Vivienne Westwood.
But one look is so fabulous, it tops all the other stand-out fashion moments Parker has ever wowed us with.
Sarah Jessica Parker is a GOAT fashionista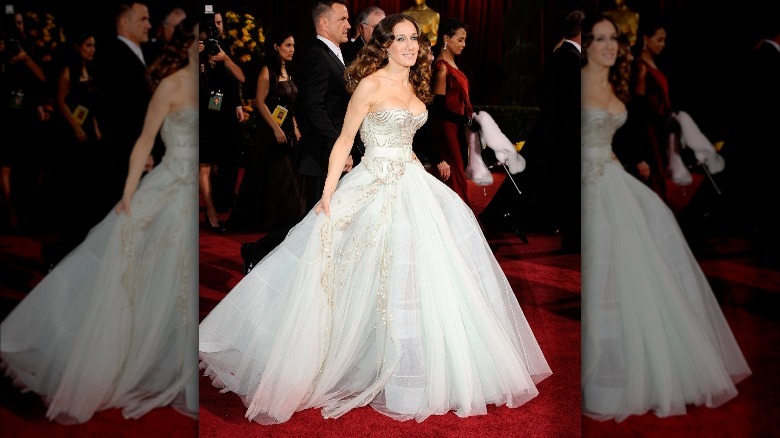 Frazer Harrison/Getty Images
So many of Sarah Jessica Parker's looks make us want to bow down to the GOAT fashionista. Case in point: Her 2009 Academy Awards ballgown, designed by Dior Haute Couture, was everything we ever wanted in life (via The Zoe Report). Flash forward to 2021 and the star is still winning, having debuted a tulle-infused Oscar de la Renta dress for the premiere of "AJLT" that left jaws on the floor (via W Magazine).
Meanwhile, the actress has attended the Met Gala an astonishing ten times and some of her best fashion moments happened on those red carpets (via Insider). Who could forget her 2006 kilt-inspired dress designed by Alexander McQueen, who incidentally, was her date for the event? And her buffalo plaid gown for the 2022 iteration of the event won the night if you ask us!
But none of these looks can possibly compete with a look the actress chose for the Golden Globes in 2000, a year she took home her first award for playing Carrie on "SATC" (via Us Weekly). Her fashion also won big that night.
Sarah Jessica Parker was effortlessly stunning in 2000
Frank Micelotta Archive/Getty Images
Harper's Bazaar called Sarah Jessica Parker's 2000 Golden Globes dress one of the best looks in the history of the awards show. The gown has also been featured in roundups of the most memorable fashion moments from the Globes ever.
The skin-tone Richard Tyler gown featured glittering detailing and fit the star like a glove. The look impressed many observers at the time, and was hailed as "sophisticated" among other compliments.
Maybe what we loved most about this look was how comfortable Parker seemed in her own skin. Her minimal accessories and natural hairstyle only served to amplify this vibe, with the "SATC" star telling the Los Angeles Times that night about her choice not to fight the rainy weather, "I have curly, frizzy hair anyway."
Ultimately, Parker's best look of all time is the perfect example of what she told Harper's Bazaar in 2018: "Style is what the individual brings. More often than not, we are drawn to people because they have personal style. Fashion is what is offered to the consumer. Style is what you make of it."