Is General Hospital's Nicholas Chavez Getting Spencer Ready To Fight The Pentonville Bad Guys?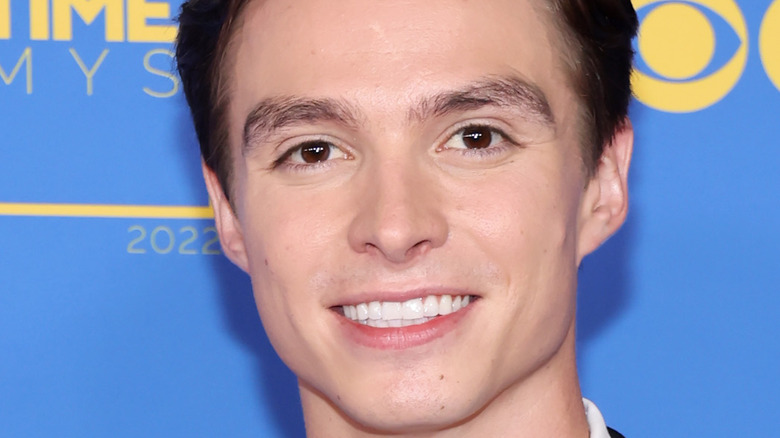 Amy Sussman/Getty Images
Spencer Cassadine (Nicholas Alexander Chavez) has made a lot of mistakes over the years on "General Hospital," and they've caught up to him. His current "General Hospital" storyline is focusing on his prison sentence after being sent to a maximum security prison called Pentonville (per Soaps in Depth).
In Pentonville, Spencer was able to get a job in the prison library, unknowingly bumping out a guy named Book — named so because he once killed another inmate with a large dictionary.  Book, unhappy about this, paid Spencer a visit in the library, hitting him in the head with a book and then forcing the young man to pick it up. Book stood on Spencer's hand preventing him from getting up. Fortunately for Spencer, notorious drug dealer Cyrus Renault entered the room, making Book leave. Spencer was wary that Cyrus would want something in return as payback (via Soap Central).
Actor Chavez recently posted about something happening in real life that could help Spencer while he serves his prison sentence and potentially goes head to head with some "General Hospital" characters you'd hate to know in real life. 
Nicholas Alexander Chavez embraces martial arts
"General Hospital" star Nicholas Alexander Chavez recently posted a picture of himself and his friend James at the gym on Twitter writing, "Mixed martial arts with my boy James. Tell the other prisoners in Pentonville to watch out for Spencer." 
While fans didn't initially like Chavez when he took over the role of Spencer, they've warmed to him and are eager to see him take on the Pentonville bad guys. One tweeted, "It's about time Spencer stood his ground and fought for himself! This Uncle Vic, daddy, Grandmother Laura , Aunt Alexis etc...fighting his battles for him is really getting old fast! About time he grew up..and acted like the man he so badly wants to be." Another wrote, "Can't wait to see your new moves."
Remembering Spencer's history on the show, a viewer asked, "Didn't uncle Sonny teach Spencer to Box?? Get em Spencer," while another echoed, "...yeah, we need to see Spencer defend himself okay. All that time spent at his uncle Sonny's gym wasn't for nothing." One viewer summed it up with a resounding, "Hell yeah!!!!!!!!" And then there was the quip, "Next time I hope #GH has Spencer throw the 'book' at Book!!"
Considering Spencer is supposedly under the protection of both his uncles — the nefarious Victor Cassadine (Charles Shaughnessy) and mob boss Sonny Corinthos (Maurice Benard) — and now by the allegedly altruistic Cyrus Renault (Jeff Kober), Soap She Knows theorizes that it's perhaps best if Spencer defends himself.