How To Recreate Ariana Grande's Positions Makeup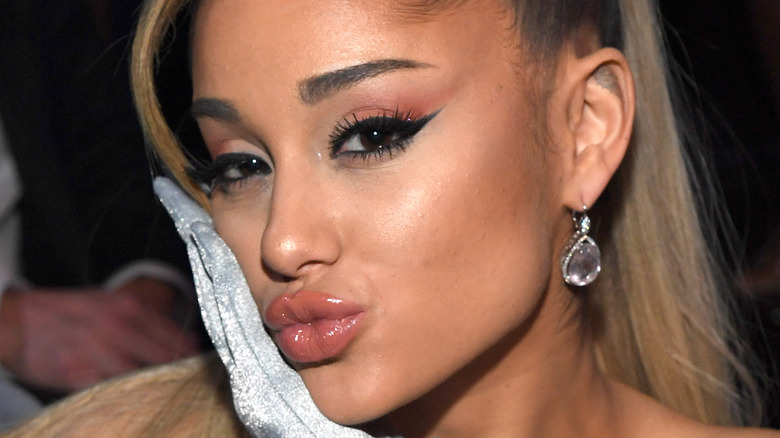 Kevin Mazur/Getty Images
Pop princess Ariana Grande is known for several things. Aside from her insane vocal range as exhibited in her six studio albums and whopping 19 Top 10 hits, since her debut single "Put Your Hearts Up" in 2011, the "thank u, next" singer is also a beauty icon with her own makeup brand. She's got people all over the internet imitating her famous high-pony, oversized hoodie, knee-high boot look. In fact, Seventeen shared an article just last year on how to copy Ari's iconic style, including the popular "no pants look" she's often photographed wearing.
And don't even get us started on Grande's makeup looks. From her timeless winged eyeliner to her bronzed glow and pinky nude pout, there are countless tutorials online to help Grande admirers achieve her classic trademarked appearance. One makeup look many fans are dying to recreate is from her mega-popular "Positions" music video, where she sports her classic look but with an edge. Interested? We got the low-down on how to achieve it.
It's all about the dramatic cut-crease cat eye
The focal point of this look definitely is Grande's typical dramatic cat eye, with a contrasting cut-crease eyeshadow (per POPSUGAR). The overall look is very reminiscent of the style of the '60s, similar to the likes of Jackie Kennedy, and has gone viral on TikTok as creators attempt to recreate it (via Buzzfeed). The good news is that not many products are needed to produce this simple-yet-mesmerizing makeup look. TikTok beauty influencer Haley Bui shared a tutorial with her 2.2 million followers, which showcases this look perfectly.
After laying down the base makeup, which is simple and not too contoured or dramatic, Bui applies a soft brown eyeshadow to the crease using a dense, fluffy eyeshadow brush. She then goes in with a small-pointed shadow brush, making a wing at the corner of her eye and bringing it into the shadow on the lid, creating a cut-crease look. Carving it out with concealer to define it perfectly, Bui then applies a soft lash and nude lip. By the end, her makeup looks identical to Grande's in the music video. According to Refinery29, this look can be versatile by simply switching up the colors and angles of the shadow and liner.
How to recreate Ari's hair to match the look
It's obvious that Grande loves a high, dramatically long pony. Even though her aesthetic has shifted within the last few years, as she's been wearing her hair down and in shorter styles, the classic sleek updo she rocks in the "Positions" video is very much indicative of Grande's style. Grande's hairstylist, Josh Liu, told Vogue that to achieve an Ari-worthy pony, it all comes down to three major things: the product, the brush, and the hair tie.
First, according to Lui, it's important to detangle and smooth the hair. He recommends straightening it beforehand to ensure the hair is sleek and easy to tie. Then, put the hair up loosely on the head where the ponytail would sit, layering flexible-hold gel or hairspray onto the hair with a bristled brush to sleek it down. After that, undo the loose ponytail and use a nylon boar bristle brush to gather all the hair together and smooth out any bumps.
Then, tie the hair together with a strong and durable hair tie — that part is essential, he notes, to ensure it stays tight all day. Finally, add some texture spray or dry shampoo to the base of the ponytail, teasing upward to create Grande's voluminous look. Smooth it out, but not too much, to ensure volume isn't lost, and finish it with lots and lots of your favorite hairspray. The entire look, from face to hair, is complete.