The One Thing The Young And The Restless' Michelle Stafford Wouldn't Change For Anything In The World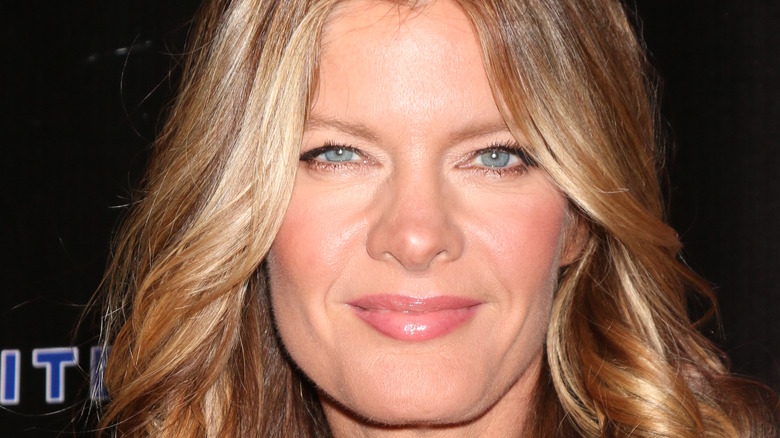 Kathy Hutchins/Shutterstock
Actress Michelle Stafford became a soap opera star when she played Phyllis Summers on "The Young and the Restless" in 1994. From 2014 to 2019 she moved on to play Nina Reeves on "General Hospital." According to CBS, she's not only the recipient of several Daytime Emmys and Soap Opera Digest awards, she also founded a  skin care company called Skin Care Nation, and has been raising her two children — son Jameson and daughter Natalia whom she admittedly loves to embarrass.
According to Soap Central, for a brief period, Stafford's character Phyllis was recast from 1997 to 1998, then again when she was on "GH," eventually returning to her "Y&R" role in 2019. Much like Stafford, Phyllis had two children, Daniel Romalotti Jr. (Michael Graziadei) and Summer Ann Newman Abbott (Allison Lanier). However, unlike real-life, Phyllis was always up to no good including messing with Daniel's paternity tests, stealing, drugging people, and helping cover up murder among other bad acts.
Stafford, however, is a really great mom and Celeb Dirty Laundry reported on how she balances her time with her kids and her time as an actress — especially when she was transitioning from "GH" back to "Y&R." Putting her kids first all the time, Stafford enjoys sharing images of them as they've been growing up on social media.
Michelle Stafford shares her greatest loves in life
"The Young and the Restless" star Michelle Stafford recently posted her children's picture on Instagram saying, "We have our babies for a limited time, don't we? This is the hardest job in the world. ... My life and the time in the day I have is spent between working and driving these babies around to countless sporting events and play dates and sleep overs and academic events. ...It's a lot."
In spite of the challenges of parenting, Stafford loves her life. "I wouldn't change it for anything," she said. "I know all of you parents and care takers know."
Fans responded, with one replying, "Being a mom and grandmother is the best reward and blessing...Your children are so cute." Another posted, "You have a beautiful family..." Praise for the children came in the form of, "Who needs any additional pictures for "school picture day"? Hands down, that's gotta be a better picture!" "Your children are beautiful! And you're so right, it takes up every waking second, doesn't it?" wrote another viewer, and fans even appreciated their outfits. One said, "I love that she is wearing docs with that dress!"
Stafford previously shared her family's nightly rituals on Instagram and, much like with this recent post, the fans seemed to enjoy learning about her kids and her life.