Here's How To Become A Pharmacy Technician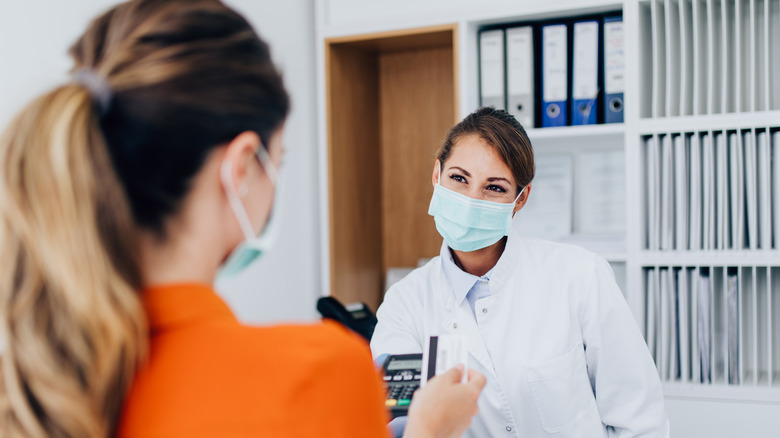 Hedgehog94/Shutterstock
If you've ever taken Motrin or Advil for a headache or been treated at a hospital for an illness, you know medicine plays a crucial role in treating minor and major diseases. Nowadays, walking a few blocks without running into a pharmacy is impossible. The global pharmaceutical industry is growing daily and made $1.4 trillion in 2021, according to Proclinical. It's no surprise that Johnson & Johnson and Pfizer are among the top pharmaceutical companies in the world right now.
Available jobs in the pharmaceutical field continue to increase. In fact, the need for pharmacists grew three times in 2019, per Health Care Logistics, Inc. And, the pay is not bad either. According to the U.S Bureau of Labor Statistics, the average salary of a pharmacist is $144,732 — with the highest pay in the state of California.
If you've ever picked up a prescription from a pharmacy, you probably remember someone asking you if you have any questions regarding the medication. They could be a pharmacist or a pharmacy technician; their job is to dispense prescription medicines to people and advise them on how to use them safely. While the positions seem similar, they are not exactly the same. If you're interested in a career as a pharmacy technician, here's how you can get started.
Here's what you need to become a pharmacy technician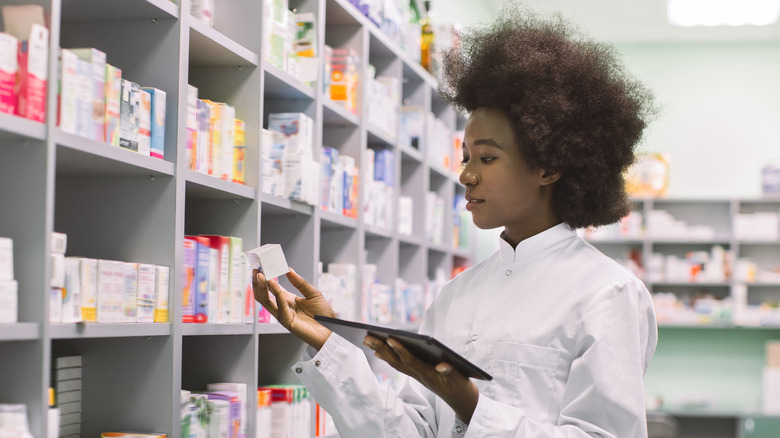 SofikoS/Shutterstock
Whenever you pick up a prescription at a pharmacy, you meet someone wearing a lab coat who checks your ID before dispensing the correct medication and tells you how to use the drug safely. This person is likely a pharmacy technician working under the supervision of a pharmacist. If that's a field you're interested in, this is what you need to do.
The first prerequisite for becoming a pharmacy technician is to have your high school diploma or GED. Then, you'll need to complete a pharmacy technician certificate or diploma program, which can be done online or at your local community college (via Nurse.org). You'll need to submit an application with placement test scores and transcripts and undergo a background check. Once you begin classes, it takes a year — or two semesters — to complete the program. 
If you're interested in getting a higher certification, you can enroll in a pharmacy technician associate's degree program, which has the same requirements as a certificate program. However, it includes more in-depth classes and takes two years to complete.
For either program, the school you attend has to be accredited by the Accreditation Council for Pharmacy Education (ACPE) or the American Society of Health-System Pharmacists (ASHP), per PharmTechs.org. While in school, you'll have to do an externship at a local pharmacy, even if you're studying online. Once you've passed the Pharmacy Technician Certification Exam (PTCE), you'll get your certification from the Pharmacy Technician Certification Board (PTCB) or the National Healthcareer Association (NHA).
The difference between a pharmacy technician and a pharmacist
SofikoS/Shutterstock
Depending on the certification, it takes a year or two to become a pharmacy technician. Depending on your state, you may also be required to obtain a license to work, per PharmTechs.org. The pharmacy technicians work under the pharmacists and often help communicate between pharmacists and patients.
To become a pharmacist, you need to get an undergraduate and Doctor of Pharmacy degree, which each takes four years to complete (via Indeed). Then you'll also have to complete an internship to understand the practical experience of the job. If you're interested in a specialized position, you must also complete a one- or two-year residency. After finishing training, you then have to pass the North American Pharmacist Licensure Exam and Multi-state Pharmacy Jurisprudence Exam and apply for your state's license.
Due to the difference in education and qualifications, pharmacy technicians make less than pharmacists. According to the U.S. Bureau of Labor Statistics, a pharmacy tech's average yearly salary is about $33,950, but they can make up to $49,130. To choose the right program, you must decide how much time and money you want to spend on your education and how much money you'd like to make.