How Much Money Do Pharmacy Technicians Make?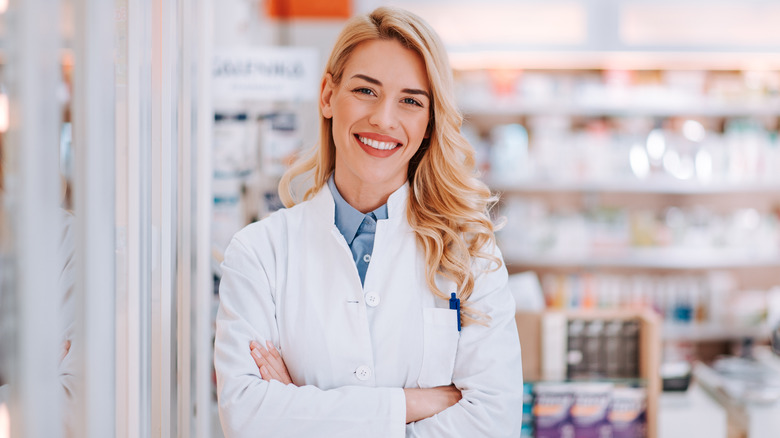 Branislav Nenin/Shutterstock
A pharmacy technician's role is to assist the pharmacist with all of their needs and help patients ensure they receive the right medication and know how to use it, per WebMD. They may also be in charge of the day-to-day operations of the pharmacy, but the main crux of the profession can vary based on where you choose to work.
Pharmacy technicians have a lot of different places they can work, including retail stores with pharmacies, hospitals, production, and even in pharmaceutical sales. According to Mayo Clinic College of Science and Medicine, regardless of the environment you work in, you can expect to spend your days filling prescriptions, processing insurance claims, tracking inventory, handling and refilling bulk medications, and dispensing medication to customers and doctors. You can also choose to specialize in a specific area like pediatrics, oncology, or critical care. With so much flexibility within the profession, becoming a pharmacy technician may be a preferred career choice. But just how much can you expect to make as a pharmacy tech?
Pharmacy technicians make an average salary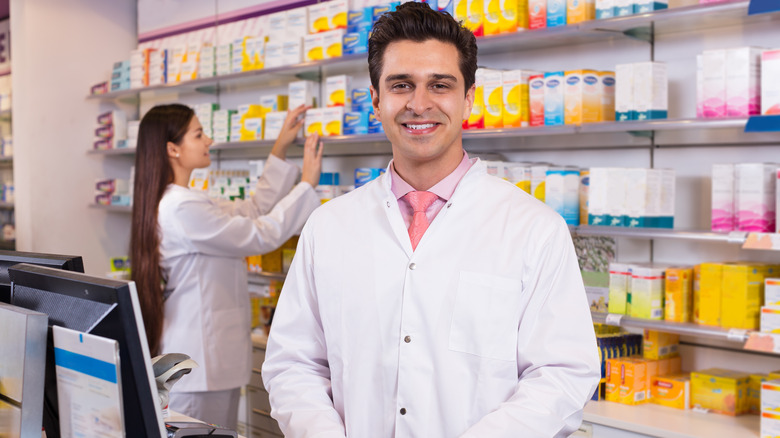 BearFotos/Shutterstock
While flexibility is a great reason to pursue a career in the pharmacy arena, a technician's role specifically is appealing as it allows those interested in the medical field to have a career without interacting with patients or spending too much time on schooling and education. But with this also comes a lower salary. According to the U.S. Bureau of Labor Statistics, the average salary for a pharmacy technician in 2021 was $36,740 per year, which amounts to about $17.66 per hour. Those who live in certain cities, like Chicago or New York, can expect to make a bit more — roughly around $20 per hour — via Indeed.
But while the overall salary may be on the lower end, pharmacy technician jobs often come with benefits. According to Indeed, most techs can expect to also receive a 401k, employee discounts and assistance services, insurance, continuing education credits, and even employee stock options where available.
How to become a pharmacy technician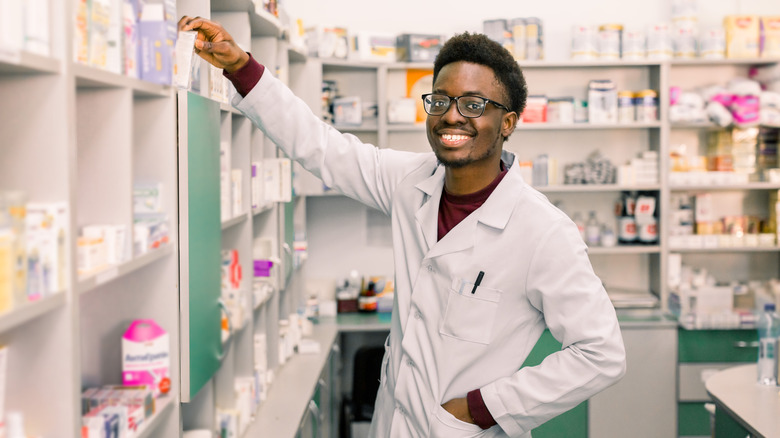 SofikoS/Shutterstock
If you have chosen not to attend college, becoming a pharmacy technician is a great career path. According to The Balance Careers, there is no formal degree requirement and most jobs in this space only require a high school diploma or GED. But while a formal education isn't a necessary requirement, training is. Many pharmacy technicians can expect to get on-the-job training, but if you are looking for a job in a competitive market, you may want to consider doing some instruction on your own to stand out.
Another great way to stand out is to become certified. According to Mayo Clinic College of Science and Medicine, taking a program that will prepare you to take, and pass, the Pharmacy Technician Certification Exam (PTCE) will help boost your career. Some states require this exam before working as a pharmacy tech, but not all, so be sure to check with your current state before applying for jobs. This certification can lead you down a path that can turn into a managerial role at a pharmacy, a pharmaceutical rep, or even, eventually, a pharmacist.