Royal Expert Debunks Prince Harry's Theory About The Cause Of The Rift Between Meghan And His Family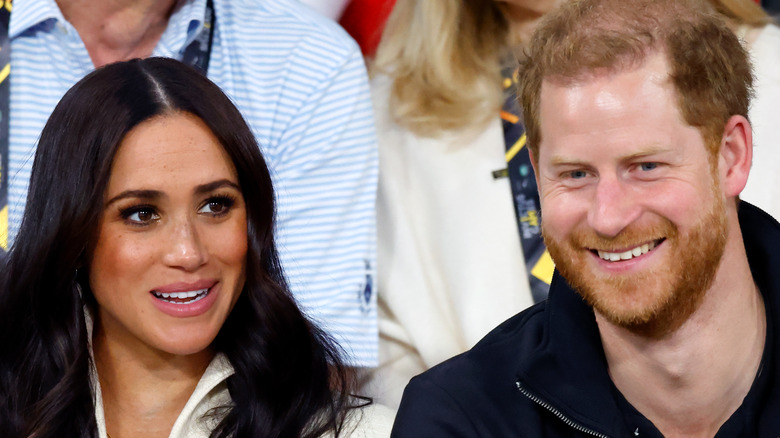 Max Mumby/indigo/Getty Images
Meghan Markle's bullying controversy sent shockwaves through royal watchers, as well as the world at large. In an unprecedented move, Buckingham Palace released a statement condemning reports by The Times about the Duchess of Sussex's behavior, and it committed to a full investigation into what really happened, as The Guardian reported at the time.
Reuters subsequently confirmed that the review had been completed, and the palace's procedures updated, but no further details would be released. As one senior royal insider obliquely put it: "I think the objectives have been satisfied because lessons have been learned." Per Sky News, the former actor's spokesperson described the move as part of a "calculated smear campaign" against her.
Indeed, during the Duke and Duchess of Sussex's infamous interview with Oprah Winfrey, Prince Harry appeared to suggest his family was jealous of Meghan's natural charisma (via the Independent). He even compared it to how beloved the late Princess Diana was, particularly in how she interacted with the public. 
According to a royal expert, though, this couldn't be further from the truth.
The Duke and Duchess of Sussex both reportedly behaved badly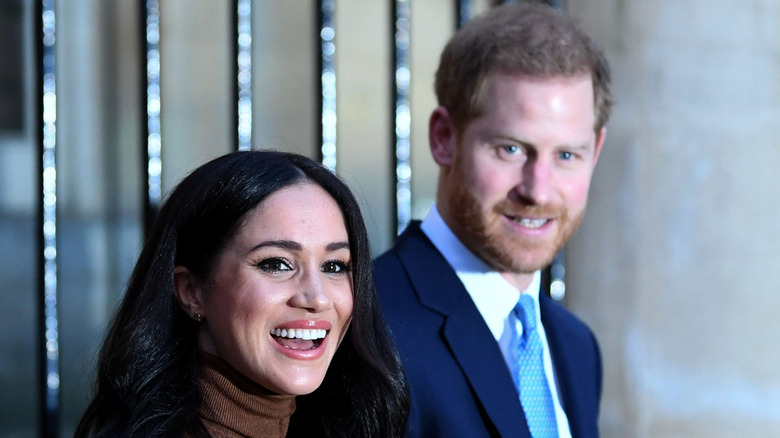 Wpa Pool/Getty Images
As far as royal expert Valentine Low is concerned, the idea that the royal family is somehow jealous of Meghan Markle is offensive. The "Courtiers" author told Newsweek plainly that, according to a whole plethora of sources, palace staff considered both the Duke and Duchess of Sussex to be bullies. Meghan's behavior was particularly bad, however, with Low revealing that Meghan preferred to deal with more senior staff members rather than deigning to speak to underlings.
Moreover, during the couple's royal tour of Australia in 2018, employees were reportedly treated horribly, which didn't help their already crumbling relationship with the rest of the royals. The Sussexes infamously told Oprah Winfrey that the family changed toward Meghan after she and Harry returned home to the UK, chalking it up to how obvious it became that she was "incredible at the job." 
But Low countered that it was because of their misbehavior. He stated firmly that any suggestion that the royals were somehow envious of the couple's success abroad was "risible." Most shockingly, though, Low clarified, "Harry gets tarred with the same brush. There's no sexism there. There's a quote in my book which says very explicitly they are both bullies." Low added, "If the accounts we've heard are to be believed, they both behaved appallingly." 
Notably, royal experts claimed that Meghan's bullying report was squashed because it would've made the whole family look bad, per Newsweek.
Meghan Markle and Prince Harry's recent reunion with the royal family was tense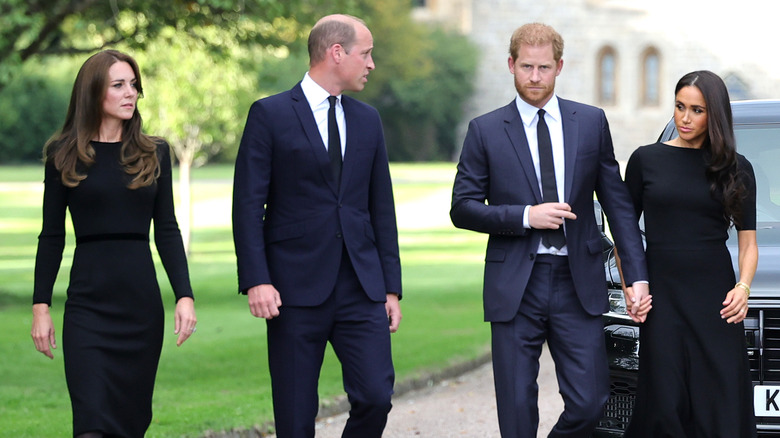 Chris Jackson/Getty Images
Suffice to say, the relationship between Prince Harry, Meghan Markle, and his extended family hasn't improved in the years since they moved to California and began opening up about their experiences. In fact, according to an excerpt from Katie Nicholl's book, "The New Royals," shared by Vanity Fair, King Charles is waiting to see what's in his son's memoir before deciding whether to bestow his grandchildren, Archie and Lilibet, with royal titles.
"We know titles matter to Charles, and he reportedly wants to limit them to the top tier of royals," she wrote, noting that the king worked hard to ensure his wife, Camilla Parker Bowles, would become the queen consort following Her Majesty's death. 
"Would Charles go as far as barring Archie and Lilibet from becoming a prince and a princess now that the Sussexes are no longer working royals?" Nicholl wondered. "According to a source close to the king, 'it depends a lot on what happens in the coming months.'"
Sadly, the Sussexes' recent reunion with his family, while mourning Queen Elizabeth II, didn't go particularly well. An insider even told Page Six that the king made it clear that Meghan wasn't allowed to join the rest of The Firm at Her Majesty's bedside at Balmoral because tensions were running so high.