Why An Expert Says Queen Camilla Was Worried No One Would Attend Her Wedding To King Charles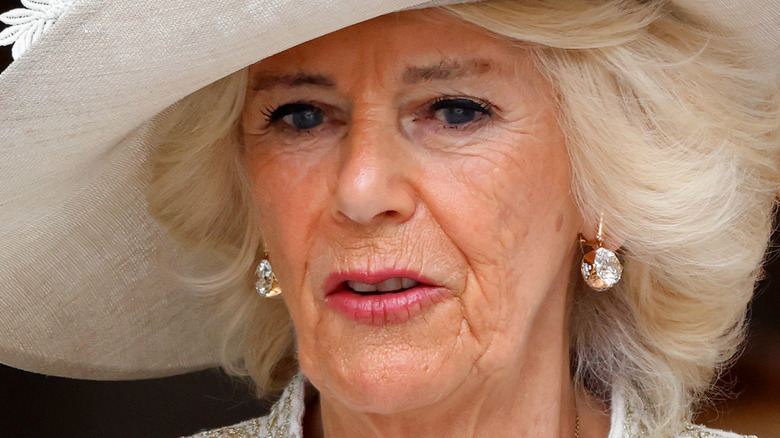 Max Mumby/indigo/Getty Images
In 1981, King Charles III married Lady Diana Spencer (via BBC). The ceremony, which took place at St. Paul's Cathedral in London, was watched by 750 million people in 74 countries. Two years after the global event, the royal couple welcomed their first child William, Prince of Wales, followed by Prince Harry, Duke of Sussex, in 1984 (via The History Channel). Charles and Diana were the future of the British monarchy and the future king and queen of the United Kingdom.
That was until they announced their separation in 1991 (via The Guardian). Charles and Diana officially divorced two years later, following bitter exchanges with the media in separate interviews, in which Diana famously said there were "three in the marriage," referring to Charles' affair with Camilla Parker Bowles (via AP News).
In 1997, a year after Diana died, Charles and Camilla officially announced their relationship, having initially met in 1970 (via People). In 2005, the couple was married but the ceremony was much more low-key than Charles' first wedding.
Camilla was also apprehensive of the public's perception of her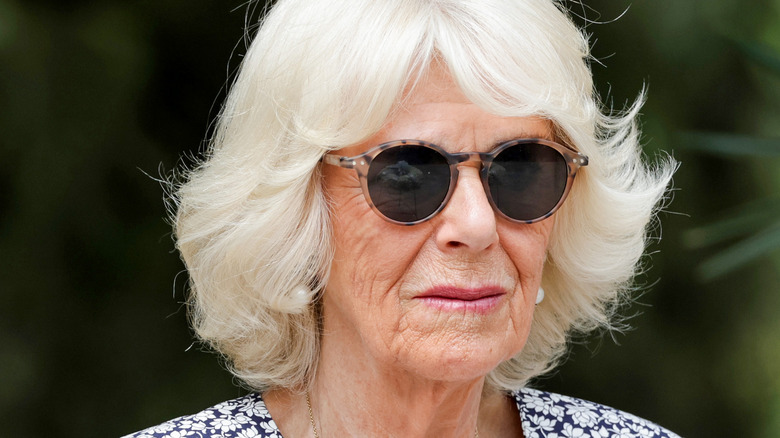 Chris Jackson/Getty Images
According to royal author Angela Levin, who recently published a book about Queen Camilla, the royal was apprehensive about marrying King Charles III and the public's perception of her. "I don't think many women could have gone through what she went through," she said on "GB News" (via the Daily Star). "From a very happy home, loads of friends, no necessary aims because she had lots of money and then to be vilified, called the most hideous woman."
Levin recalled how the British public and press berated Camilla Parker Bowles when it was learned that she and Charles had an affair (via The Guardian). The royal author noted how it was a frightening time for the couple, as she had no protection due to them not being engaged or married when they did become official in 1997. "People would be crowding around her if she went to the supermarket, throwing things at her," Levin explained. "People would be outside her house – absolutely hideous but she survived and the survival is very interesting."
According to Levin, when they married in 2005, Charles and Camilla reportedly cried once it was all over. "I have that from one of their most popular aides," she said.
Camilla was reportedly so stressed about the wedding that she refused to get out of bed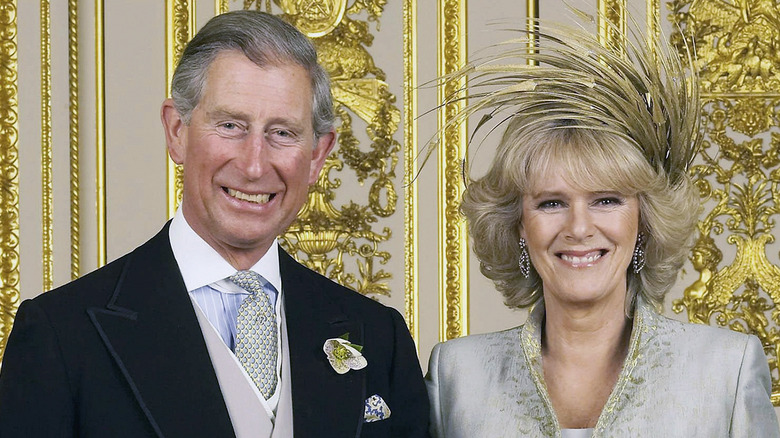 Pool/Getty Images
Angela Levin assumes that Queen Camilla's emotions came from a fear of no one turning up to the wedding because it was a "normal wedding" as opposed to King Charles III's first marriage to Princess Diana. "I thought to myself, there was so much tension," Levin told "GB News" (via the Daily Star). According to Levin, "She refused to get out of bed on the morning of the wedding day. She just couldn't cope." Levin added, "She is a woman who can cope and this was too much. To see both of them really weak, it must have been really moving."
Queen Elizabeth didn't attend Charles and Camilla's wedding, although there was good reason for it. As the head of the Church of England, she could not appear to condone divorce and both Charles and Camilla had previously been married, noted The Telegraph (via Express). She did, however, throw a lavish reception for the couple, which 700 people attended — hopefully this helped Camilla relax after the tumultuous day.
Despite having a hard time being accepted by the public into the royal family, the queen consort was highly supportive of Kate Middleton, Princess of Wales, and Meghan Markle, Duchess of Sussex, when they married their princes. According to Levin, Middleton was "very grateful" for Camilla's support and advice, as she revealed to the Daily Mail's Palace Confidential show (via YouTube). Meanwhile, Meghan "wasn't interested" in Camilla's advice" and "preferred to go her own way" (via GB News).