Of All Lil Nas X's Looks - This One Stands Above The Rest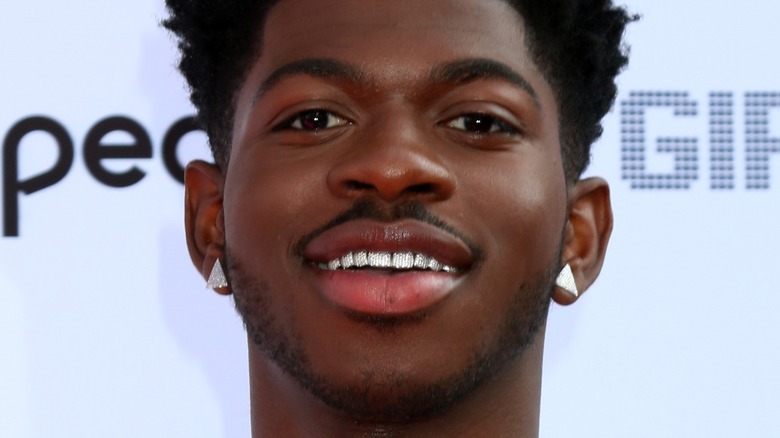 Kathy Hutchins/Shutterstock
"Call me when you want, call me when you need. Call me in the morning; I'll be on the way." It's likely you immediately recognize those lyrics from Lil Nas X's ubiquitous single, "Montero (Call Me By Your Name)." Honestly, we'd be happy to call Lil Nas X anytime. After all, he's an incredibly talented singer who has been catapulted to mega-stardom thanks to his boundary-pushing music career. 
The relatively young musician initially rose to fame thanks to his chart-topping song "Old Town Road," featuring Billy Ray Cyrus. The country rap single was groundbreaking for combining two genres that no one could've expected to sound good together prior to its release. Somehow, these diametrically opposed artists made something wonderful together with "Old Town Road."
It's no surprise that Lil Nas X has won some impressive awards thus far, including an American Music Award, a GQ Man of the Year Award, and even a Grammy. The rapper is also a proud member of the LGBTQIA+ community. While Lil Nas X revealed that coming out was scary, he is unflinchingly open about his sexuality regardless. 
As the rapper put it simply, "You can't always just go where you're accepted. You've got to go and break down those walls and say, 'This is my space now too,"' (via Out). Plus, Lil Nas X wears such bold, unique looks, he's impossible to ignore. Naturally, one iconic ensemble stands out.
His bright pink outfit from the 2020 Grammys stole our hearts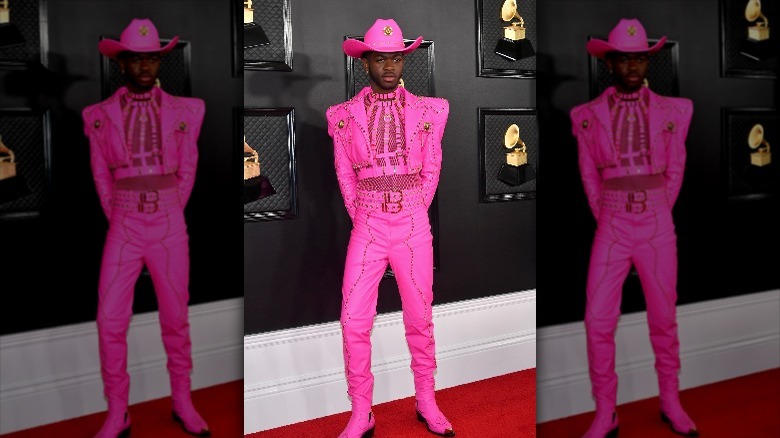 Amy Sussman/Getty Images
While Lil Nas X has worn a plethora of show-stopping outfits, his monochromatic, hot pink cowboy look from the 2020 Grammys was definitely a standout. The Versace ensemble featured a sheer pink top with sexy buckles and harnesses, a studded hot pink cropped jacket, matching pants, and a cowboy hat, as Lil Nas X detailed in an interview with E! News (via YouTube). 
The rapper himself was somewhat speechless about his own outfit, managing only to squeak out: "And you know, it's the all-pink, you know ... look at me, oh my God." Most people would assume it'd be impossible for anyone to stand out in a photo with Ariana Grande and Lizzo. But, thanks to the bright glamour and cohesion of this Versace ensemble and how beautifully the outfit complemented his skin and features, Lil Nas X did exactly that (via Instagram).
Looking at this outfit, it's also clear Lil Nas X was ahead of the Barbiecore trend. Ultra-famous celebrities including Zendaya, Megan Fox, and Nina Dobrev have been spotted rocking girly, all-pink ensembles, as Valentino and the 2023 "Barbie" movie have been instrumental in making Barbiecore so trendy. However, Lil Nas X was an early adopter who made it his own. Lil Nas X's net worth may surprise you, but his commitment to the color pink shouldn't. 
Lil Nas X is living proof that men can rock the color pink too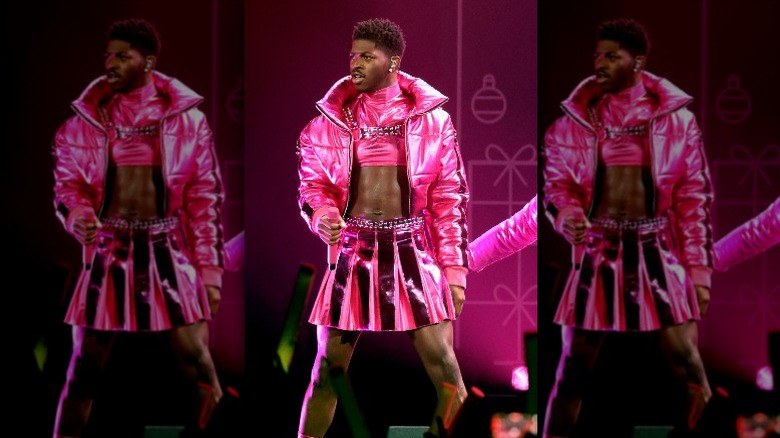 Jeff Schear/Getty Images
Thankfully, in recent years, more men than ever have been stepping out in the most feminine color of all. By wearing that hot pink Versace outfit, Lil Nas X proved men should embrace pink rather than being uncomfortable or intimidated by the girly hue. Lil Nas X fans don't need to worry about him only wearing pink that one time either — the iconic Grammys ensemble is just one occasion when the singer indulged in his feminine side. 
He wore a similarly monochromatic pink look, including a skirt, in 2021, while performing onstage, a much lighter pink outfit while accepting an award that same year, and a sparkly, purple-ish pink look while making his mark on Vegas, back in 2019. Lil Nas X continues to set an excellent example for other men, as he's been expressing himself through his pink ensembles for a while now. 
Other male celebrities are clearly taking note. Machine Gun Kelly is well-known for wearing pink outfits with pink hair to match. The rapper even calls himself Mr. Pink on Instagram, in fact. Additionally, "Teen Wolf" heartthrob Dylan O'Brien boldly wore a chic, hot-pink-and-black suit to the "Not Okay" movie premiere (via Teen Vogue). 
It's the 21st century, and people of all genders and sexual orientations should be free to wear whatever they want. For those in doubt, just think about how great Lil Nas X, MGK, and O'Brien look in pink!