Every Time Serena Williams Had A Grand Slam Win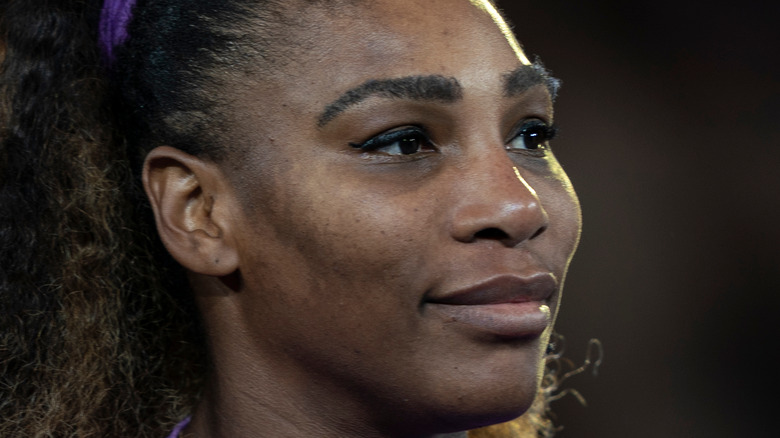 lev radin/Shutterstock
In a move that will exponentially affect the sports world for years to come, on September 2, 2022, tennis legend Serena Williams played her final match (via Town & Country). Williams previously announced her retirement in an essay for Vogue. The iconic athlete had been competing professionally since the '90s and set many records during her career. 
She is also one of the most decorated tennis players of all time, not to mention one of the most well-known to the general public. It's important to celebrate Williams' achievements as an African-American tennis player too, and how proud she made her community with her career as well as inspiring other Black women to pursue sports, per The Guardian.
You may already be aware she won a handful of Grand Slams here and there, but Williams' wins go back a long time. In fact, she nabbed several before many of her recent opponents, such as Emma Raducanu, were even born. This is each instance where the tennis star earned the Grand Slam prize, for posterity and commemoration alike.
The tennis star enjoyed a long and illustrious career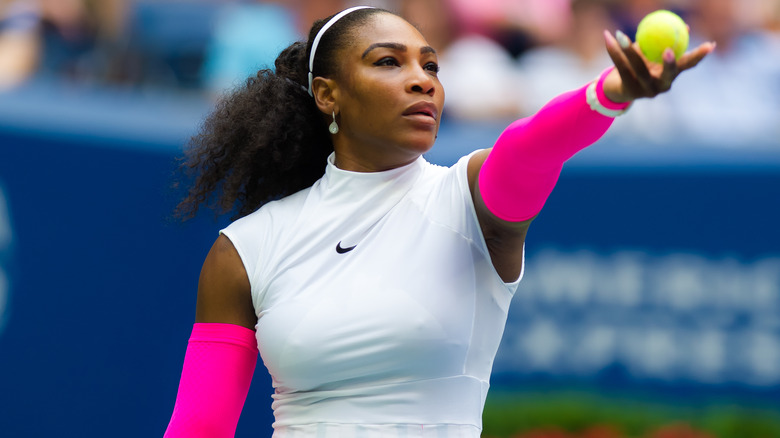 Jimmie48 Photography/Shutterstock
Though it's common knowledge that Serena Williams has several Grand Slams to her name, you may not know that she actually won her very first at the tender age of 17 — yes, you read that right. As reported by the BBC, the tennis icon won the US Open back in 1999, in her Grand Slam Singles match. This is an incredibly impressive feat considering that she had only become a professional tennis player three years earlier, at 14.
Williams went on to win three Grand Slams in 2002, at the French Open, Wimbledon, and the US Open (via People). She followed up these successes with two more Grand Slams in 2003, at the Australian Open and at Wimbledon once again. Further proving her star power, Serena Williams was still under 25 years old when she won the above Grand Slams, and in fact would didn't turn 25 until 2006, per The New York Times. 
There was a small gap between Williams' Grand Slam win at the Australian Open in 2005 and her next win in 2007, also at the Australian Open. Then, in 2008, she nabbed her third US Open victory, almost ten years after her first Grand Slam prize.
Serena Williams won Grand Slams all over the world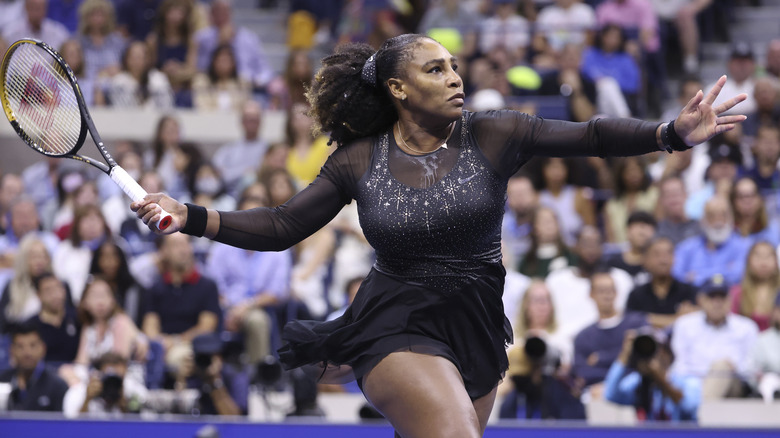 Jean Catuffe/Getty Images
As she entered the mid-2000s, Serena Williams continued to win Grand Slams left and right. In 2009, she claimed the title at both the Australian Open and Wimbledon too, before winning the Grand Slam titles at the same events, once again, the following year (via The New York Times). Williams bagged another couple Grand Slams in 2012, again at Wimbledon and the US Open, before defeating Maria Sharapova at the 2013 French Open.
The celebrated athlete also emerged victorious at the US Open that same year, per Olympics.com. Williams got another US Open Grand Slam under her belt in 2014, before going on a winning streak the next year, claiming the Grand Slam titles at the Australian Open, French Open, and Wimbledon to boot. Williams achieved her final Wimbledon Grand Slam in 2016, before going on to win her last overall at the 2017 Australian Open. 
Playing against her sister Venus Williams, the achievement was made all the more impressive with the knowledge Williams was pregnant with her first child at the time (per People). Though she subsequently retired from the professional tennis world, Williams' undeniable impact, and her 23 Grand Slams, will go down in history.