What We Know About Serena Williams' Retirement From Tennis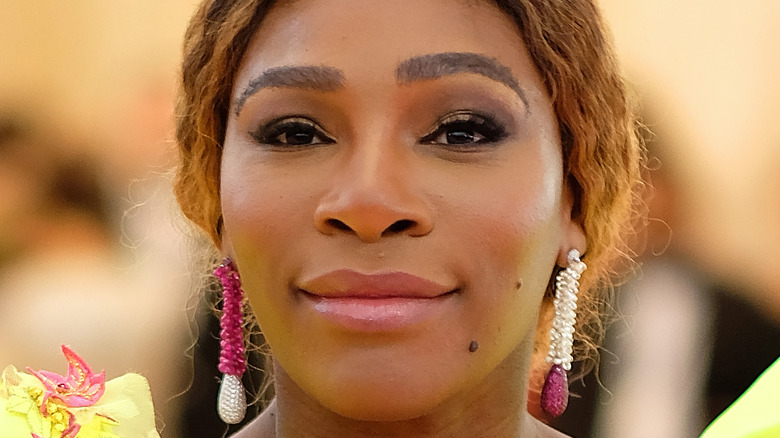 Dimitrios Kambouris/Getty Images
Earlier this year, living legend Serena Williams opened up, alongside superstar sister Venus Williams, about the pressures of being in the spotlight. With Serena reportedly preparing for retirement, the conversation turned to what kind of legacy she wished to leave. As the celebrated athlete clarified to Harper's Bazaar, "That's something I don't think about nor do I want. I don't want to think about what I'm leaving. I just think about who I am every single day behind closed doors and behind cameras. And that's what I focus on."
She and her sister speculated about where their future careers might lead them, quipping about going into fashion design, mentorship, or even bodybuilding. Suffice to say, though, Serena is more than ready to take that next step, telling Entertainment Tonight she's been preparing "for over a decade." As Serena explained, "At the end of the day, I think it's really important to always have a plan, and that's kind of what I did. I always had a plan." Although her fans around the world are devastated, the tennis star is ready to say goodbye.
And, according to Forbes, Serena has numerous projects on the go, with over a dozen corporate partners, investments in more than 60 startups, a clothing line, and even a deal with Amazon Studios. If all else fails, the $94 million she's accrued in prize money should keep Serena afloat, should she choose not to work ever again. Suffice to say, retirement will be sweet for the one-of-a-kind superstar. 
The legendary athlete announced her retirement in Vogue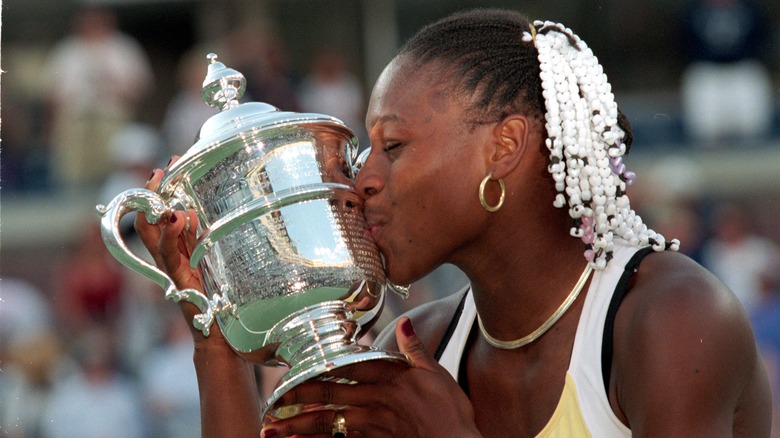 Jamie Squire/Getty Images
Considering Serena Williams opened up to BFF Meghan Markle, during an appearance on her "Archeytpes" podcast, about the double standards she's had to battle throughout her career (via Buzzfeed News), it was wonderful to see the tennis player saying goodbye to the industry firmly on her own terms. Serena announced her retirement in an essay for Vogue, confirming the US Open would be her final time competing professionally.
However, the athlete, who's widely considered one of the greatest of all time, clarified that she considers her next move an "evolution" away from tennis. "I have never liked the word retirement," Serena admitted. "Maybe the best word to describe what I'm up to is evolution. I'm here to tell you that I'm evolving away from tennis, toward other things that are important to me."
One of the biggest reasons to move on, as Serena revealed, was her daughter, Olympia, whom she feels is more important. "I never wanted to have to choose between tennis and a family. I don't think it's fair," she wrote. "If I were a guy, I wouldn't be writing this because I'd be out there playing and winning while my wife was doing the physical labor of expanding our family." The 23-time grand slam singles champion did note, however, the decision isn't a painless one, and certainly not something she takes lightly. But it has to be done. 
Retirement is looking pretty sweet for Serena Williams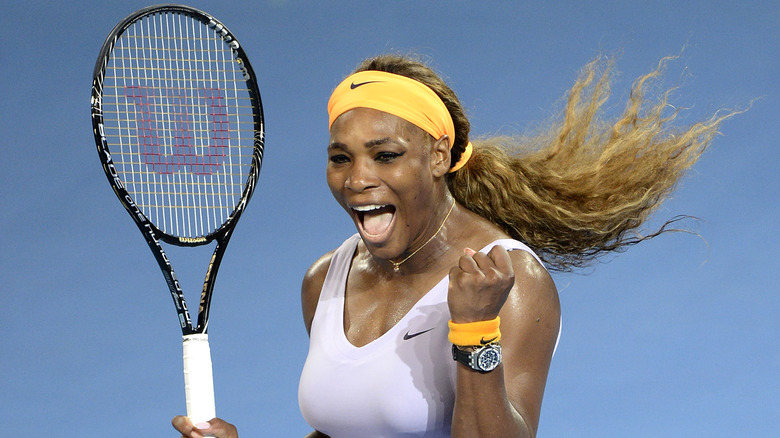 Bradley Kanaris/Getty Images
Michelle Obama penned a touching tribute to Serena Williams following her retirement news, solidifying just how much her career has meant to women all over the world. Alongside a selection of images of them together, Obama wrote, "Serena, thank you for everything that you've done to break barriers and to be a positive light in this world. We've all watched you wear the crown of greatness with the kind of humility, grace, and integrity that all of us can aspire to."
She continued, "It has meant so much to follow your journey as an athlete, as a mother, as a business leader, and more. I wish you the best as you evolve into this next chapter. And please know that I'll always be cheering you on!" One of the tennis champion's main goals, with retiring, is to expand her family, with Serena admitting in her Vogue essay that she'd rather not juggle her athletic career while being pregnant again, especially since she's in her forties now.
The accomplished athlete is also eager to pay it forward. Mostly, though, she's excited to take a well-earned break for the first time, practically ever. Williams posted a shot to Instagram of her napping under a "Moana" blanket, joking that she'd spent all weekend hiding under the covers. Her fans, famous and otherwise, cheered Williams on in the comments with Lin Manuel-Miranda writing, "Rest up, champ. You've beyond earned it. New adventures await!"