The Hallmark Show Angela Lansbury Starred In For All 12 Seasons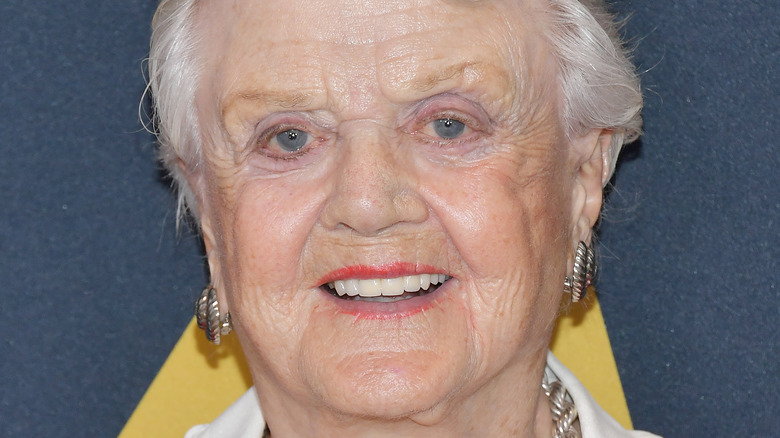 Amy Sussman/Getty Images
Esteemed television, film, and Broadway actress Angela Lansbury died on October 11, 2022, at 96. Having been in the business for 80 years, Lansbury first found her start when she was 19 years old in the 1944 film "Gaslit" (via BBC News). Having been scouted while studying at the Feagin School of Dramatic Art in New York, her role as a maid in "Gaslit" earned her an Oscar nomination — but it wasn't until she was 88 that she would actually receive an Academy Award. In 2013, she was given the Academy Honorary award for her work in cinema.
A year later, Lansbury was given the highest British honor and made a dame in 2014 (via ABC News). Despite finding success in the United States, Lansbury was initially born in the UK. Given for her services in acting and her charity work, Lansbury was "very proud" to be "recognized by the country of my birth" and described meeting Queen Elizabeth II as "a rare and lovely occasion" (via Sky News).
Over the course of her 80-year career, Lansbury played all manner of characters in films like "Bedknobs and Broomsticks" and "The Manchurian Candidate." But her role in a particular CBS turn Hallmark series truly cemented her legendary status.
Angela Lansbury was 60 years old when she took on this show
Originally airing on CBS from 1984 to 1996 (IMDb), and now airing as reruns on Hallmark (via Crime Reads), "Murder, She Wrote" saw Angela Lansbury play mystery author and amateur detective Jessica Fletcher. Set in the fictional town of Cabot Cove in Maine, the crime drama saw Fletcher investigate local murders and others dotted across the United States and even globally on some occasions.
"Murder, She Wrote" ran for 265 episodes (12 seasons) and 4 TV movies, and quickly became one of America's most popular shows. But this came as an unexpected success for Lansbury. "[I] didn't honestly expect the show to take off in the amazing way that it has," she told the Los Angeles Times in 1985. "I thought, well, it'll run a season... If we survive well this season and we keep our audience, and I think the chances are very good, we'll undoubtedly be asked to do a third season."
Lansbury was 60 years old when she took on the role of Fletcher, having already carved out an established career on screen and stage. The actress was a fixture on Broadway, performing in "Hotel Paradiso," "Sweeney Todd," and "Mame," earning her five Tony awards (via Broadway.com).
Angela Lansbury held the character of Jessica Fletcher close to her heart
But out of all Angela Lansbury's roles, "Murder, She Wrote" was "the most time-consuming job," as she told the Los Angeles Times a year after it began airing. "It takes up my whole life. It's totally non-stop, the shooting and I have no time for home life or socializing or relaxing. When I'm not working, I'm sleeping," she explained. As much as she welcomed the show's success, Lansbury longed for that coveted work-life balance. "You're caught in a trap — that's what I'm not sure about. It's awfully hard to walk away from success, isn't it?"
But after 265 episodes, the character of Jessica Fletcher became an integral part of Lansbury — a role she held dear to her heart for the rest of her life. So when the show was canceled in 1996 (via the Chicago Tribune), she was beside herself. "I was in genuine tears doing my last scene," she told the Sunday Post. "Jessica Fletcher has become so much a part of my life, it was difficult to come to terms with it being all over." But she was totally up for reprising the role if the moment arose — and she did just that for the TV movies, the last of which airing in 2003 (via Digital Spy).