Soap Legend Susan Lucci Offers A Message Of Love On A Special And Bittersweet Day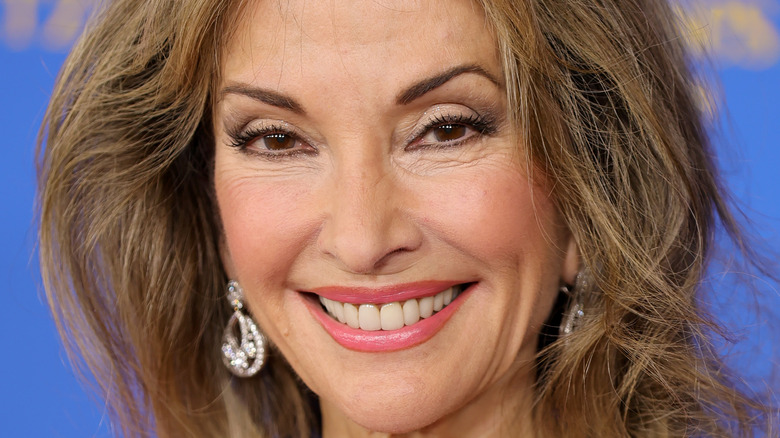 Amy Sussman/Getty Images
Susan Lucci is a legend in the daytime television world. She joined the cast of "All My Children" in 1970 when the show first premiered as the formidable Erica Kane and quickly became one of the most iconic villains in soap opera history. During her 41 years on the show – the entire run of "AMC" – Lucci was nominated for 21 Daytime Emmys, along with several other awards. Lucci spent much of her career doing double duty as Erica Cane and starring in many other films and TV shows at the same time. Since "AMC" was canceled in 2011, Lucci has gone on to star on series like "Army Wives," "Hot in Cleveland," and "Devious Maids."
Unfortunately, Lucci experienced a great personal loss in March 2022 when her husband of 52 years, Helmut Huber, died at the age of 84. According to Deadline, Hubert gave up his career in the hospitality industry to manage Lucci's career and act as CEO of her production company. A spokesperson for the family said at the time of Huber's death, "Helmut's passing is a tremendous loss for all who knew and loved him. He was an extraordinary husband, father, grandfather, and friend." Lucci recently posted a moving tribute to her late husband on social media.
Susan Lucci celebrates her late husband's birthday
On October 10, 2022, Susan Lucci celebrated her husband Helmut Huber's birthday for the first time since his passing. She posted a photo on Instagram with a caption that read, "Happy 10/10 Birthday, Sweetheart. Birthday breakfast surrounded by our loving friends. Making a wish for you." Several fans of the actress and friends from the entertainment industry commented on the post to share their condolences and birthday wishes.
Model and actress Christie Brinkley wrote, "I'm happy you are surrounded by your loving friends, sweet lady. I remember how your dashing husband looked at you and your sparkling beauty with so much love in his eyes." One fan also commented, "Happy birthday Helmut. You are much loved and missed not just by Susan but by her fans, who always thought you were a great couple, and you were!
In addition to being an industry titan, Huber was also an esteemed chef, a talented skier, motorcycle racer, and golfer with a boasting sense of humor to boot (via People). The loss of his presence will be felt for many years to come, not only by Lucci and his loved ones but for the rest of the world as well.