How To Figure Out Which Fall Color Looks Best On You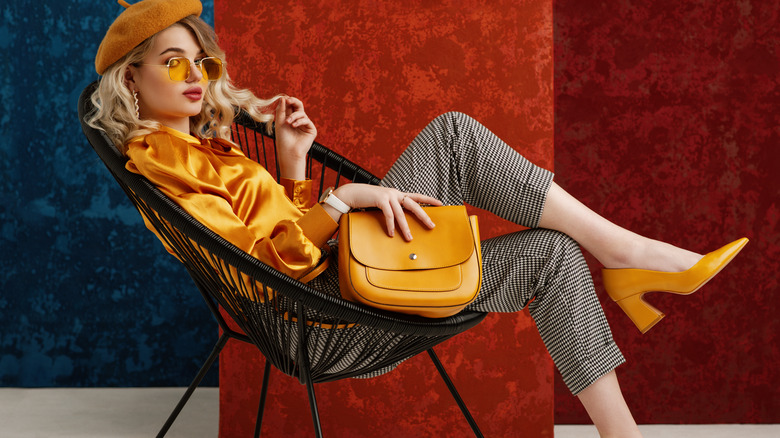 Victoria Chudinova/Shutterstock
Each season traditionally has its own set of colors, often mirrored by the natural hues seen or experienced during that period. And as nature changes, fashion is likely to change with it, as people seek to match the ambiance of the season (via NPR). During winter, a blanket of snow often covers the ground, along with the festive nature of the holidays, encouraging people to wear deeper colors of ruby red and emerald green. Once the snow melts and flowers bloom, the world becomes colorful again, prompting a traditional palette of pastel pink, yellow, and lavender.
When it comes to fall fashion inspiration, trendsetters look toward the changing of the leaves, dressing in colors of caramel brown and vanilla-latte beige. According to Vogue, the fall trends this year are pushing boundaries, as brighter shades of the traditional autumn hues are in — think vibrant burnt orange and lime green. Want to jump on the fall fashion bandwagon, but have no idea which color looks best on you? We got you covered.
The answer lies within your skin tone
Rido/Shutterstock
If you've ever attempted to find the right shade of foundation for your skin, you've probably heard of the idea of undertones — and if you've ever tried to figure out your undertone and ended up completely lost, you aren't alone. To figure out which fall color looks best on you, it's important first to figure out your skin's undertones so that the color you are wearing complements your skin (per Instyle). Although the color of your skin can change depending on sun exposure or medical conditions, your undertones never change color, which is why we want to look skin-deep.
There are three types of undertones: warm, cool, and neutral. A helpful trick to figuring out which category you fall in — according to Byrdie — is to first look at the veins around your neck, face, and wrists. Are they blue or purple? You most likely have a cool undertone. Are they green or olive? Then your undertone is warm. Do you see a mix of blue, purple, and/or green? Your undertone is most likely neutral.
Another way to figure out your undertone is to hold up a white piece of paper near your face and stand in natural light (via Byrdie). If your face appears yellow or olive in comparison to the paper, you are most likely warm-toned, and if your skin appears pink and rosy, you can consider yourself cool-toned. 
Here are the best fall colors for your skin tone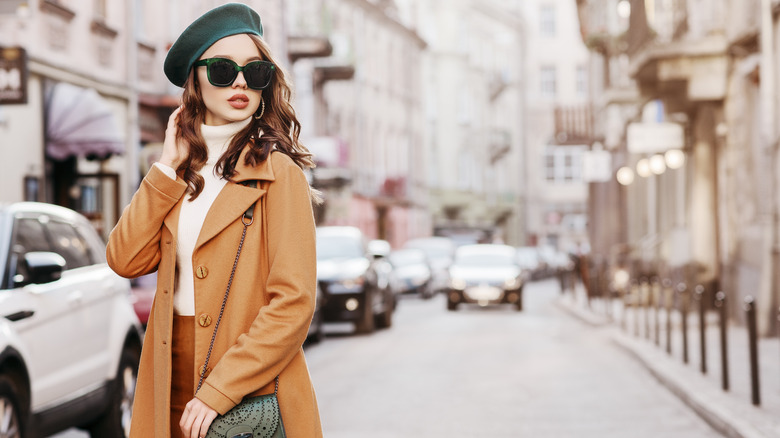 Victoria Chudinova/Shutterstock
Now that you have settled on your undertone, the fun begins. If you have warmer undertones, traditional fall colors like orange, brown, yellow, and deep reds will look great on you (per InStyle). Dress up your look with gold jewelry, as well as colors of cream and beige. Celebs like Kim Kardashian, Jessica Alba, and Beyoncé are all warm-toned beauties that are often walking the red carpet in hues of deep red and gold, as People reported.
For cooler-toned individuals, you may want to step outside the traditional autumn pallet, as wearing colors of deep purple, charcoal, and soft yellow and green will compliment your skin tone beautifully. Reach for silver or rose gold jewelry when accessorizing and try to avoid classic fall shades like orange and yellow, as those colors can wash you out (via InStyle). Look toward Adele, Nicole Kidman, and Emma Stone for your cool-toned celeb inspiration.
If you have a neutral undertone, well, you're lucky — you can pull off any fall shade. A perfect blend of warm and cool, those with a neutral undertone look good in a wide array of colors, as well as silver and gold jewelry (per Style Craze). However, it's often recommended you go the muted route, opting for softer colors instead of bold and vibrant ones. Nevertheless, you can pull off any color — and quite frankly, so can the rest of you warm and cool-toned bombshells, as it's all about confidence.