Fans Told The List Where They Go For Fall Outfit Inspiration - Exclusive Survey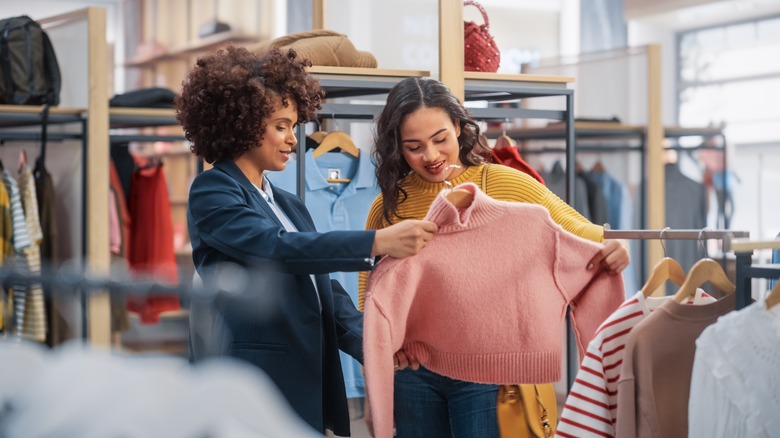 Gorodenkoff/Shutterstock
As the cold weather rolls in and summer nights become a distant memory, it's time to switch out our shorts and flip flops for blazers and boots — happy fall! But don't put all your warm weather clothes away just yet: Fall is the unique season that can play tricks on you. Cold mornings have you wishing for your heaviest jacket, and by the afternoon you're shedding layers to keep from sweating.
Just like the leaves begin to change at the start of fall, so do fashion trends. To survive the fluctuating temperament of mother nature this season, we're taking a hard look at our wardrobe to make sure we're totally on trend. But with all the Insta-worthy trends to keep track of, where is the best to look for outfit inspiration?
To find out how fashionistas are finding their perfect fall fits, The List conducted a survey asking 600 people, "Where do you get fall outfit inspiration?"
When you're searching for fashion inspiration, get ready to scroll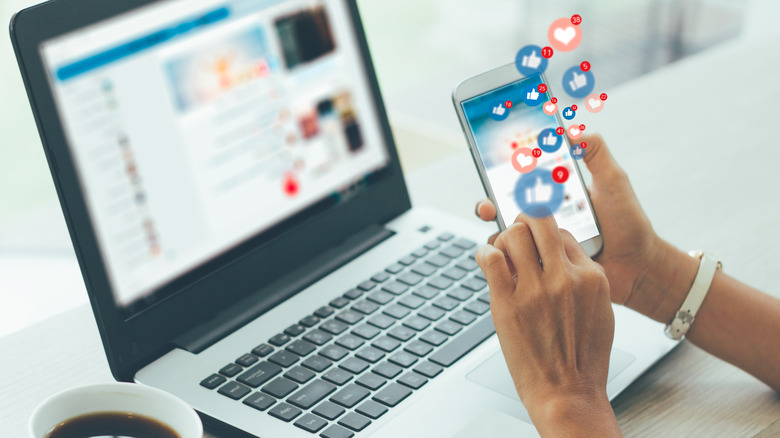 13_Phunkod/Shutterstock
According to The List's survey, the most popular place to find outfit inspiration this fall is by shopping online! With 22.17% of the vote, online shopping has quickly become one of the most prominent ways to browse and buy the latest fashion trends. Following close behind with 21.50% of the vote is another virtual space: social media. Apps like TikTok, Instagram, and Pinterest all dominate the fashion scene, giving millions of users platforms to share their unique takes on today's hottest trends.
While scrolling online from the comfort of your home is definitely ideal, there's something special about shopping in-store that keeps us coming back — even if we have to change out of our comfy clothes. About 20% of voters agree, saying they prefer to be inspired in-person when looking for new outfits.
The people we love can also be a huge inspiration, even when it comes to fashion. Over 19% of voters said they discover the latest trends by admiring what their friends are wearing. Another 10.50% of voters love to people watch, because they get their fall outfit inspiration from people on the street.
Fashion magazines and blogs may be going out of style in the age of the internet, but 6.67% say they still trust them to report what's trending. No matter where inspiration strikes, one thing is for sure: this season's fashion trends will have you wishing everyday was autumn. 
These fall fashion trends will be turning heads all season long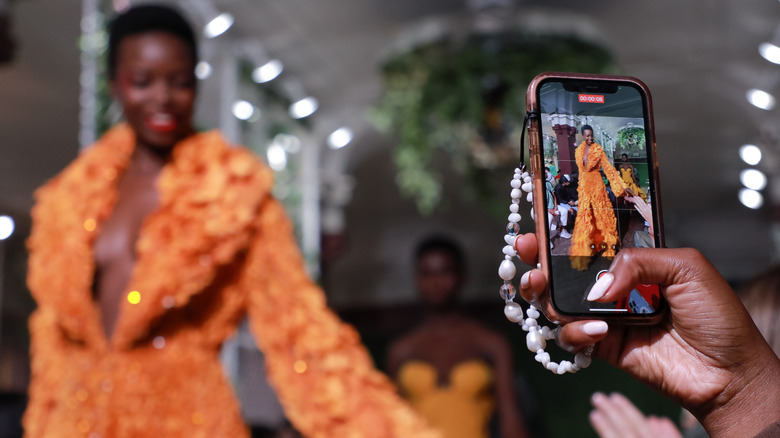 Jason Mendez/Getty Images
Let's be honest — some fashion trends just aren't worth the money, but these fall 2022 trends have quickly become wardrobe staples that we think are worth investing in. If we learned anything from New York Fashion Week, this season is the time for warm neutrals and vibrant neons. Brown and hot pink dominated the runways, continuing the popularity of our beloved "Barbiecore" trend. Designers showcased gorgeous pieces experimenting with lots of different textures like preppy tweed and punk-inspired leather, so expect to see both trends all over Pinterest boards.
According to Vogue, baggy denim is all the rage this season, reminding us of these 1990s fashion trends that are finally coming back in style. You'll see tons of oversized coats, big bomber jackets, and leather blazers as people brave the colder months ahead. When you're looking to accessorize, Refinery29 reports that oversized boots, preppy oxfords, and studded belts are the perfect finishing touches to all your outfits this fall.
Once you've found your autumn outfit inspiration, here's how to expand your fall wardrobe on a budget.