Why Mixed-Gender Wedding Parties Are Growing More Popular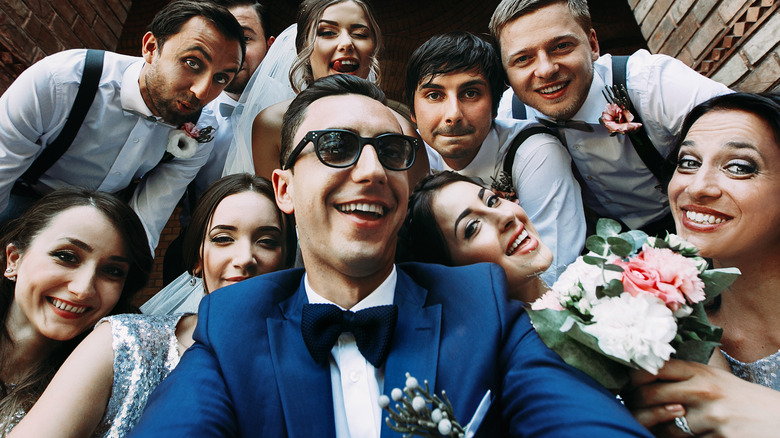 IVASHstudio/Shutterstock
Some weddings are all about tradition, but there's nothing wrong with breaking the mold if the alternative fits you more. Just like wedding weekends are becoming more of a thing, mixed-gender wedding parties give you the opportunity to be less conservative and more trend-driven.
So, what is a mixed-gender wedding party? Unlike a traditional wedding party, where the bride has a bridal party made up of female bridesmaids with a maid of honor, and the groom has male groomsmen and a best man, a mixed-gender wedding party scraps all the rules. Brides often have brothers they are close to, whereas grooms could have sisters they want to include in their party. In a typical setting, the groom's sister would be in the bridal party even if she isn't comfortable with that role, and vice versa. By breaking away from this tradition, everyone can enjoy themselves more with their loved ones. 
Still, mixed-gender wedding parties do evoke some queries regarding practicality, which is why we've laid out a few solutions below. 
Mixed wedding parties ensures that the bride and groom aren't excluding anyone who is important to them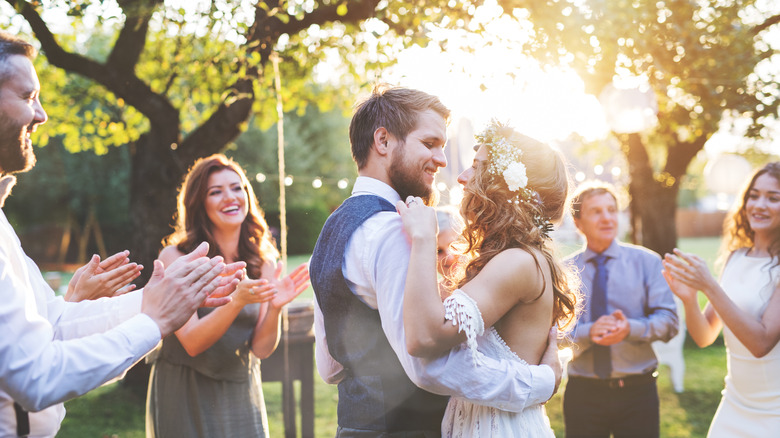 Halfpoint/Shutterstock
Per Brides, selecting your wedding party can be stressful, regardless of who you're choosing. However, wedding parties made up of mixed genders have risen in popularity. Many women have more male close friends than female ones, and the same could go for the groom. Including people by how close you are to them rather than by their gender is a great way to honor your friends and family, and will also allow you to get creative and think outside of the box.
You could also come up with cute and funny titles for your mixed-gender wedding party. As suggested by the bridal blog Inside Weddings, "groomsmaids," "bridesmen," and "groomswomen" are popular, but if you're trying to get away from specifically gendered titles altogether, "wedding party attendant" is a good substitute. For something less formal and more modern, exchange "bridal suite" for "getting ready suite," and "bridal party" for the more general "wedding party" (via Bridal Musings).
Though they are getting to be more well-known, mixed-gender parties will still be a novel experience for some guests and family members. Embrace the uncertainty to create new trends and unforgettable memories on your special day.
Mixed gender parties don't have to be stressful or add extra planning to your day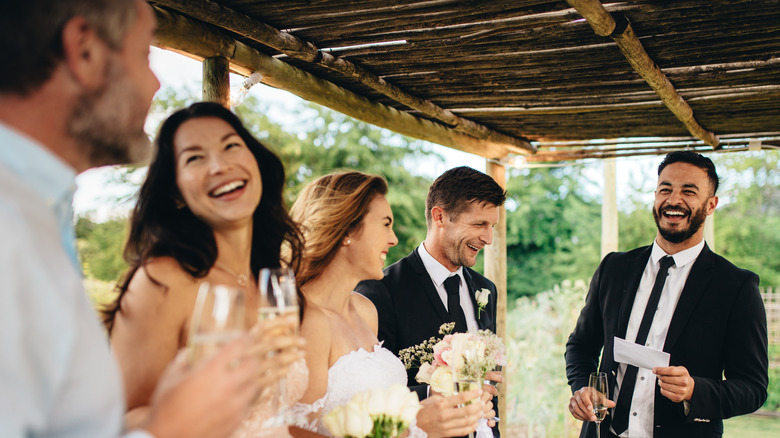 Jacob Lund/Shutterstock
If you're worried about how to present and dress your mixed-gender bridal party, don't worry — we've got you covered. If you have an equal number of men and women in your bridal party, you could choose one color for the men and one for the women. Alternatively, you could coordinate with the groom's party (via Refinery29).
Speaking to The Knot, dress retailer Araceli Vizcaino-S expressed that matching the women's outfits on the groom's side with the bridesmaids' dresses will avoid a messy look. On the other side, the men in the bridal party should make sure their ties or pocket squares match the bridesmaid dresses. So long as you tie everything together with small details in both parties, the overall look won't look mismatched even if members of the party are wearing different things. 
With so many cool trend options for mixed-gender wedding parties, it's clear to see why they have become more popular. The most important thing is to remember that it's your day, so if having your male best friend by your side is what you want, you should go ahead and do it.