Everything You Need To Know About The Wedding Weekend Trend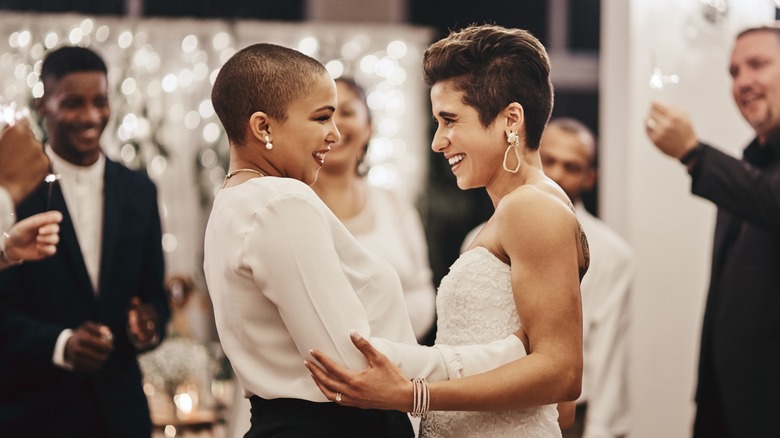 PeopleImages.com - Yuri A/Shutterstock
In case you haven't heard, weddings are no longer a one-day affair. Instead, the wedding weekend is taking hold. Whether you like keeping up with wedding trends or maintaining your personal style, the wedding weekend is suitable for everyone. Usually held over Friday, Saturday, and Sunday — hence the name — a wedding weekend compromises of three days. 
So, why have a wedding weekend? Upfront, it seems like it would cause more stress due to extra planning, not to mention the added cost. However, as ZOLA states, a wedding weekend can actually be more joyful. This is because the larger time frame brings friends and family together for a longer amount of time, especially those who live far away. It also gives you more leeway when it comes to paying — if there are arguments between the bride and the groom's parents over paying for something, you can split the events 50/50. One pair can pay for the next-day breakfast, whereas the other can pay for the evening entertainment. 
Plus, most of us only plan to get married once. A wedding weekend will allow you to make the most of this special time and create lasting memories.
On the first day of your wedding weekend, you'll want to prep these events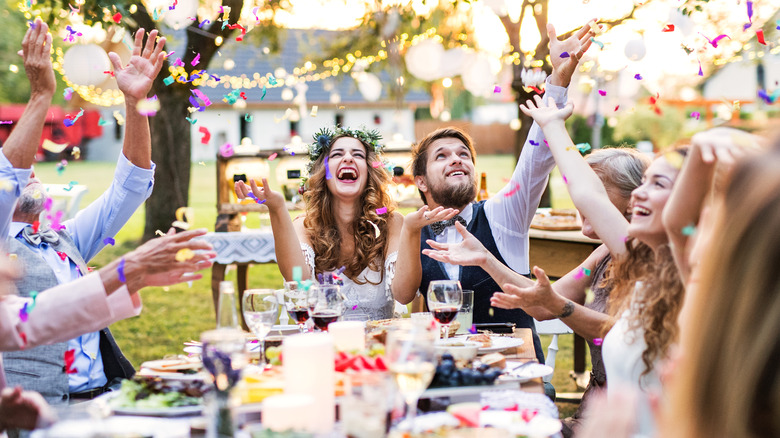 Halfpoint/Shutterstock
You'll want to kick off your wedding weekend with a welcome party. This typically falls on a Friday and is a laidback cocktail party where you catch up with guests and get to know new people such as plus ones (via Brides). Your welcome party is key to making sure everyone feels at home, so it doesn't have to be a formal event. Holding it in a pub or bar near a favorite restaurant will take the pressure off rather than if you host it yourself (via ZOLA).
Next, the rehearsal. Meant to be quick, a rehearsal is essential for ensuring everyone knows their place, the plan, and what exactly will happen during the main ceremony. This doesn't include guests, only your wedding party and special guests that may be playing a part like parents, siblings, and best friends. After the rehearsal, you'll move on to a rehearsal dinner. ZOLA states that this dinner is traditionally paid for by the groom's family, but this doesn't have to be the case. The rehearsal dinner isn't really rehearsing anything, but is more a chance for the bride and groom to spend time with their wedding party. Once again, this can be at a local restaurant, or you can make it fancy if you have a theme in mind.
The second and third days are all about celebrating and then winding down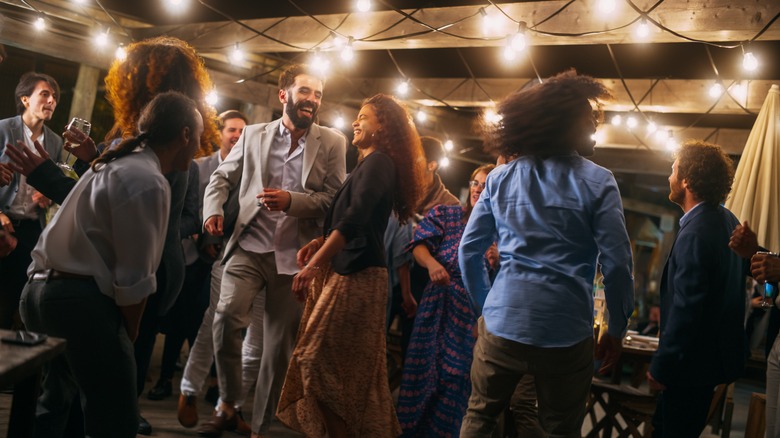 Gorodenkoff/Shutterstock
On the second day, it's time for the main event — your wedding ceremony. By the time your ceremony rolls around, you should have perfected all the small details. Then, as stated by Brides, the fun begins! Your reception is the relaxation period after the more formal ceremony, but that doesn't mean you can throw away all planning. You'll need to plan your entrance into the venue, your first dance, speeches, the main meal, and the cake cutting.
Last up is the farewell brunch on the third day. The Knot states that this brunch is the perfect time to say goodbye and thank guests for coming. It will also be a good chance to revive yourself if you went heavy on the champagne the night before! It's best to start this brunch early-ish. If you're staying in a hotel, check-out times will influence this, and those who live far away will want to leave at a reasonable hour, too. 
Your wedding weekend doesn't have to be planned out hour to hour, as sometimes going with the flow creates the best memories. As long as you enjoy yourself, it's worth the extra time it takes to plan a three-day event.