How Chipotle Was Able To Beat Pre-Pandemic Foot Traffic Numbers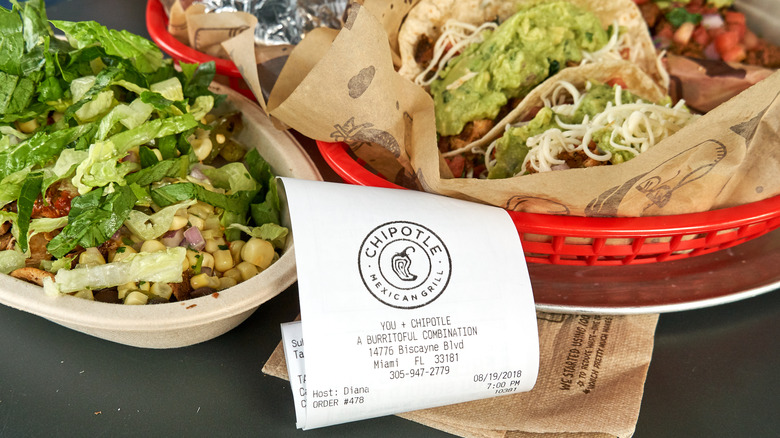 dennizn/Shutterstock
There are tons of delicious, gourmet Mexican foods we absolutely need to try, but let's be honest — sometimes, nothing hits the spot quite like a Chipotle burrito. We know that it's not totally authentic, and we know that guac is extra, but you know what? We still love the build-your-own burrito restaurant.
According to their website, Chipotle was established in 1993 and now has over 2,300 restaurants nationwide. The Mexican chain restaurant really knows how to keep us on our toes. In recent years, the brand expanded beyond burrito bowls, targeting younger audiences and influencers with relatable, relevant marketing campaigns like the E.L.F. x Chipotle makeup collection that had everyone talking — it even came with a Chipotle gift card (via Refinery29).
Now, the company has not always been perfect: In 2016, there was drama surrounding multiple salmonella outbreaks caused by poor food safety at Chipotle, per the FDA. But Chipotle learned from their mistakes and emerged better than ever, seeing a massive increase in popularity post-pandemic. To find out just how much love America has for the fast-casual restaurant, The List created a graph via Data Herald that tracked monthly foot traffic data at Chipotle over the past two years. The results have us seriously craving a burrito bowl!
Come for the carnitas, stay for the quick service and the rewards program
According to The List's graph, foot traffic has risen since nationwide in-store closures in the spring of 2020. Prior to COVID, Chipotle saw approximately 550,000 visitors each month on average. Post-COVID, visitor counts steadily increased, reaching nearly 700,000 customers in one month. Foot traffic at Chipotle did take a slight dip in 2022 as inflation continues to soar, but the numbers remain comfortable as people keep coming back for quick and delicious burritos.
With foot traffic data on the rise, Chipotle's profits are through the roof. In a report by Technomic of the top 500 chain restaurants based on sales and marketing strategies, Chipotle came in first place among fast-casual spots, and 10th place overall. The burrito-making sensation outranked chains like Panera Bread and Panda Express in overall profit and popularity.
One of the reasons Chipotle may have been so desirable post-COVID is due to their easy online ordering system. According to Forbes, this allowed the restaurant to keep customers fed while respecting social distance measures. Chipotle continues to use the digital ordering system, making it convenient for the consumer to place an order at home and quickly pick it up in-store, or have it delivered to their door via one of the many popular food delivery services. They also created a personalized rewards program in 2019 that gained double the amount of members during lockdown, geared towards giving customers the most for their money and loyalty, per Restaurant Business.