The Lifetime Movie That Features Mark Ruffalo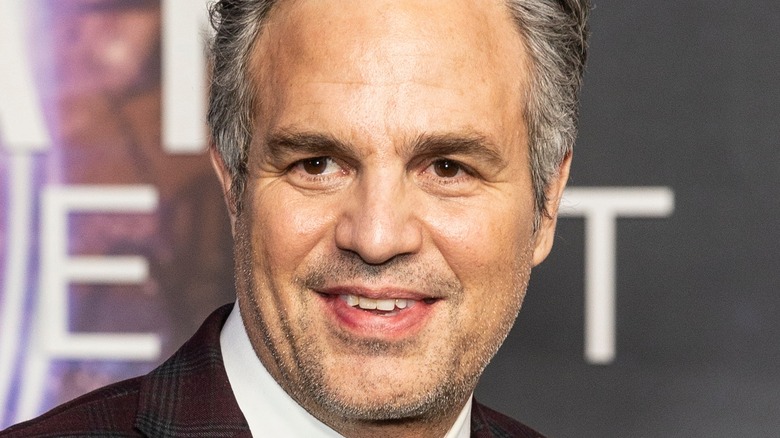 lev radin/Shutterstock
True, Mark Ruffalo isn't always green and 8 feet tall, but it is what he's most known for. The A-list Marvel actor began playing the Hulk in 2012's "Avengers," taking on the role from Edward Norton (per Entertainment Weekly). Most recently, Ruffalo appeared as the lovable green Smart Hulk on the Disney+ series, "She-Hulk: Attorney at Law." As Ruffalo told Variety in a 2022 interview, he's grateful to remain a part of the Marvel Cinematic Universe. "I'm always surprised that I'm still here," he explained. "I mean, me and Ed Norton joke that the Hulk is like our generation's Hamlet — we're all going to get a shot at it. I keep waiting for the next version of it."
Before joining the likes of Iron Man and Black Widow to fight intergalactic crime, Mark Ruffalo made a name for himself playing romantic leads in early 2000s movies like "13 Going on 30" (a job he almost quit) and "Just Like Heaven." He also took on dramatic roles in films like "Eternal Sunshine of the Spotless Mind" and 2007's "Zodiac," ultimately earning three Academy Award nominations between 2011 and 2016 (via IMDb). In 1997, long before Ruffalo was the recognizable star he is today, the MCU actor appeared in a made-for-TV Lifetime movie. 
Mark Ruffalo embodies the holiday spirit in On the 2nd Day of Christmas
"On the 2nd day of Christmas" may be far from Mark Ruffalo's most famous movie, but it is his most festive. The "13 Going on 30" actor plays Bert, a department store guard fully committed to protecting his place of employment from petty theft — yes, Mark Ruffalo played a mall cop long before Paul Blart made it cool (via Rotten Tomatoes). When Bert catches a woman and her young niece pickpocketing just before Christmas, his boss tasks him with "keeping an eye" on the duo until their punishment can be sorted out after the holiday season. A reluctant Bert takes the pair home, learning to appreciate the joys of Christmas along the way, according to Letterboxd.
According to one audience reviewer via IMDb, "On the 2nd Day of Christmas" allows the bright green Avenger to show off his "musical talents," singing and even playing the piano in several memorable scenes throughout the movie — Mark Ruffalo's musical gifts are only the beginning of what you might not know about him. In 2013, the actor again sang onscreen, this time alongside Keira Knightley in "Begin Again."
Mark Ruffalo initially lacked confidence as an actor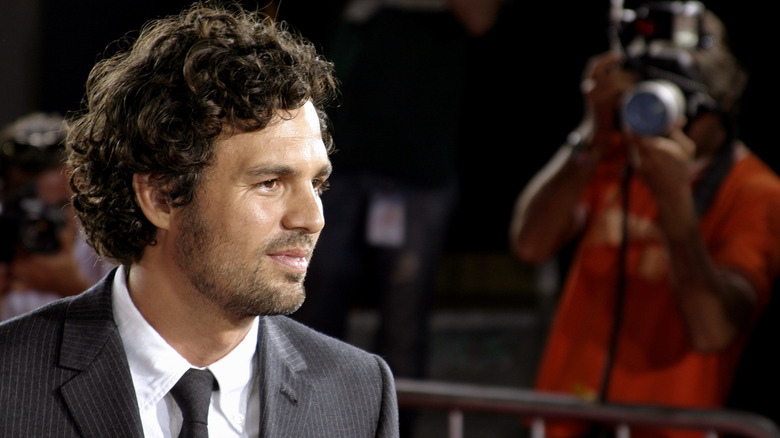 Tinseltown/Shutterstock
In a 2020 interview with Variety, Mark Ruffalo shared an early audition horror story. According to the actor, "[his] first real audition was after high school for SUNY Purchase." It didn't end well, and, "After [his] audition, the head of the department said, 'What are you going to do when you realize you'll never make it as an actor?'" Ruffalo's early years in the industry were marked by a lack of confidence. "I was afraid," he explained. Now, decades later, he'd tell that department head to "get a new line of work." Clearly, Ruffalo has not only "made it" as an actor, but he's also begun to produce projects of his own.
In 2022, Mark Ruffalo served as an executive producer for the feature-length documentary "Lakota Nation vs. United States," an investigation into stolen land and the ongoing exploitation of Native people across the United States. Ruffalo also produced the 2020 project, "I Know This Much is True," a series that featured him in both starring roles — yes, both. The actor played twin brothers Dominick and Thomas Birdsey, per IMDb. In regards to playing two distinct men within one script, Ruffalo told GQ, "What was most important was that there were these two different characters that were relating to each other, that had chemistry together, that were listening to each other." Ultimately, he says, "It works between the two of them."